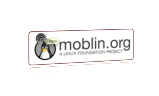 Moblin, the Intel-backed Linux operating system tailored for netbooks, has been growing in momentum over this past week at Computex Taipei. It has been pushing Moblin V2.0 along with the Linux Foundation, who took control of the project in April.
A number of operating system vendors (OSVs) have already committed to Moblin. This includes Linpus, who will offer its Moblin V2 Linpus Linux Lite in two versions, one with a Linpus UI and one with Intel's UI. Canonical will release an "Ubuntu Moblin Remix", whilst Novell demoed its SUSE edition of Moblin Version 2 on Acer and MSI hardware at Computex. Xandros also demonstrated its "Xandros Moblin 2 solution" on an Asus Eee PC in at Computex. Read more
With Computex just around the corner, Foxconn couldn't help revealing details on its SZ901 netbook that runs Linpus Lite Moblin v2.0. The 10.1-inch netbook specs are your usual Intel N270 Atom CPU, 1GB RAM, 160GB HDD and a 3G module, however it's the OS that catches the eye.
Linpus is not set to fully reveal its work with Intel's open-source OS team until next week (the video only shows the boot-up sequence). Apart from the OS and 3G module, this netbook looks distinctly average. The inside is glossy while the keyboard appears to have some flex. The bottom has easy access to the RAM and HDD. It will come with a 1.3MP webcam and 3-cell battery.
Foxconn is an ODM so the SZ901 will likely be branded by its partners. We'll look for further details, including price, launch date and possible partners, next week. Check out the video after the break. Read more
Linpus Lite, the instant-on OS, was showcased in CeBIT last week. As shown in the video below from NetbookNews, the OS takes a matter of seconds to boot up. This is customised version of Linux on the hard-disk and not part of the bios, like some other instant-on OSes like Splashtop. When booted, the icons house some basic applications including Chat, Skype, Media Player and an internet browser. The instant-on OS hasn't caught on as much as the preamble initially suggested. However, as well as Linpus, there are a number of instant-on OSes coming to the market shortly including JoliCloud and Moblin. 2009 may possibly be the year that these operating systems really take off. Linpus Lite video after the jump.