We first heard of the Medion Akoya Mini E1312 netbook during the recent Computex show in Taiwan. This model differs from other netbooks on several fronts. It has an 11.6-inch high-res (1366 x 768) display powered by an AMD 1.5Ghz Sempron 210U CPU, M690E chipset and ATI Radeon Xpress 1250 graphics. It also comes with a 6-cell battery as standard (9-cell optional) and a HDMI-out port.
Other features include 1GB RAM, 160GB HDD, three USB ports, 3-in-1 card reader, Wi-Fi (including draft-N), a 1.3MP webcam and Bluetooth 2.1. The 2200mAh rated battery should last for a little over 3 hours. We now know that the E1312 will be released across Aldi supermarket stores from 12th July in the UK for a very reasonable £339.99, which includes a three-year warranty and Windows XP Home. If you are interested you'd better get to Aldi early on Sunday morning as these Medion products are normally quite sought over.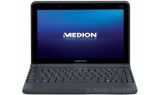 Medion had a few mini-notebooks on display at Computex this past week. It was showing off three 11.6-inch models that were powered by the AMD Sempron CPU. Medion introduced the Medion Akoya E1311, E1312 and 3G-equipped E1315. These mini-notebooks are powered by a 1.5GHz AMD Sempron 210U, M690E chipset and ATI Radeon Xpress 1250 graphics. Other specs include 1GB RAM, 160GB HDD, Bluetooth, 1.3MP webcam, Wi-Fi (draft-N), HDMI out and a 2200mAh battery.
I'm not too sure what the difference between the low-end E1311 and E1312 models are. My guess would be that the E1312 also comes with an Expresscard slot, which I don't think exists on the E1311. Both come with a keyboard with flat keys and a glossy display. The models aren't that light, weighing 1.5kg with the price estimated to be around the €400 mark (for the cheapest model) when it releases in Europe shortly. Check out a couple of videos of the E1312 after the break, courtesy of NetbookNews. Read more