February 27, 2010 at 11:15 am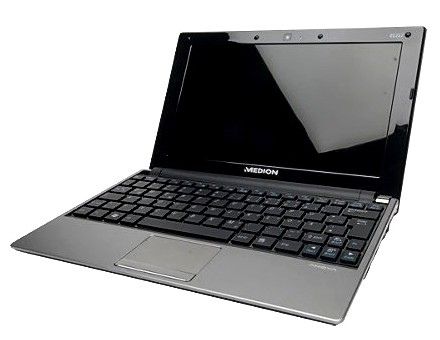 Medion will launch the Akoya E1222 10-inch Pine Trail netbook in Aldi stores on 4th March for a very reasonable £259.99. The E1222 comes with a 1.66GHz N450 Atom processor, 1GB RAM, 250GB HDD and Windows 7 Starter.
It seems quite well featured for the price including Wi-Fi (b/g/n), Bluetooth 2.1, a multi-touch trackpad and a 6-cell battery. It looks quite a stylish device with a glossy lid and 10.1-inch (1024 x 600) glossy display. Check out the full specs after the jump. Read more
September 8, 2009 at 9:01 pm
The Medion Akoya already has a number of models in its E131X series. One model we hadn't heard of before was the Medion Akoya E1313 netbook. Like its brothers, this model is also powered by an AMD Sempron CPU, but differs in that it will launch with a touchscreen.
Sascha from NetbookNews managed to get hands-on with the E1313. The model he tested was running Windows 7 suggesting a launch in late October/November. The touchscreen appears to be impressively responsive. Other features include an Expresscard/34 slot and a protruding 6-cell battery. It should be priced between €450 – €500. Check out the video after the break. Read more
We first heard of the Medion Akoya Mini E1312 netbook during the recent Computex show in Taiwan. This model differs from other netbooks on several fronts. It has an 11.6-inch high-res (1366 x 768) display powered by an AMD 1.5Ghz Sempron 210U CPU, M690E chipset and ATI Radeon Xpress 1250 graphics. It also comes with a 6-cell battery as standard (9-cell optional) and a HDMI-out port.
Other features include 1GB RAM, 160GB HDD, three USB ports, 3-in-1 card reader, Wi-Fi (including draft-N), a 1.3MP webcam and Bluetooth 2.1. The 2200mAh rated battery should last for a little over 3 hours. We now know that the E1312 will be released across Aldi supermarket stores from 12th July in the UK for a very reasonable £339.99, which includes a three-year warranty and Windows XP Home. If you are interested you'd better get to Aldi early on Sunday morning as these Medion products are normally quite sought over.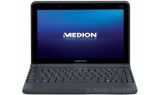 Medion had a few mini-notebooks on display at Computex this past week. It was showing off three 11.6-inch models that were powered by the AMD Sempron CPU. Medion introduced the Medion Akoya E1311, E1312 and 3G-equipped E1315. These mini-notebooks are powered by a 1.5GHz AMD Sempron 210U, M690E chipset and ATI Radeon Xpress 1250 graphics. Other specs include 1GB RAM, 160GB HDD, Bluetooth, 1.3MP webcam, Wi-Fi (draft-N), HDMI out and a 2200mAh battery.
I'm not too sure what the difference between the low-end E1311 and E1312 models are. My guess would be that the E1312 also comes with an Expresscard slot, which I don't think exists on the E1311. Both come with a keyboard with flat keys and a glossy display. The models aren't that light, weighing 1.5kg with the price estimated to be around the €400 mark (for the cheapest model) when it releases in Europe shortly. Check out a couple of videos of the E1312 after the break, courtesy of NetbookNews. Read more
April 15, 2009 at 11:34 am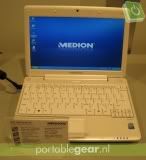 Medion has announced a couple of follow-ups to its nondescript Mini E1210 netbook. Whilst the Mini E1210 was effectively a rebadged MSI Wind U100, these new netbooks are made by Wistron. The E1211 and E1215 come with a 10.1-inch (1024 x576) display powered by a 1.6GHz Intel Atom N270 CPU.
The rest of the specifications are also nothing to write home about, you'll find the usual 1GB RAM, 160GB hard-drive as well as WiFi (b/g/n), Bluetooth and webcam. The E1215 mainly differs by offering integrated 3G support. Both netbooks weigh around 1.25kg and are expected to cost between €400-€500 when they hit retail outlets in Europe shortly.
Via PortableGear.nl [via Engadget].