April 30, 2010 at 2:32 pm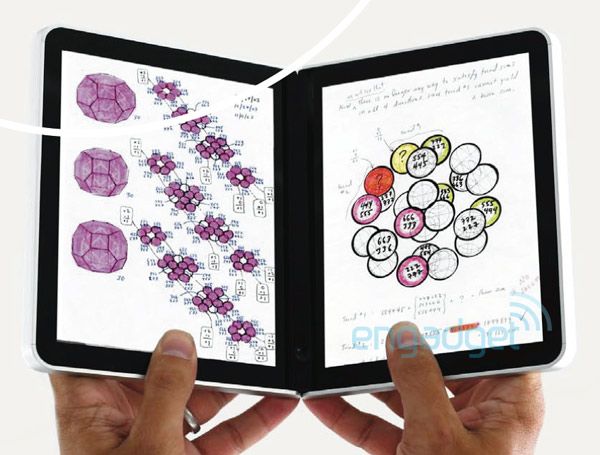 Two of the most talked-about portable gadgets of recent months have been shelved according to sources. Microsoft's rumoured dual-screen Courier project will not see the light of day according to Frank Shaw, Microsoft's VP of corporate communications.
"The "Courier" project is an example of this type of effort and its technologies will be evaluated for use in future Microsoft offerings, but we have no plans to build such a device at this time," said Shaw. Read more
HTC may be working on a device that looks similar to Microsoft's rumoured Courier. The dual-touchscreen clamshell device will open and close like a book, according to a report from Chinese site Zol. When the screens are fully opened, the UI merges to form one screen much like current tablet PCs.
When using a single screen, the other acts as a virtual QWERTY keyboard. Whilst this is clearly a concept, I'm sure it won't be too long before we see this kind of gadget make an appearance. We had already seen similar dual-screen devices at CES earlier in the year. However, it's Microsoft's Courier device that everyone really seems to be waiting for.
Via Gadgetmix.
March 24, 2010 at 12:24 pm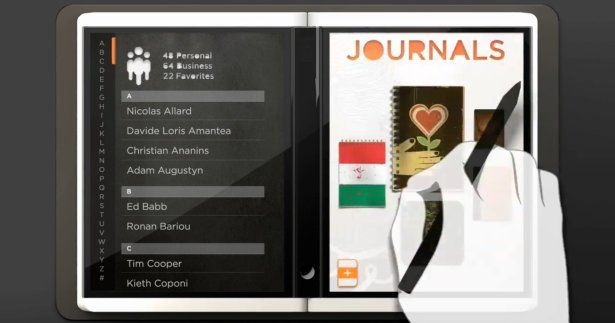 The Microsoft Courier is rumoured to be a dual-screen device powered by the Nvidia Tegra 2 chipset. Supposed pictures of the Courier were leaked at the beginning of the month, although Microsoft has stayed quiet on its existence.
However, in the first sign from Microsoft that this thing even exists appeared on the Microsoft Careers JobsBlog page. A post on the site about innovation inadvertently mentioned "the upcoming Courier digital journal" when talking about other MS tech including Natal, Windows phone 7 and IE9. The reference as since been deleted, but you can catch a screencap of the evidence after the cut. Read more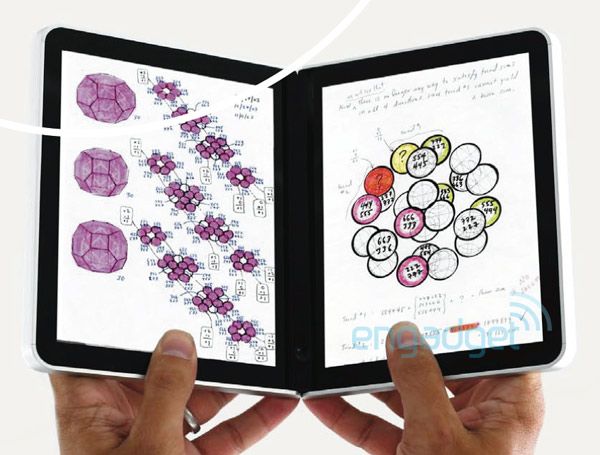 Details on Microsoft's Courier device has been under tight wraps since the first rumours started to appear. Now Engadget has managed to get a whole host of details from a trusted source. Apparently the dual-screen device will function as a "digital journal" and will be less than an inch thick and around the size of a 5×7" photo when closed.
The Courier will feature the Tegra 2 chipset and the same operating system as the recently announced Windows Mobile 7 series i.e. Windows CE 6. Other hardware features include a built-in camera and headphone jack. The UI will be pen-based and will focus on drawing and writing. There's no suggestion on pricing but the release date is said to be at some point in H2 2010.
February 19, 2010 at 3:57 pm
Hewlett Packard has released little detail on its Slate tablet device. Apparently this is for good reason. According to the WSJ, HP was waiting to see what Apple had in store with the iPad, before tweaking features and price-points. Its sources suggest that HP executives will be meeting in the US and Taiwan over the next few weeks to discuss these exact issues.
It sounds like 3G will be one of the Slate's features as the company is considering selling a version of the Slate that has a similar display size and features as the iPad (including a 3G connection) for a price less than Apple is charging ($629). Read more
December 9, 2009 at 8:16 pm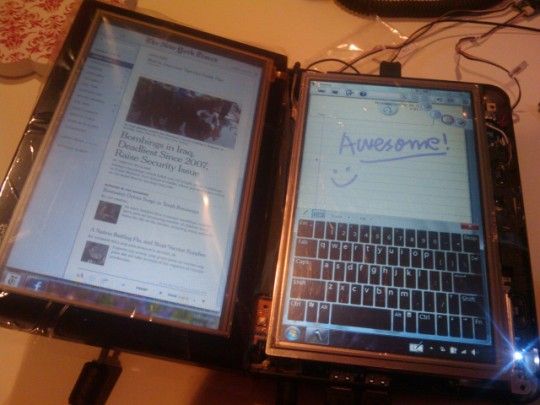 Now this is a mod we've not come across before. MyDellMini member pakkei decided to embark on the Harlequin project, which was to create something similar to the Microsoft Courier. For those that don't know, the fabled Microsoft Courier has dual-screen multi-touch panels and is designed for writing, flicking and drawing with a stylus, in addition to fingers.
The Harlequin is pakkei's take on the project, where he has modded his Dell Mini 9 netbook to form a slate and then added another 9-inch USB touchscreen. The left panel will be used for reading content and the right panel will be used for taking notes. The orientation of the displays can also be reversed to be used in a more normal netbook form-factor too.
As the device uses Windows 7 it features both handwriting and voice recognition. The Harlequin is mostly working although it does need a dual-hinged chassis. Seems like some good handy work from pakkei.
Via Netbooked.