HP has made some changes to its netbook line-up by offering an updated HP Mini 110 that now has an integrated 6-cell battery good for 8 hours of battery life. It will launch on June 15 in the US for $279.99.
The HP Mini 210 also has had a makeover that includes two new designs, preppy pink and white crystal. These new netbooks use 3D imprint technology that uses a mould with multiple layers on the top and bottom covers that make the top layer appear that it is 'floating', casting a shadow on the lower layer. The touchpad also features the same preppy pink finish. These new Mini 210's will also be available on June 15 for $354.99.
Via HP.com.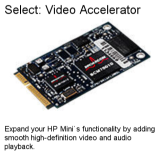 The HP Mini 110 netbook was promised a number of optional upgrades this month and right on cue, these options are now available. First off, you can now opt for a high resolution 10.1-inch screen for an additional $30. This will bump up the resolution from 1024 x 576 pixels to 1366 x 768 pixels.
You may want to pair this with the Broadcom Crystal HD Enhanced Video accelerator, which will cost an extra $30. This card should allow smooth playback of HD video content. However, you will have to use this with the bundled ArcSoft TotalMedia Theatre software to take advantage of the video acceleration. TotalMedia Theatre will give you access to MKV, MOV, MP4, AVI, WMV and TS/M2TS files. Read more
June 30, 2009 at 10:56 pm
The recently announced HP Mini 110 netbook was launched to replace the older Mini 1000 series. Tech65 managed to win a Mini 110 in a competition and went on to shoot an unboxing video. The SKU that Daniel from Tech65 unboxed was powered by a 1.66GHz N280 Atom CPU, 1GB RAM and a 160GB HDD. It also came with a 5-in-1 card reader , Wi-Fi (b/g) and 3-cell battery.
The Mini 110 comes with HP's usual mouse button placement on either side of the touchpad and I also noticed that it sports a wireless switch and only one audio jack (headphone, no mic). The video is attached after the jump, along with another that shows how HP's new Syncables software works. As the name suggests, this software allows you to sync files between the netbook and desktop. Read more
The HP Compaq 110c netbook is the European equivalent of the HP Mini 110 that is sold in the US. The Compaq 110c is almost exactly the same as the Mini 110, it mainly differs in having a high-gloss 'infinity' imprint finish, which compares to the swirl design of the Mini 110. You'll also find the 'Q' logo on the lid that might not be to everyone's tastes.
Notebook Italia has gone hands-on with the Compaq 110c (110c-1020SL). This particular version comes with a 1.6GHz N270 Atom CPU, although we know a 1.66GHZ N280 version is also planned. It comes with a 10.1-inch (1024 x 576) LED backlit display. The BrightView display uses a high-gloss and anti-reflective LCD screen technology.
The other specifications are pretty standard far and include 1GB RAM and a 160GB HDD, we've included a list of the full technical specifications after the jump. This particular model goes on sale from the beginning of next month in Italy at a price of €299. It should hit the in August from £279. We've attached a video of the 110c from Notebook Italia after the break, where they give a tour of the model. Read more
June 20, 2009 at 10:55 am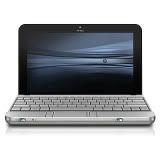 The very popular HP Mini 2140, which is targeted for business users, appears to have been discontinued from the HP Store. Apparently the HD model was available to order yesterday for $449 as a smart offer, before disappearing from the site altogether. The only model available to purchase is the HP Mini 1101, which is the business version of HP's new Mini 110 netbooks.
The Mini 110 ended up replacing the Mini 1000 series of netbooks (which are now discontinued), so it could be conceivable that the Mini 1101 has replaced the Mini 2140. However, the Mini 2140 came with an aluminium shell, rather than the plastics seen in the Mini 1101, so I'd be surprised if there was no kind of refresh due soon. Back in January, it was rumoured that a HP Mini 2150 was due in June with built-in 3G module.
Thanks Steffen!