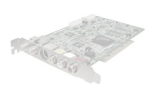 The option to purchase an integrated digital TV Tuner for the Dell Mini 10 netbook is now available on the Dell US site. The tuner was expected to be released in the summer, however Dell looks to have had a change of heart. It has also come in cheaper than expected at $20, rather than the $50 first suggested. This option does not exist on the Dell Mini 10v.
The built-in tuner will receive over-the-air ATSC live digital TV signals and should pick up most of the local TV stations digital broadcasts. To clear a misconception, to catch a broadcast signal you will need to be still in one place, therefore you can't watch TV whilst you're on the move (for now anyway). Picking this option will delay your order by 7 days according to Dell. Read more
April 22, 2009 at 2:52 pm
Roundbox, a major player in mobile broadcast software, has shown off the first netbook with integrated Mobile DTV reception. The demonstration at the 2009 National Association of Broadcasters Show (NAB) in Las Vegas, involved a Dell Inspiron Mini 10 netbook, the Roundbox client and an integrated prototype tuner from LG.
"This prototype clearly demonstrates the ability to seamlessly integrate Mobile DTV into a netbook giving consumers a compelling new TV entertainment capability in conjunction with the device's strong networking functions," said Vinod Valloppillil, vice president, product marketing at Roundbox.
Dell plans to offer optional built-in support for the Mini 10 across several broadcast standards in the coming months. This includes DVB-T (Europe), ATSC (U.S.), CMMB (China) and ISDB-T (Japan). The potential for such technology could be huge for netbooks, especially given their portability and increased battery lives.