June 23, 2010 at 10:16 am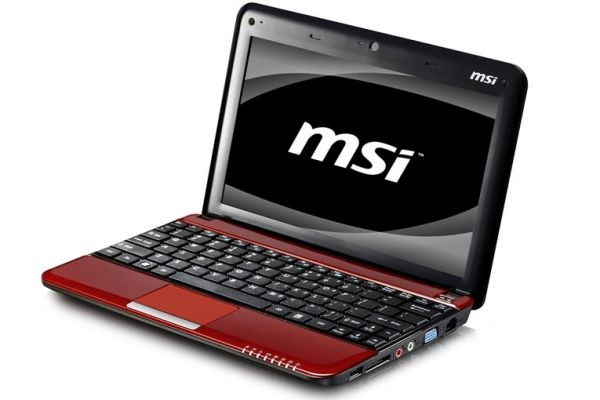 Intel recently launched new DDR3-enabled Atom processors, the 1.66GHz N455 Atom and 1.83GHz N475 Atom. A number of manufacturers are refreshing existing models using these new chips given their energy efficiency. The latest one to do so is MSI with the Wind U135DX.
This model appears identical to the Wind U135 that we enjoyed reviewing recently, but comes with the 1.66Ghz N455 Atom processor. As with the Wind12 U250, the Wind U135DX also comes with MSI's new overclocking utility called TDE (Turbo Drive Engine). Other than that everything else looks the same. No word on pricing or availability. Click through for the specs. Read more
March 29, 2010 at 12:14 pm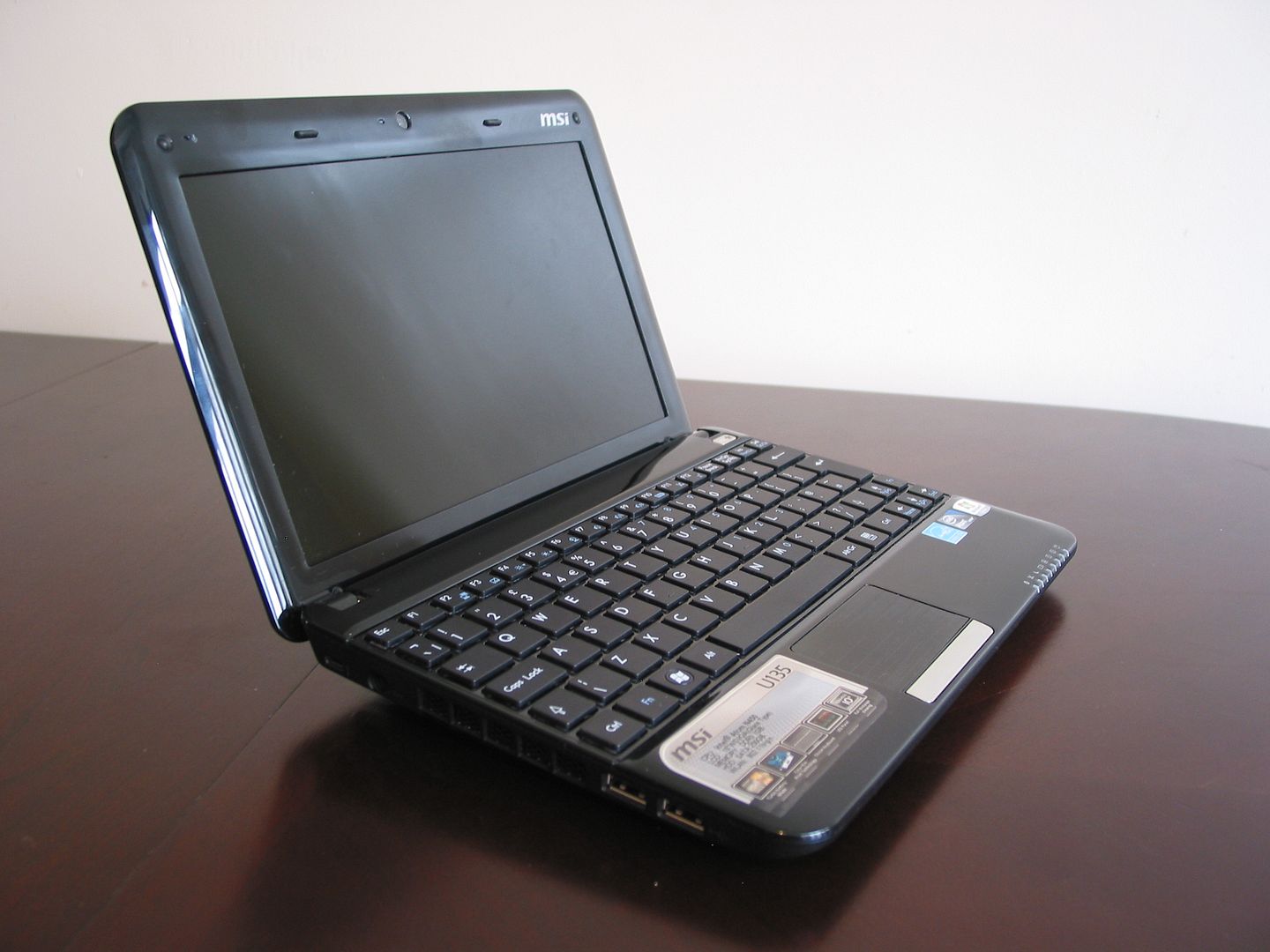 The MSI Wind U135 netbook is interesting for a number of reasons. It is one of the company's first Intel Pine Trail offerings, it moves away from the usual bland MSI Wind design, it's reasonably fully featured in terms of specifications, provides good battery life and, best of all, is priced at a reasonable price point.
We have put the Wind U135 netbook through its paces and overall we were left with positive impressions. Yes, we did find a few niggles, but couldn't complain too much given its keen pricing at £280. Click through for our in depth review, along with our customary performance and battery tests. Read more
February 17, 2010 at 3:04 pm
Back at CES in January, both MSI and Samsung announced that it was planning to release netbooks with the Moblin operating system installed. MSI were planning a Moblin Wind U135, whilst Samsung was prepping the N127 netbook that will primarily go on sale in India and Russia.
Now the MSI Wind U160 has been spotted running Moblin at MWC in Barcelona. The hardware remains the same: 10.1-inch (1024 x 600) display, N450 Atom processor, 1GB RAM, 250GB HDD and a 15 hour battery life. We don't know whether this was just a demonstration or whether MSI plans on making this a commercial reality. However, you can check out a video of the Moblin Wind U160 after the break. Read more
February 8, 2010 at 11:15 am
MSI were kind enough to send over the MSI Wind U135 netbook for us to test. Whilst we'll be putting the 10-inch U135 through its paces over the next couple of weeks, we first shot an unboxing video along with our preliminary impressions.
I have to say I'm impressed with MSI's efforts in its new range of Intel Pine Trail netbooks. Whilst the Wind U160 may be the head-turner, the U135 isn't too bad itself. Whilst we're never fans of seeing a glossy lid, it doesn't seem to be as much of a fingerprint magnet compared to the other models. The chiclet keyboard also has proved to be comfortable and we really like the textured touchpad. It's not the biggest, but the tracking is very accurate and the finger scrolls smoothly over the surface. The single rocker bar underneath also has good feedback.
We're currently conducting our usual round of battery and performance tests and will come back with a review in due course. Until then, check out our unboxing video after the break. Read more
January 9, 2010 at 9:13 pm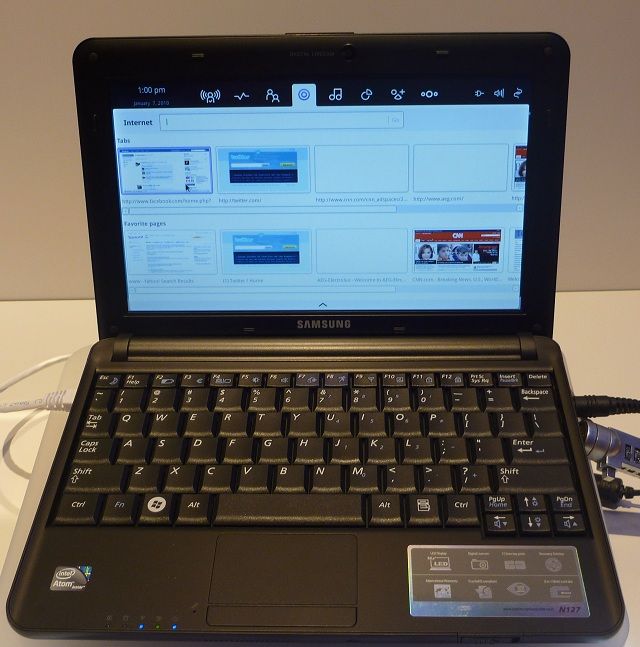 Samsung is prepping a 10.1-inch netbook with the Moblin operating system during Q1 2010. The Samsung N127 will first launch in India and Russia at an unknown price point. If the launch goes well, either this model or another Samsung Moblin netbook will launch in Q2 2010.
The Samsung N127 is powered by an Intel Atom Z-series processor, more than enough grunt to run Moblin adequately. Ars Technica got some hands-on time with the Samsung N127 and found that Moblin ran very snappily. As Moblin has been designed for small screens, the large icons and bright colours help with the user experience. Read more
December 24, 2009 at 11:51 pm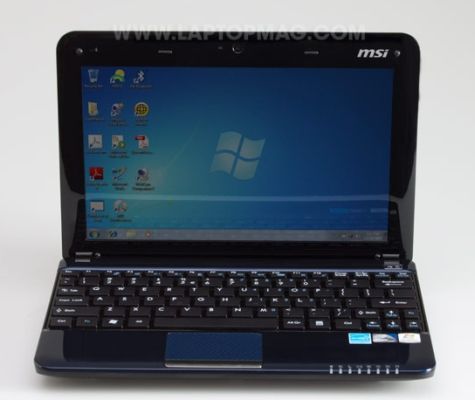 The MSI Wind U135 netbook is just one of the company's new netbooks running on the new Intel Pine Trail platform. The Wind U135 offers some extra features over the entry-level U130 including a chiclet keyboard and 20 percent larger touchpad. Laptop Mag has posted a full review of the unit and it seems to fare reasonably well given its $329 price point.
Positive points include a comfortable keyboard, bright display and great value for money. However, it does lose marks for having 5 hours less battery life than the Asus Eee PC 1005PE (the Wind U135 lasts for 5 hours and 35 minutes). The fan can also be quite noisy and the U135 suffers from long boot times. The Wind U135 is worth consideration, however they recommend that if you can plump for the extra $50, then the Eee PC 1005PE may be the better bet.
December 22, 2009 at 11:14 am
The MSI Wind U135 was officially announced yesterday armed with Intel's N450 Atom Pineview processor. The 10-inch netbook has already seen some hands-on impressions from both Engadget and Laptop Mag. The Wind U135 comes with a chiclet keyboard, 20 percent larger touchpad over the U130 and a new stripy lid pattern.
Engadget found that performance was pretty much on par with the Asus Eee PC 1005PE that was widely reviewed yesterday. The chiclet matte keys felt sturdier than the 1005PE. The plastic chassis feels solid enough and it's good to know that the 6-cell battery only protrudes slightly. Read more
December 21, 2009 at 2:18 pm
Just this morning we brought you news that MSI were planning on releasing at least four netbooks using Intel's new Pine Trail platform. Now we have just received official word regarding two models in that list, the U130 & U135 Wind.
The 10-inch (1024 x 600) netbooks will be armed with a 1.66GHz N450 Pineview Atom processor, 160GB/250GB HDD options and Windows 7. Other features include Wi-Fi (b/g/n), Bluetooth 2.0, a 1.3MP webcam and a 4-in-1 card reader. Both netbooks are also the first to receive international WiMAX Forum certification in areas that can use the WiMAX service. Read more
December 21, 2009 at 9:45 am
We have it on good authority that MSI is set to launch its own range of Intel Pine Trail Atom netbooks including the Wind U130, U135, U140 and U160 models. Details are scant on the models themselves apart from the fact that they will use the 1.66GHz N450 Atom Pineview processor.
The U130 and U135 models are expected to be similar to the U100 but with a larger touchpad. The U140 is said to use the same chassis as the U123. The U160 will come in a super skinny chassis. Whether this means it is a CULV ultra-thin or fanless Pineview Atom model is unknown at this stage.
The U130, U135 and U140 are expected to be 10-inch netbooks although we couldn't confirm whether this is the case for the U160. We believe that MSI is lining up these netbooks for a CES 2010 launch in January. We'll bring you further news as we have it. In the meantime, check out the first picture of the MSI Wind U135 below. Read more