MSI is planning on launching an updated version of the stylish Wind U160 that will be armed with the DDR3 N455 Atom processor. The Wind U160DX will be the same in all other respects, coming with a 10-inch display and the same chic looks.
Intel has not formally announced its DDR3 1.6GHz N455 and 1.83GHz N475 Atom processors, however we may expect further details at Computex in a couple of weeks time. One of the benefits of the new chip was increased power efficiency. MSI claims that the Wind U160DX should be good for 15 hours of runtime. No word on availability or pricing for now.
Via NewGadgets.de.
March 22, 2010 at 9:44 am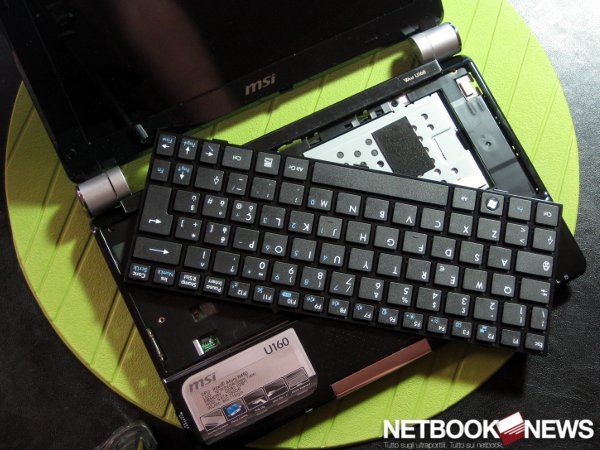 The MSI Wind U160 is one of the prettiest netbooks around, recognised by the fact that it won the 2010 iF Product Design Award. To give an idea on how MSI's engineers packed everything into its slim chassis, the guys over at NetbookNews.it have dissected the Wind U160 to give us a closer look.
They claim that dismantling the U160 is both easy and fast, with ten main screws holding the bottom cover in place. Be aware though that by removing the bottom invalidates your warranty, so proceed with caution if you think of doing something similar once the Wind U160's eventually hit retail. Read more
March 21, 2010 at 10:32 am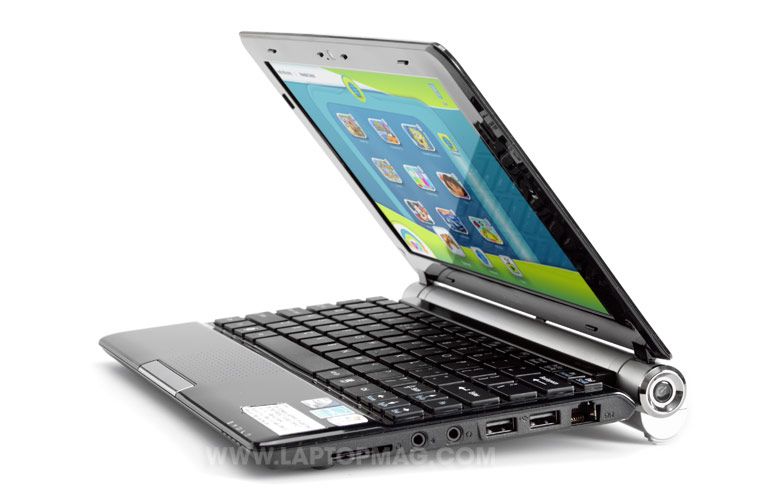 MSI's new range of Pine Trail netbooks have moved away from the functional, but bland designs of the past. This is most prevalent in the Wind U160 that appears to have taken design touches from both the Asus Eee Seashell series as well as Toshiba's NB200/NB300 netbooks.
Laptop Mag has put the Wind U160 to the test where it scored a respectable 3.5 stars. One area where it really excelled was battery life, lasting for 8 hours and 37 minutes, way ahead of the average (6 hours 11 minutes). They liked the fact that it ran cool, it has a fast hard drive and is amongst the lightest netbooks around. Read more
February 17, 2010 at 3:04 pm
Back at CES in January, both MSI and Samsung announced that it was planning to release netbooks with the Moblin operating system installed. MSI were planning a Moblin Wind U135, whilst Samsung was prepping the N127 netbook that will primarily go on sale in India and Russia.
Now the MSI Wind U160 has been spotted running Moblin at MWC in Barcelona. The hardware remains the same: 10.1-inch (1024 x 600) display, N450 Atom processor, 1GB RAM, 250GB HDD and a 15 hour battery life. We don't know whether this was just a demonstration or whether MSI plans on making this a commercial reality. However, you can check out a video of the Moblin Wind U160 after the break. Read more
February 16, 2010 at 4:40 pm
The sexy MSI Wind U160 netbook is now available to pre-order in the US. Amazon.com
has both colours (black
& gold
) up for pre-order for $379.99. No release date is listed, but hopefully it's not in the too distant future. The U160 is expected to launch in the UK for £329 during March.
The Wind U160 comes with a 10.1-inch (1024 x 600) display, chiclet keyboard and is powered by a 1.66GHz N450 Atom processor. The company is claiming a 15-hour battery life from a chassis measuring 1-inch in thickness and weighing less than 1kg. For the full specs click here.
Via Netbooked.
February 5, 2010 at 2:48 pm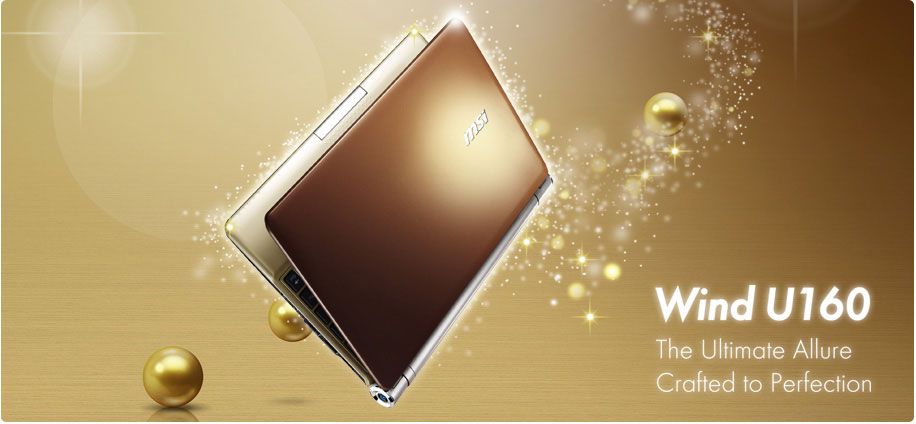 Official specifications for the gorgeous MSI Wind U160 netbook have been revealed. The company claims that the N450 Atom Pineview netbook will have a runtime of up to 15 hours, although I imagine that is on a 6-cell (or maybe extended 9-cell?) battery. If true, it likely means real-time use of around 10 or 11 hours, still nothing to sniff at.
Apart from that, there's not too much that we didn't already know about the 10-inch (1024 x 600) netbook. It's one of the most attractive MSI Wind netbooks we've come across and measures an inch in thickness and weighs less than 1kg. The lid comes in two colours (Fancy Gold and Jet Black) and it also comes with a chiclet keyboard and seamless touchpad that is reminiscent of the Asus Eee Seashell series. Check out the full specs after the break. Read more
February 4, 2010 at 12:16 pm
The good-looking MSI Wind U160 netbook has seen its first unboxing courtesy of Johannes at NewGadgets.de. The Intel N450 Atom-powered U160 is one the slimmest Wind netbooks and comes with a chiclet keyboard and textured touchpad.
The netbook unboxed is only a pre-production model but it gives a good indication of what to expect in the final version. It's a bit disappointing to see the 6-cell battery stick out the back so much, ruining its sleek looks somewhat. Check out the video after the break. Read more
January 7, 2010 at 6:48 pm
We've already praised MSI for finally launching a netbook with a sexy design. We now have some more details on specs as well as UK pricing and availability. The Wind U160 measures just 1-inch in thickness and weighs a lowly 1kg.
The 10.1-inch, N450 Atom-powered netbook has a 9-hour battery life when using the extended battery. Other features include a chiclet keyboard, gold chassis as well as Windows 7. The U160 will go on sale in the UK from March 2010 priced at £329.
January 6, 2010 at 9:12 pm
The MSI Wind U160 has made an appearance at CES as predicted. We drooled over the leaked press shots that appeared a few weeks back and now we are treated to a number of hands-on videos. The U160 is without doubt the sexiest netbook design coming out of MSI's labs in a while.
It has taken inspiration from a number of other models including the Toshiba NB200, Asus Eee PC Seashell range and even the Sony Vaio. The end result is a slim device with glossy mocha-brown lid (we wish MSI had looked at the excellent Toshiba NB200 matte lid here). The chiclet keyboard was found to suffer from some flex issues.
The MSI Wind U160 is powered by a 1.66GHz N450 Atom, 1GB RAM, 250GB HDD and Windows 7 Starter. It will be sold for $399 on release. Check out some hands on videos from Engadget, NetbookNews and Laptop Mag after the break. Read more
December 22, 2009 at 11:14 am
The MSI Wind U135 was officially announced yesterday armed with Intel's N450 Atom Pineview processor. The 10-inch netbook has already seen some hands-on impressions from both Engadget and Laptop Mag. The Wind U135 comes with a chiclet keyboard, 20 percent larger touchpad over the U130 and a new stripy lid pattern.
Engadget found that performance was pretty much on par with the Asus Eee PC 1005PE that was widely reviewed yesterday. The chiclet matte keys felt sturdier than the 1005PE. The plastic chassis feels solid enough and it's good to know that the 6-cell battery only protrudes slightly. Read more
December 22, 2009 at 8:32 am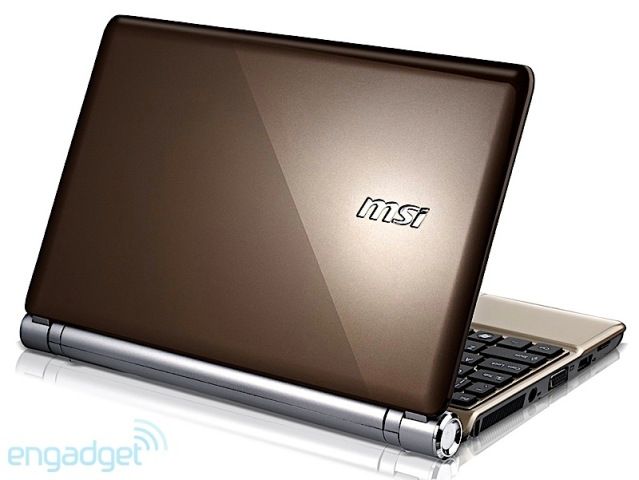 We broke the news on the existence of the MSI Wind U160 netbook yesterday and now Engadget has confirmed that it will be making an appearance at CES 2010. They've managed to get hold of a number of official press shots and we have to say that it looks like a stunning bit of design (it's not too often we've said that about a MSI netbook!)
MSI appear to have taken some design cues from Asus and Toshiba, but the result is one of the company's most desirable netbooks to date. The hinge is similar to that of the Toshiba NB200 whilst the touchpad consists of a dimpled surface as seen in Asus' Seashell range. The 10-inch Wind U160 will be powered by a 1.66GHz N450 Pineview processor and come with a 10-hour battery. Prices will start around the $350 when on launch. Check out some more pictures after the break. Read more
December 21, 2009 at 9:45 am
We have it on good authority that MSI is set to launch its own range of Intel Pine Trail Atom netbooks including the Wind U130, U135, U140 and U160 models. Details are scant on the models themselves apart from the fact that they will use the 1.66GHz N450 Atom Pineview processor.
The U130 and U135 models are expected to be similar to the U100 but with a larger touchpad. The U140 is said to use the same chassis as the U123. The U160 will come in a super skinny chassis. Whether this means it is a CULV ultra-thin or fanless Pineview Atom model is unknown at this stage.
The U130, U135 and U140 are expected to be 10-inch netbooks although we couldn't confirm whether this is the case for the U160. We believe that MSI is lining up these netbooks for a CES 2010 launch in January. We'll bring you further news as we have it. In the meantime, check out the first picture of the MSI Wind U135 below. Read more