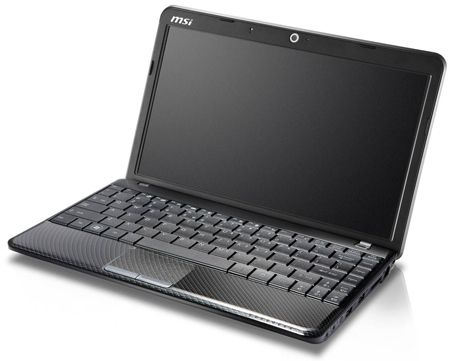 MSI has officially announced its 12.1-inch AMD-powered Wind12 U250 ultraportable. The U250 will be armed with AMD's new "Nile" ultrathin platform, more specifically a dual-core AMD Athlon II Neo (Geneva) processor that supports DDR3 memory. It also sports AMD's latest RS880M chipset that supports HD graphics as well as UVD2 and DirectX 10.1.
The design seems similar to the U230 but will come with a Cobra Gray print that helps to protect it against scratches. The Wind12 U250 will come with a 12.1-inch glossy (1366 x 768) display, up to 8GB RAM and various HDD options (160/250/320GB). Other features include HDMI, Wi-Fi (b/g/n), Bluetooth 2.1, a 1.3MP webcam, 4-in-1 card reader and three USB ports. Read more
March 29, 2010 at 9:48 am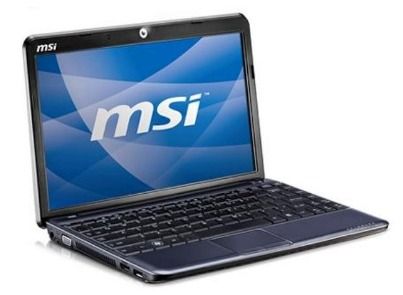 It looks like MSI will soon be launching the 12-inch Wind12 U250 netbook that follows the U210 and U230 AMD-powered devices. The Wind12 U250 was spotted on the ENERGY STAR website along with some unveiled specs.
The model will come with an unspecified dual-core 1.3GHz processor, up to 4GB RAM and a 320GB HDD. System power in idle is quoted as 10.61W suggesting it will be an AMD processor as it's higher than typical CULV power consumption. It will come with dedicated graphics (ATi Radeon 3200?) with 512MB memory. Hopefully some more definitive information will be released shortly. Read more
March 10, 2010 at 7:54 am
MSI's 12-inch Wind12 U230 netbook has started to ship in the US, four months after being officially announced. Two AMD-powered models are shipping. The Wind12 U230-033 comes with an AMD Athlon Neo MV-40 processor and 250GB HDD, whilst the U230-040 comes with the dual-core Athlon X2 L335 processor and 320GB HDD.
Both models come with a 12.1-inch (1366 x 768) display , 2GB RAM, W7 Home Premium, ATI Radeon and HD3200 graphics. Other features include a 1.3MP webcam, 6-cell battery, Wi-Fi (b/g/n), HDMI and a card reader. Both models are available now from Newegg, the base model comes in at $429.99 whilst the dual-core version will set you back $50 extra.
November 29, 2009 at 12:18 pm
The AMD Congo-powered MSI Wind12 U230 netbook was recently launched and has already seen its first review. Now the crew over at NetbookNews has posted a video hands on of the 12.1-inch device.
The video shows a flat-key keyboard that stretches to the edge of the chassis. The right shift key isn't that big, but that's because there are separate keys for PgUp, PgDn and Home keys. It also has a reasonably large touchpad with separate left/right mouse buttons. It has a 5200mAh battery for around 6 hours of battery life. There is also a large access panel on the bottom to upgrade HDD & RAM. Check out the video after the break. Read more
November 27, 2009 at 5:50 pm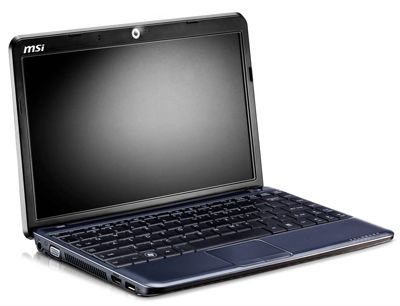 Details of the 12.1-inch MSI Wind12 U230 ultra-thin already popped up on its official website at the end of last month although the product page was pulled shortly after. MSI has now officially unveiled the Wind12 U230. The model is similar to the U200/U210 models, but comes with Windows 7 and is powered by AMD's new Congo 1.6GHz dual-core processor.
The company claims that AMD's new platform consumes 60 percent less power than standard notebooks and offers 4-hours of battery life. It also comes with the AMD RS780MN and SB710 chipsets that support HD and DX10 and ATI Radeon HD 3200 graphics. Read more
October 30, 2009 at 6:29 pm
MSI has quietly launched a new 12.1-inch netbook on its official website. The MSI Wind12 U230 follows on from the U200/U210 models, with a 12.1-inch (1366 x 768) display powered by an AMD Athlon Neo X2 (Yukon CPU MV40/ L335) dual-core processor. Graphics will be catered for by the ATI Radeon HD 3200 and it will come with Windows 7 Home Premium.
Other features include up to 4GB RAM, 160-320GB HDD, HDMI, 1.3MP webcam, Wi-Fi (b/g/n), 4-in-1 card reader, three USB ports and optional Bluetooth. Battery life on the 6-cell battery should be good for around 4 hours. At this point there's little information on pricing or availability, but we'll keep you posted.
Via Netbooked.