June 23, 2010 at 10:16 am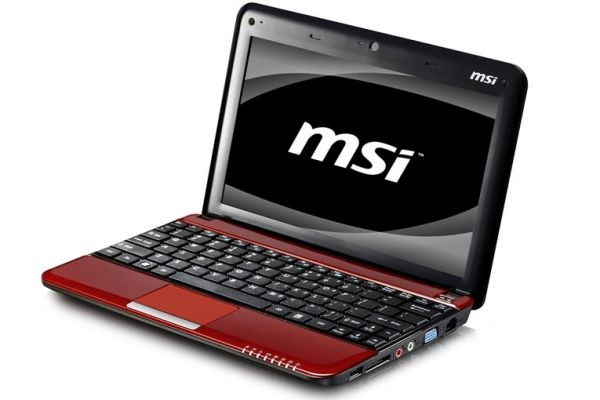 Intel recently launched new DDR3-enabled Atom processors, the 1.66GHz N455 Atom and 1.83GHz N475 Atom. A number of manufacturers are refreshing existing models using these new chips given their energy efficiency. The latest one to do so is MSI with the Wind U135DX.
This model appears identical to the Wind U135 that we enjoyed reviewing recently, but comes with the 1.66Ghz N455 Atom processor. As with the Wind12 U250, the Wind U135DX also comes with MSI's new overclocking utility called TDE (Turbo Drive Engine). Other than that everything else looks the same. No word on pricing or availability. Click through for the specs. Read more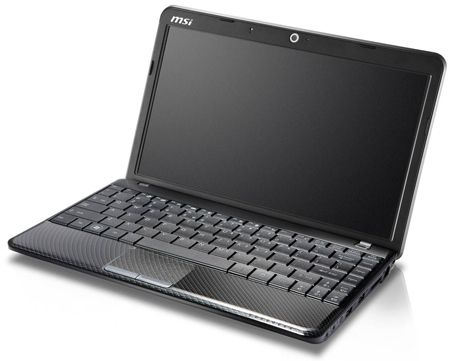 MSI has officially announced its 12.1-inch AMD-powered Wind12 U250 ultraportable. The U250 will be armed with AMD's new "Nile" ultrathin platform, more specifically a dual-core AMD Athlon II Neo (Geneva) processor that supports DDR3 memory. It also sports AMD's latest RS880M chipset that supports HD graphics as well as UVD2 and DirectX 10.1.
The design seems similar to the U230 but will come with a Cobra Gray print that helps to protect it against scratches. The Wind12 U250 will come with a 12.1-inch glossy (1366 x 768) display, up to 8GB RAM and various HDD options (160/250/320GB). Other features include HDMI, Wi-Fi (b/g/n), Bluetooth 2.1, a 1.3MP webcam, 4-in-1 card reader and three USB ports. Read more

MSI has outlined a new 10-inch concept netbook called 'La Mode' that has a chic exterior design, most likely following Asus' footsteps with its Karim Rashid designed Eee PC1008P-KR netbooks. It's not clear from the press release whether this is a new netbook or accessory (both are referred to) but what we do know is that the netbook has a "stylish ebony cloth case with wave-pattern and luminescent MSI logo".
The company also talks of its MSI Serene thermal technology that ultimately results in fanless 10-inch netbooks powered by Intel Atom processors. Not sure what's too new here as some manufacturers already have fanless netbooks (like the Dell Mini 10). MSI says that this tech will be integrated into all future products. Read more
MSI has unveiled two 10-inch tablets at Computex both under a new brand name for tablets called Wind Pad. The MSI Wind Pad 100 is powered by a 1.6GHz Intel Atom Z530 processor and comes with Windows 7, whilst the Wind Pad 110 is powered by the Nvidia Tegra 2 chipset and comes with Android.
The MSI Wind Pad 100 has a 10-inch (1024 x 600) capacitive touch display and comes with Windows 7 Ultimate, although MSI has created its own 'Wind Touch' UI. It will come with a HDMI socket capable of outputting 720p video, two USB ports and webcam and will land later this year for $499. Engadget managed some hands-on time and found that it felt "incredibly sluggish." Read more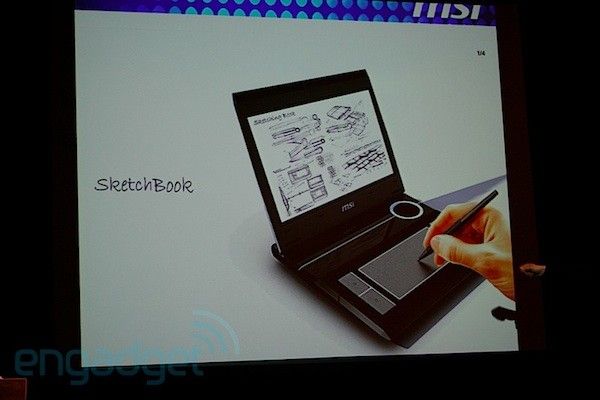 MSI has been showing off a new 'SketchBook' concept ahead of Computex Taipei at an event in Amsterdam. It can be thought of as a convertible netbook but instead of the screen swivelling it is the base that rotates. One side holds the keyboard, whilst the other has a full-sized tablet.
It is unknown whether MSI has plans to put this into production, but it certainly seems intriguing. Personally I'd be worried about damaging the tablet side when using it as a keyboard. We'll hopefully hear more at Computex.
Via Engadget.
MSI is planning on launching an updated version of the stylish Wind U160 that will be armed with the DDR3 N455 Atom processor. The Wind U160DX will be the same in all other respects, coming with a 10-inch display and the same chic looks.
Intel has not formally announced its DDR3 1.6GHz N455 and 1.83GHz N475 Atom processors, however we may expect further details at Computex in a couple of weeks time. One of the benefits of the new chip was increased power efficiency. MSI claims that the Wind U160DX should be good for 15 hours of runtime. No word on availability or pricing for now.
Via NewGadgets.de.
MSI will showcase a tablet PC dubbed Slatebook that will be announced at Computex in early June. The tablet will be powered by Intel's latest Menlow processor and the company is currently considering Nvidia Tegra 2 options, depending on market demand.
The 10-inch tablet will come with Windows 7 and sport built-in 3G and Wi-Fi. The tablet will also feature e-reader capabilities (could this mean it has a Pixel Qi hybrid display?) MSI is expected to price the Slatebook at below $500.
We first heard of the MSI Wind U140 back in December last year, but it's not had any formal announcement or release since then. However, it looks like MSI is finally set to announce Wind U140 at Computex following an official press release.
The particular model to be showcased includes WiMAX but I'd expect a non-WiMAX version too. The only official information from the press release is that the U140 will be powered by the 1.66GHz N450 Atom processor and will weigh 1.2kg with the 3-cell battery. Further information is expected at Computex in a few weeks time.
Via Liliputing.
April 29, 2010 at 4:14 pm
MSI is set to announce new Android and Windows 7 tablets at June's Computex show in Taiwan. These tablets are expected to come in 8.9-inch and 10-inch varieties and will ship during the third quarter. Pricing is expected to be "extremely aggressive" according to Engadget.
The dual-screen tablet, first seen at CES, has been delayed though due to issues with battery life. "The two screens are a major drain on the battery, and even with a higher density battery and the Menlow CPU we are only getting three hours," said MSI's Andy Tung. This device is now expected to land in the fourth quarter.
April 7, 2010 at 11:33 am
Colour me confused. MSI only just launched the U130 and U135 netbooks, yet they have some new models up on the MSI US site that appear be largely the same. The MSI Wind L1300, L1350 netbooks are 10-inch models, whilst the L2300 is the 12-inch version, perhaps an update of the U230?
The L1300 has Windows XP and the L1350 has Windows 7. Apart from that, both models come with a 10.1-inch (1024 x 600) display and are powered by 1.66GHz N450 Atom processors. The Wind L2300 has a 12.1-inch (1366 x 768) display and a 1.6GHz AMD Athlon Neo MV-40 processor. If anybody can figure what new things these models bring to the table, we'd love to know!
Via Liliputing.
March 29, 2010 at 12:14 pm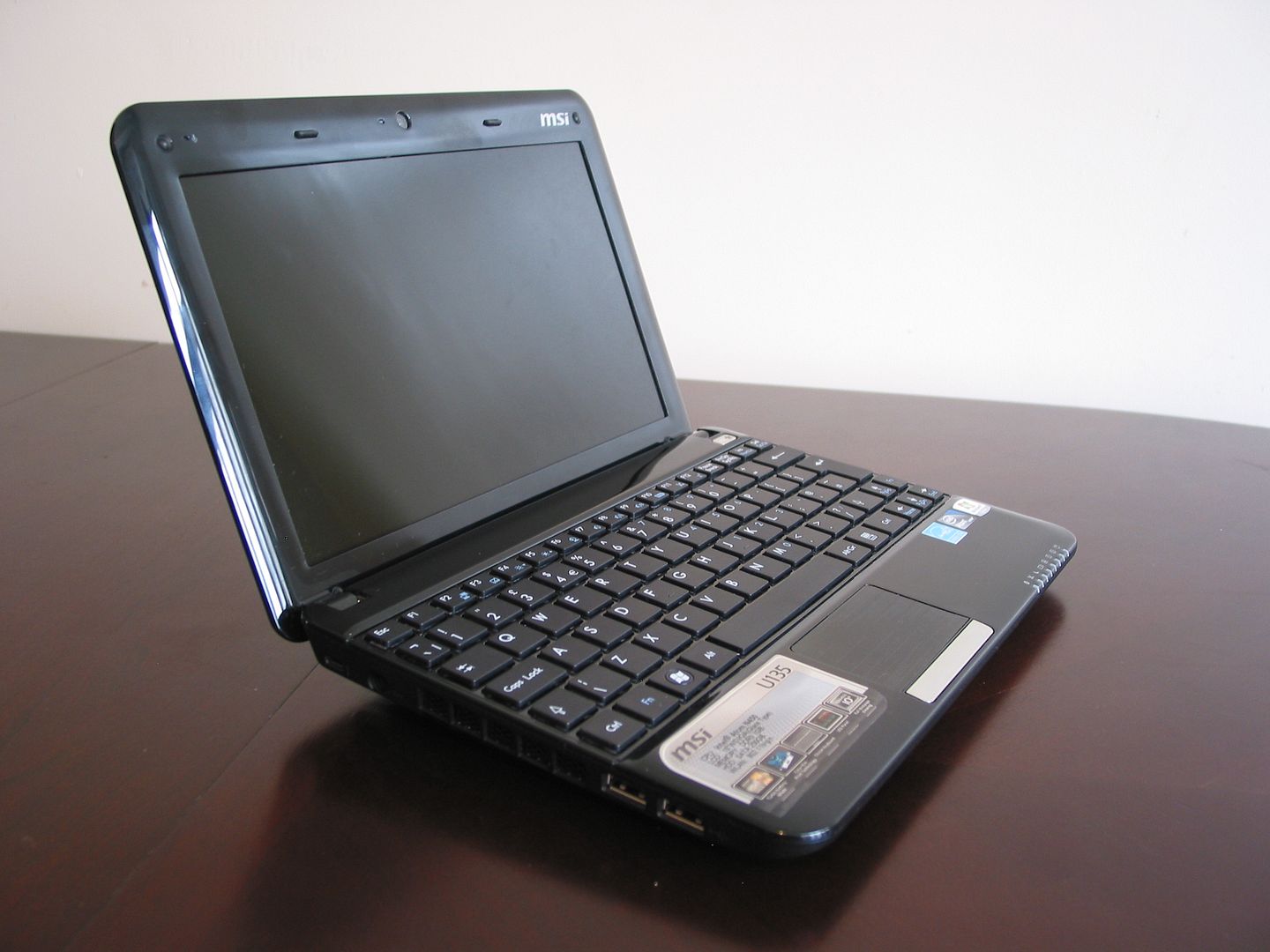 The MSI Wind U135 netbook is interesting for a number of reasons. It is one of the company's first Intel Pine Trail offerings, it moves away from the usual bland MSI Wind design, it's reasonably fully featured in terms of specifications, provides good battery life and, best of all, is priced at a reasonable price point.
We have put the Wind U135 netbook through its paces and overall we were left with positive impressions. Yes, we did find a few niggles, but couldn't complain too much given its keen pricing at £280. Click through for our in depth review, along with our customary performance and battery tests. Read more
March 29, 2010 at 9:48 am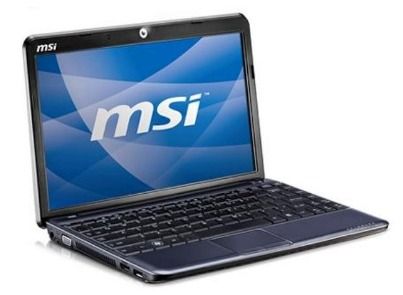 It looks like MSI will soon be launching the 12-inch Wind12 U250 netbook that follows the U210 and U230 AMD-powered devices. The Wind12 U250 was spotted on the ENERGY STAR website along with some unveiled specs.
The model will come with an unspecified dual-core 1.3GHz processor, up to 4GB RAM and a 320GB HDD. System power in idle is quoted as 10.61W suggesting it will be an AMD processor as it's higher than typical CULV power consumption. It will come with dedicated graphics (ATi Radeon 3200?) with 512MB memory. Hopefully some more definitive information will be released shortly. Read more
March 22, 2010 at 9:44 am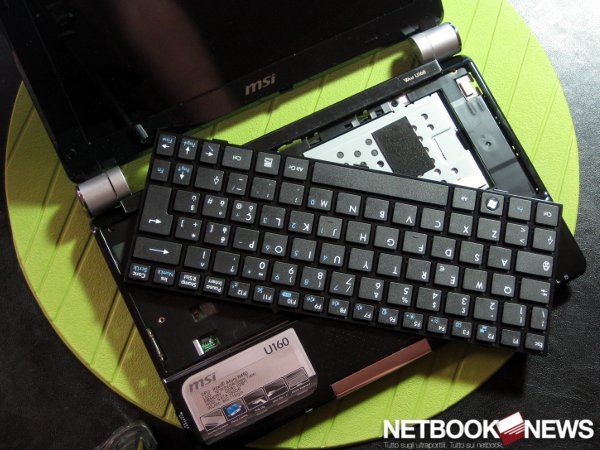 The MSI Wind U160 is one of the prettiest netbooks around, recognised by the fact that it won the 2010 iF Product Design Award. To give an idea on how MSI's engineers packed everything into its slim chassis, the guys over at NetbookNews.it have dissected the Wind U160 to give us a closer look.
They claim that dismantling the U160 is both easy and fast, with ten main screws holding the bottom cover in place. Be aware though that by removing the bottom invalidates your warranty, so proceed with caution if you think of doing something similar once the Wind U160's eventually hit retail. Read more
March 21, 2010 at 10:32 am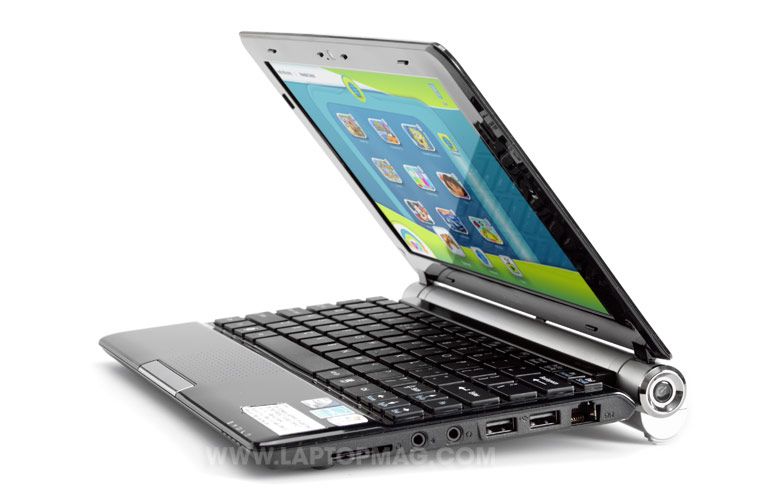 MSI's new range of Pine Trail netbooks have moved away from the functional, but bland designs of the past. This is most prevalent in the Wind U160 that appears to have taken design touches from both the Asus Eee Seashell series as well as Toshiba's NB200/NB300 netbooks.
Laptop Mag has put the Wind U160 to the test where it scored a respectable 3.5 stars. One area where it really excelled was battery life, lasting for 8 hours and 37 minutes, way ahead of the average (6 hours 11 minutes). They liked the fact that it ran cool, it has a fast hard drive and is amongst the lightest netbooks around. Read more
March 15, 2010 at 9:08 am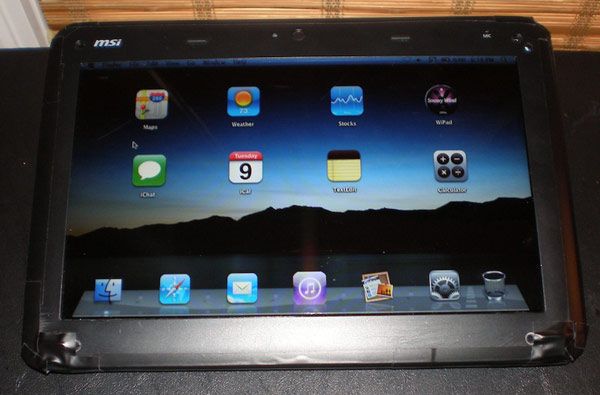 An intrepid modder has come up with an innovative mod that turns the MSI Wind U100 netbook into a tablet device complete with hackintosh OS X operating system and customised UI. The mod involves removing the keyboard and then mounting the LCD where the keyboard once was.
As the modder alexbates says, this mod enables you to "build an iPad with 10 times the storage, twice the speed, external video (VGA), webcam, USB ports, and built-in multi card reader, all for $350." Hopefully a video should be available in due course, in the meantime you can find all the details on this mod here.
Via Engadget.