March 10, 2010 at 7:54 am
MSI's 12-inch Wind12 U230 netbook has started to ship in the US, four months after being officially announced. Two AMD-powered models are shipping. The Wind12 U230-033 comes with an AMD Athlon Neo MV-40 processor and 250GB HDD, whilst the U230-040 comes with the dual-core Athlon X2 L335 processor and 320GB HDD.
Both models come with a 12.1-inch (1366 x 768) display , 2GB RAM, W7 Home Premium, ATI Radeon and HD3200 graphics. Other features include a 1.3MP webcam, 6-cell battery, Wi-Fi (b/g/n), HDMI and a card reader. Both models are available now from Newegg, the base model comes in at $429.99 whilst the dual-core version will set you back $50 extra.
February 28, 2010 at 9:56 pm
We first told you about the Wind U140 Pine Trail netbook back in December. At the time, we thought we might see it announced at CES along with the U130, U135 and U160 models, however it never appeared.
A few photos of the Wind U140 from December 2009 have now been unearthed. It's still unknown whether the U140 will be formally announced and for what regions, but if you're curious to know what it looks like then you can check out a few photos after the break. Read more
February 17, 2010 at 3:04 pm
Back at CES in January, both MSI and Samsung announced that it was planning to release netbooks with the Moblin operating system installed. MSI were planning a Moblin Wind U135, whilst Samsung was prepping the N127 netbook that will primarily go on sale in India and Russia.
Now the MSI Wind U160 has been spotted running Moblin at MWC in Barcelona. The hardware remains the same: 10.1-inch (1024 x 600) display, N450 Atom processor, 1GB RAM, 250GB HDD and a 15 hour battery life. We don't know whether this was just a demonstration or whether MSI plans on making this a commercial reality. However, you can check out a video of the Moblin Wind U160 after the break. Read more
February 16, 2010 at 4:40 pm
The sexy MSI Wind U160 netbook is now available to pre-order in the US. Amazon.com
has both colours (black
& gold
) up for pre-order for $379.99. No release date is listed, but hopefully it's not in the too distant future. The U160 is expected to launch in the UK for £329 during March.
The Wind U160 comes with a 10.1-inch (1024 x 600) display, chiclet keyboard and is powered by a 1.66GHz N450 Atom processor. The company is claiming a 15-hour battery life from a chassis measuring 1-inch in thickness and weighing less than 1kg. For the full specs click here.
Via Netbooked.
February 8, 2010 at 11:15 am
MSI were kind enough to send over the MSI Wind U135 netbook for us to test. Whilst we'll be putting the 10-inch U135 through its paces over the next couple of weeks, we first shot an unboxing video along with our preliminary impressions.
I have to say I'm impressed with MSI's efforts in its new range of Intel Pine Trail netbooks. Whilst the Wind U160 may be the head-turner, the U135 isn't too bad itself. Whilst we're never fans of seeing a glossy lid, it doesn't seem to be as much of a fingerprint magnet compared to the other models. The chiclet keyboard also has proved to be comfortable and we really like the textured touchpad. It's not the biggest, but the tracking is very accurate and the finger scrolls smoothly over the surface. The single rocker bar underneath also has good feedback.
We're currently conducting our usual round of battery and performance tests and will come back with a review in due course. Until then, check out our unboxing video after the break. Read more
February 5, 2010 at 2:48 pm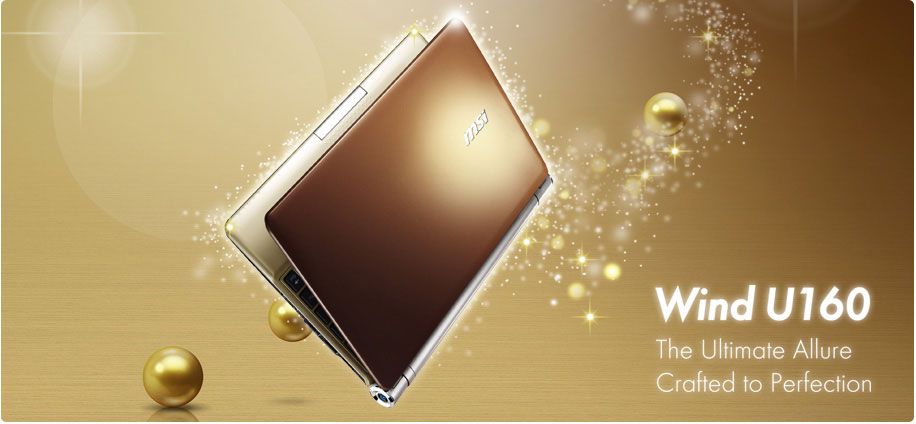 Official specifications for the gorgeous MSI Wind U160 netbook have been revealed. The company claims that the N450 Atom Pineview netbook will have a runtime of up to 15 hours, although I imagine that is on a 6-cell (or maybe extended 9-cell?) battery. If true, it likely means real-time use of around 10 or 11 hours, still nothing to sniff at.
Apart from that, there's not too much that we didn't already know about the 10-inch (1024 x 600) netbook. It's one of the most attractive MSI Wind netbooks we've come across and measures an inch in thickness and weighs less than 1kg. The lid comes in two colours (Fancy Gold and Jet Black) and it also comes with a chiclet keyboard and seamless touchpad that is reminiscent of the Asus Eee Seashell series. Check out the full specs after the break. Read more
February 4, 2010 at 12:16 pm
The good-looking MSI Wind U160 netbook has seen its first unboxing courtesy of Johannes at NewGadgets.de. The Intel N450 Atom-powered U160 is one the slimmest Wind netbooks and comes with a chiclet keyboard and textured touchpad.
The netbook unboxed is only a pre-production model but it gives a good indication of what to expect in the final version. It's a bit disappointing to see the 6-cell battery stick out the back so much, ruining its sleek looks somewhat. Check out the video after the break. Read more
February 1, 2010 at 8:59 pm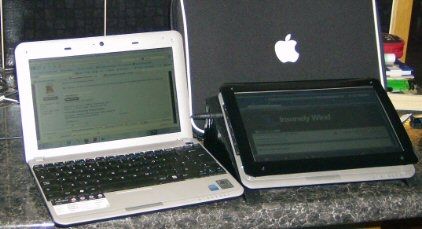 One enterprising MSI Wind owner is conducted a nifty mod where he is looking to turn his Advent 4211c netbook (a rebadged MSI Wind U100) into a touchscreen tablet that opens up to reveal the keyboard, much like a slide form-factor seen on some mobile phones.
The whole project is work in progress, but he has managed to install the touchscreen and flip the display around. He has even added some custom buttons allowing him to dual boot the device between Windows 7 or OS X 10.6.2. The whole thing is working as a normal tablet but he hasn't got round to installing the rails so far. That to me sound like the biggest challenge, so fingers crossed he completes his vision!
Via Netbooked.
January 29, 2010 at 9:30 am
MSI is planning on launching its 10-inch Tegra tablet, first shown off at CES, later this year for $500 according to Digitimes. It should be armed with Tegra's Cortex A9 chipset and Android operating system.
This will pit it against the Apple iPad, with a similar price point, display and computing power. However the MSI tablet should benefit from multitasking and it is reported to be "thin and light." Tegra should also be able to handle 1080p video as opposed to 720p for the Apple iPad. There are still question marks over a full spec-list but we'll keep you posted.
January 26, 2010 at 8:05 am
The guys over at Laptop Mag have pitted six 10-inch Pine Trail netbooks against each other to find out a worthy winner. All models sport the 1.66GHz N450 Atom processor and various features were compared including design, performance and battery life.
The models tested were the Acer Aspire One 532h, ASUS Eee PC 1005PE-P, Dell Inspiron Mini 10, HP Mini 5102, MSI Wind U135 and Toshiba mini NB305. We won't spoil the overall winner, but three models stood out. The Toshiba has the best keyboard and touchpad, whilst the Asus offers the best battery life. The HP is a great all rounder and great for business use. Click here to read more.
January 9, 2010 at 9:13 pm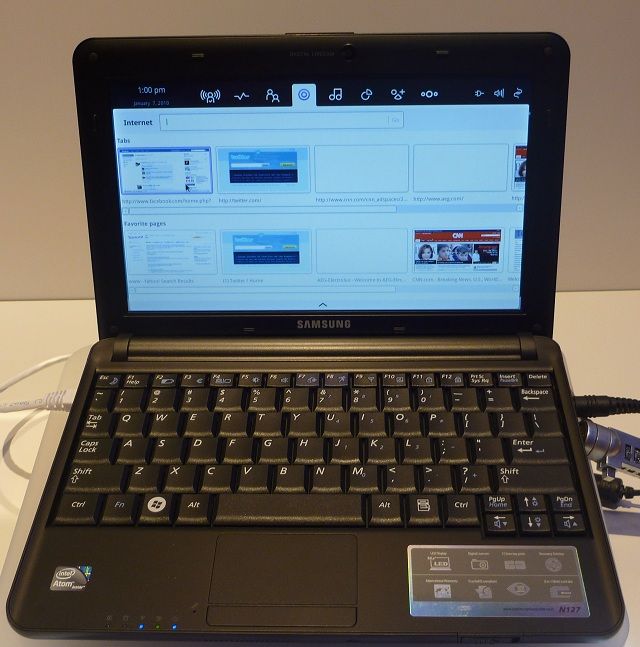 Samsung is prepping a 10.1-inch netbook with the Moblin operating system during Q1 2010. The Samsung N127 will first launch in India and Russia at an unknown price point. If the launch goes well, either this model or another Samsung Moblin netbook will launch in Q2 2010.
The Samsung N127 is powered by an Intel Atom Z-series processor, more than enough grunt to run Moblin adequately. Ars Technica got some hands-on time with the Samsung N127 and found that Moblin ran very snappily. As Moblin has been designed for small screens, the large icons and bright colours help with the user experience. Read more
January 9, 2010 at 5:37 pm
Following the official Nvidia Tegra 2 announcement, a whole number of different next-gen Tegra powered products were shown on the trade floor at CES. Rather than creating a post for every single one, we've summarised each below and attached any relevant videos. Most of these consisted of tablets, rather than smartbooks, but it gives you a good idea of what to expect over the coming year. Check out the Tegra 2 action after the jump. Read more
January 7, 2010 at 6:48 pm
We've already praised MSI for finally launching a netbook with a sexy design. We now have some more details on specs as well as UK pricing and availability. The Wind U160 measures just 1-inch in thickness and weighs a lowly 1kg.
The 10.1-inch, N450 Atom-powered netbook has a 9-hour battery life when using the extended battery. Other features include a chiclet keyboard, gold chassis as well as Windows 7. The U160 will go on sale in the UK from March 2010 priced at £329.
January 7, 2010 at 1:00 pm
Rumours that MSI is planning a dual-screen netbook have been around for a while now. MSI is now showing a prototype in CES that sports two 10.1-inch multitouch capacitive displays in a clamshell form-factor. It means you can use it as an e-reader with pages on either display or as a netbook with the bottom display bringing up a virtual keyboard.
It is powered by a Atom Z-series processor and comes with Windows 7 Home Premium. It will also include an accelerometer in the final version. Both displays can be used when navigating Windows 7, dragging stuff from the top display to the bottom one etc. The software is patchy, but considering this is an early build that's not surprising.
Whilst the device remains a prototype for now, MSI are planning on bringing this to the market within the next 12 months. Start saving those pennies though, it's not likely to come cheap. Check out Engadget's hands-on video after the jump. Read more
January 6, 2010 at 9:12 pm
The MSI Wind U160 has made an appearance at CES as predicted. We drooled over the leaked press shots that appeared a few weeks back and now we are treated to a number of hands-on videos. The U160 is without doubt the sexiest netbook design coming out of MSI's labs in a while.
It has taken inspiration from a number of other models including the Toshiba NB200, Asus Eee PC Seashell range and even the Sony Vaio. The end result is a slim device with glossy mocha-brown lid (we wish MSI had looked at the excellent Toshiba NB200 matte lid here). The chiclet keyboard was found to suffer from some flex issues.
The MSI Wind U160 is powered by a 1.66GHz N450 Atom, 1GB RAM, 250GB HDD and Windows 7 Starter. It will be sold for $399 on release. Check out some hands on videos from Engadget, NetbookNews and Laptop Mag after the break. Read more