February 8, 2010 at 10:09 am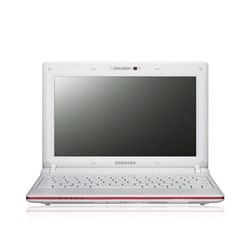 Samsung has released four new Intel Pine Trail netbooks and amongst them is the 10.1-inch Samsung N150, powered by a 1.66GHz N450 Atom processor, boasting an 8.5-hour battery life. Cnet recently reviewed the Samsung N150 netbook and whilst they lauded its battery life, the keyboard fell short, a disappointment considering Samsung's pedigree in this area.
The chassis comes with a glossy black lid (I really wish Samsung would go back to its matte lid on the Samsung N120) that is a bit of a fingerprint magnet. Samsung's netbook keyboards have stood out in the past, however Cnet found the one in the N150 disappointing. This was due to close proximity of keys that caused errors aplenty. However, the touchpad made up for this with accurate tracking and mutt-touch gestures out of the box. Read more
We quite liked the Samsung N120 when had a chance to review it recently. However, it still fell short against the Asus Eee PC 1000HE in a few areas, including a lower-specced CPU and no wireless draft-N. Good news for those living in Hong Kong though, it looks like Samsung has made some significant changes to the SKU sold (N120-KA06) which makes it a more compelling proposition.
First of all, the processor has been bumped from a 1.6GHz N270 Atom CPU to a 1.66GHz N280 Atom. The model now has support for Wi-Fi draft-N along with Bluetooth 2.1 (instead of v2.0 found on our review model). The 6-cell battery is the same as our review model, rated at 5900mAh.
It appears that there is no plan to bring this model to other regions. Although, if these specs existed from the start, the N120 premium over the 1000HE would have been even higher. The Samsung N120-KA06 sells for HK$3,990 (£316, €367, $515).
Via Liliputing.
Now that the Windows 7 Release Candidate is available for public consumption, there is no excuse not to give it a try to see how it stacks against your current netbook OS. The guys over at NetbookScoop did exactly that by installing Windows 7 RC onto the Samsung N120 netbook. They do a good job of going through a number of Windows 7 features and it all seems to run smoothly on the N120.
They also compared the start-up times of the Samsung N120 against an Asus Eee PC 1000HE running Windows XP. You'll be pleased to hear that the N120 boots up just marginally behind the 1000HE, taking around 30 seconds. Apart from that, he gives a tour of the new OS including IE8, Windows Media Player and iTunes, there's also an example of speaker quality (although the compressed video hardly does it justice).
He said that overall installation was very smooth and that he didn't need any additional drivers. Looking at the video, it does seem that the Windows 7 performance is reasonable snappy, although I'm not sure whether he was using 1GB or 2GB of RAM. Check out the video after the jump. Read more
In our view, two of the most important considerations when buying a netbook are the keyboard and battery life. Samsung has ticked both of these boxes with the N120; it provides one of the least compromised experiences yet found in a 10-inch netbook. The wonderful full-sized keyboard offers good tactile feedback and keys that are located in the right places. Accommodating this keyboard leads to a big (ugly) bezel around the screen, but Samsung has made the most of this by placing speakers on either side of the screen. The sound quality is some of the best seen, although that does not mean it is the loudest.
Many netbook manufacturers are now looking at battery life to provide the 'all day computing' experience that many consumers crave. The Samsung N120 delivers on this front and should easily last 7 -8 hours whilst web browsing or using Office. On our tests, it didn't last quite as long as the Asus Eee PC 1000HE, but there wasn't much in it. However, how does the Samsung N120 fare as an overall package? Read on for our detailed review where we run some comprehensive performance and battery tests as well as address some issues that are worth pointing out to potential buyers. Read more
For those potential Samsung N120 modders out there, Netbook Italia has come up trumps. It has ripped open the N120 netbook highlighting exactly where the HDD, memory, subwoofer etc sits. The photos are very clearly labelled, pointing out where all of the screws are and which direction certain latches need to be pulled. They also show you how to access the display just in case you want to opt for a touchscreen in the future. It's an extensive gallery and well worth checking out.
For those wondering where our Samsung N120 review has disappeared to, we hope to have it up early next week. It won't dissect the N120, like shown here, but it will cover the netbook in detail and give our thoughts after extensively using it over the last fortnight. Until then, click through for some more pictures of the N120 dissected. Read more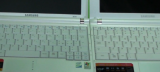 Yesterday, we brought to you our unboxing photos of the 10-inch Samsung N120 netbook. Today, Notebook Italia has provided a couple of N120 videos. The first goes through the unboxing whilst the second compares the N120 to the best-selling Samsung NC10.
The Samsung N120 has a similar 10-inch screen with 1024 x 600 resolution as the NC10. The Samsung N120 comes with a glossy screen compared to the matter screen of the NC10. To account for the full-sized keyboard, the chassis of the N120 keyboard is slightly wider and thinner. Check out the videos after the break. Read more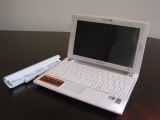 The Samsung N120 netbook dropped through our letterbox this morning and we thought we'd share our unboxing of Samsung's latest netbook addition. We have a white N120 to put through its paces and initial impressions are certainly favourable.
As a quick recap, the Samsung N120 is one of the first netbooks to feature a full sized keyboard into a 10-inch netbook. Whilst this means you have a thick bezel around the screen, it doesn't look too bad in the flesh. The speakers mounted either side of the screen go some way to making it less of an issue. Initial impressions on the keyboard itself are positive, it feels natural to type on and all of the buttons are in the right places. It's not a chiclet keyboard, but that doesn't mean it's any less comfortable to type on.
I also like the matte effect on the chassis, it means the lid is not prone to fingerprints like some netbook models are. The other big selling point for the N120 is the 2.1 speaker system, we haven't had a chance to test this yet, as the N120 is being charged as we speak. We will come back with a full review once we've put the Samsung N120 through some extensive testing. As always, if there are any questions you'd like answered, feel free to ask away in the comments section and we'll do our best to answer them. Click through for the unboxing photos. Read more
April 25, 2009 at 7:51 pm
The Samsung N120 netbook started to ship over the last week both in the US and UK markets. The first units are now just starting to hit the hands of consumers and first impressions are starting to appear. SammyNetbook has some owner feedback from user Otacorb. He also owns as Samsung NC10 Special Edition and gives a detailed comparison between the two.
The N120 is around half an inch thicker to account for that full sized keyboard and comes with a glossy display. He says whilst he would have preferred a matte display, the N120 is not as glossy as the Aspire One. The case also has a matte finish which means much less fingerprints. He seems to be pleased with his purchase, mainly due to a very good keyboard and battery life.
The Samsung N120 is one of the first netbooks to feature a full sized keyboard into a 10-inch netbook. Samsung is also touting the 2.1 speaker system found in the N120. The netbook is powered by a 1.6GHz N270 Atom CPU and 945GSE chipset. It will come with 1GB RAM and a 160GB (5,400 RPM) hard-disk drive.
Via Portable Monkey.
April 16, 2009 at 5:04 pm
The Samsung N120 netbook is now ready to ship from US retailer Newegg.com. Both black and white versions appear to be in stock and are being sold for $459.99. Our sources in the UK suggest that the Samsung N120 will start to hit UK retail channels next week for approximately £390.
Samsung has managed to fit a full 12-inch keyboard into a chassis that accommodates a 1024 x 600 10.1-inch display. Samsung is also touting the 2.1 speaker system found in the N120. The netbook is powered by a 1.6GHz N270 Atom CPU and 945GSE chipset. It will come with 1GB RAM and a 160GB (5,400 RPM) hard-disk drive. The official listing still suggests that it will support a maximum of 1GB RAM only, although this may be on error on their part.
Via Portable Monkey.
Whilst Samsung announced the 10.1-inch N120 netbook a couple of weeks back, the full specifications were not released at the same time. Since then, a number of retailers have placed the N120 on pre-order which revealed a bit more about what we may find under the hood. However, Samsung has now put up the official specifications on its site.
The reason we find the N120 netbook interesting is its ability to fit in a full 12-inch keyboard into its chassis. It also benefits from a 2.1 speaker system (including subwoofer!) The specifications confirm the pre-order listings found from retailers with the netbook powered by a 1.6GHz N270 Atom CPU and 945GSE chipset. It will come with 1GB RAM and a 160GB (5,400 RPM) hard-disk drive. There will be a choice between black and white colours.
Samsung says that the maximum RAM the unit can handle is just 1GB, but I imagine this is a typo. Samsung listed the same for the N110 but then corrected the mistake later. Other features include WiFi (b/g only), Bluetooth 2.0, a 1.3MP webcam and a 6-cell battery. The N120 is just 1.2-inches in thickness and weighs 1.3Kg (2.8lbs). Click through for a full list of the specifications as well as press photos. Read more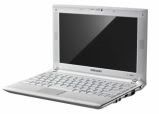 The Samsung N120 is almost unique when it comes to netbooks as it will support a full-sized 12-inch keyboard, despite only having a 10.1-inch display. To do this, sacrifices had to be made and what we end up with is a unit with quite a large bezel around the screen, Samsung has used this space to house the speakers on either side of the display (check out some larger pictures of the NC20 in this post).
The other interesting part of the netbook is that it will feature an integrated SRS 2.1 sound system featuring 2 x 1.5 Watt stereo speakers with a dedicated sub-woofer. Credit has to be given for Samsung engineers for making this happen inside such a small chassis, but I can't help thinking it will still sound 'tinny'.
The unit is expected to be released in the middle of this April and appropriately some sites in the US and UK have started to take pre-orders. In the US it is showing up at retailers for pre-order between $450 – $475 and one can choose between black & white colours. The cheapest we've seen is PC Connection which has it for $442.43. In the UK, it is showing up for pre-order at Laptops Direct for £379.97, but only comes in white.
Samsung has not officially released the spec-sheet for the N120, however all of the sites are listing a 1.6GHz N270 Atom CPU, 1GB RAM and 160GB hard-disk drive. Samsung claims that the N120 will have up to 10.5 hours of battery life with its 6-cell battery and will weigh 1.28kg (2.8lbs).
March 25, 2009 at 1:22 pm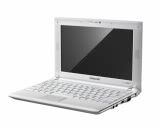 When we reported on the Samsung N120 yesterday we only had details on the netbook but no pictures. We now have a full gallery of pictures courtesy of Slashgear. The pictures show that it has a big bezel around the screen, not a surprise given the full 12-inch keyboard attached to this 10.1-inch display netbook. I suppose they did have to fit that stereo sound system, with dedicated subwoofer somewhere! The speakers are integrated on either side of the display.
The screen itself looks glossy rather than matte. Samsung expects that the N120 netbook will be available from April, no pricing has been revealed so far. Check out a full gallery of pictures after the break. Read more
March 24, 2009 at 1:31 pm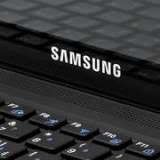 Following yesterday's launch of two 10-inch netbooks, the successor to the NC10 called the N110 and the colourful N310, Samsung has announced yet another model. To fill in the model numbering gap, Samsung has announced the 10.1-inch N120 netbook, which offers a full 12-inch size keyboard. Samsung claims that the keyboard will have optimised key spacing, which should place less strain on your wrists, fewer errors and faster typing speeds. Read more