April 25, 2009 at 8:43 am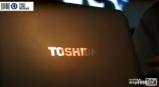 The Toshiba NB200 netbook was showcased at a London launch event this week. The NB200 is the 10.1-inch successor to Toshiba's NB100 which came with an 8.9-inch display. It looks like the NB200 will create bigger waves than the NB100 due to a promised 9 hour battery life with the 6-cell battery as well as stylish design which includes a chiclet keyboard.
MegaWhat.TV was at the launch event to give their initial impressions and seemed to like the device, especially the textured lid. The 6-cell battery did seem to stick out, rather than being flush with the unit. It will be a trade off worth making as the 3-cell battery will only be good for 4 hours according to the company. Read more
April 22, 2009 at 4:16 pm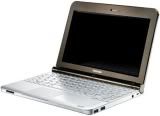 Toshiba Japan launched a new 10-inch netbook on Monday, the Dynabook UX. This would be a first move for Toshiba into the 10-inch display space following its 8.9-inch NB100. Following on from this model naming scheme, Toshiba has now confirmed that it will be marketing the new 10-inch model as the NB200 for the European market.
The model will come with a 10.1-inch (1024 x 600) LED backlit display. There will be a number of configurations, enabling you to choose between a N270 or N280 Atom processor. Both configurations will come with the Intel 945GSE chipset. The snazzy tiling effect on the case lid will still be there as will the 160GB hard drive , Wi-Fi (b/g), Bluetooth and webcam.
Toshiba are claiming a four hour battery life and four colours will be available (brown, black, white and pink). The Mini NB200 will be available from next month (silver and grey colours only) at prices starting from £319 in the UK.
April 20, 2009 at 12:50 pm
Toshiba already has a netbook on the market, the 8.9-inch NB100. However, given the popular move by many netbook vendors to move to 10-inch screens, Toshiba has followed suit. It has announced the 10-inch Dynabook UX netbook. The UX will have a 10.1-inch display and come with a 1024 x 600 resolution display. It will be powered by a 1.66GHz N280 Atom CPU and 945GSE chipset. It will also come with 1GB of RAM and a 160GB hard-disk drive.
Despite the larger screen, this new model is actually smaller than the TB100 at 26.3 x 19.2 x 3.1cm. Depending on the configuration chosen, the UX will weigh between 1.2kg to 1.3kg (2.6lbs to 2.9lbs). Battery life has also been extended over the NB100 with a life of over 4 hours – it is unknown what cell battery this refers to.
The UX-series will launch in Japan on Friday but will follow in other markets shortly, although no dates have been given so far. The netbook certainly won't be cheap with prices ranging from 60,000 to 70,000 Yen [$610 – $710, €470 – €550, £420 – £490]. As can be seen in the pictures after the break, the UX will be available in two colours. Read more
March 11, 2009 at 6:59 pm

Whilst Toshiba already sells the NB100 netbook in Europe and Latin America, it has yet to enter the US market. This may be about to change however, according to a Toshiba representative at Tuesday's XChange Solution Provider '09 conference.
Toshiba is looking to enter the US netbook market with a model with as-yet unknown specifications. The manufacturer is looking to enter around the middle of the market's range. "You know us: We won't be the least expensive out there and we won't be the most expensive," said Patrick Mani of Toshiba.
Toshiba's existing netbook, the NB100, is based on a 1.6Ghz Intel Atom processor, offers an 8.9-inch (1024 x 600) screen and is available with either Windows XP Home Edition or Ubuntu Linux. It also comes with 1GB of RAM, a 120Gb hard drive, a 0.3 MP camera and a 3.5 hour battery. No release date has been announced.
Via ChannelWeb.