October 15, 2009 at 8:15 am
Intel has done well riding on the back of the netbook boom. It presented its third quarter financial results yesterday and revealed that so far this year it has sold $1 billion of Intel Atom chipsets. An astonishing number given that this the chip didn't exist two years ago.
"[Sales of] Atom and the associated chipsets were a bit above $400 million, it was $415 million. Year-to-date, we have sold over, or right at, $1 billion worth of Atom and associated chipsets," said Stacy Smith, chief financial officer of Intel. Read more
October 14, 2009 at 8:28 pm
It seems that a few enthusiasts have stumbled onto some early code for Google's Chrome OS, which gives us a first look at the operating system. Google had placed a "chromeos" folder in the Chromium build folder that users were able to install.
Interestingly, the results look very similar to how the Chrome browser looks right now. However, it's only when you look closer that you can spot some important differences. For example, the upper left corner seems to present a new logo (different from the Chrome browser one) that opens a short links window. Read more
October 14, 2009 at 7:57 pm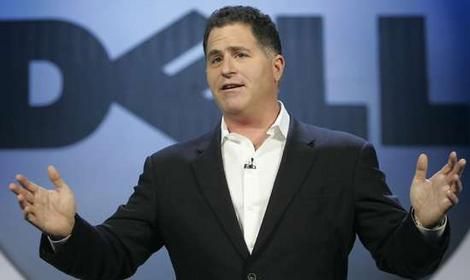 Michael Dell, founder & CEO of Dell Computers, has been damning in his opinion of the netbook experience. Talking in San Francisco at Churchill Club, he was trying to convince his audience that consumers prefer high-end PC devices rather than low-cost netbooks.
"If you take a user who's used to a 14- or 15-inch notebook and you say 'Here's a 10-inch netbook,' they're gonna say 'Hey, this is so fantastic. It's so cute. It's so light. I love it," Dell said. "But about 36-hours later, they're saying 'The screen's gonna have to go. Give me my 15-inch screen back.'" Read more
October 9, 2009 at 8:38 am
Netbook growth is continuing unabated according to a new report from research specialists DisplaySearch. During the second quarter of 2009, netbook revenue grew by 264 percent year-on-year (y-o-y) and an impressive 37 percent quarter-on-quarter (q-o-q).
The netbook segment is becoming a ever-growing segment of portable PC shipments and revenues. During Q209, netbooks accounted for 22.2 percent of shipments and 11.7 percent of revenues. DisplaySearch is expecting these trends to continue into 2010 albeit at slightly lower market shares. It expects netbooks to account for 21.5 percent of portable PC shipment volume and 10.9% of total revenue. Read more
August 31, 2009 at 3:18 pm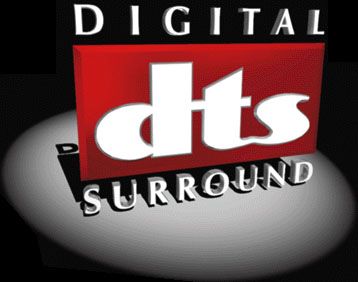 We already have a number of netbooks that use Dolby and SRS sound technologies. It now looks like another heavyweight is set to launch its sound solutions on netbooks. DTS CEO Jon Kirchner has said that DTS-equipped netbooks should hit the market in 2010 according to Digitimes.
DTS currently has relationships with two of the biggest netbook manufacturers in Asustek and Acer along with Foxconn (Hon Hai Precision Industry). The few netbooks that we've tried with SRS audio have shown these solutions do make a difference to the overall sound stage. It is now known exactly what DTS in netbooks will entail but this is welcome news nonetheless.
August 14, 2009 at 3:23 pm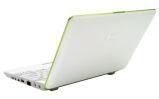 Both Samsung & LG will see strong netbook volume growth during 2010 according to industry sources. Shipments are forecast to reach around seven million units, this compares to the 12 – 15 million units that is projected for Acer, one of the leading netbook manufacturers.
Part of this growth is expected to come from the companies close ties with telecom operators. Both companies already manufacture their own handsets as well as netbooks. Bundling subsidised netbooks with data contracts is already big business, but the choice of devices offered is expected to grow.
Via Digitimes.
August 11, 2009 at 11:46 am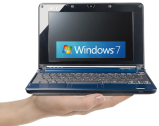 Microsoft's CEO Steve Ballmer has confirmed that Windows 7 Starter Edition will be limited to "super-small screen" and "certain processor" devices in an aim to try and boost revenues. Windows 7 SE is the cheapest version of windows and is predominantly expected to be found on netbooks. It will be sold to OEMs (original equipment manufacturers) only.
"Our license tells you what a netbook is. Our license says it's got to have a super-small screen, which means it probably has a super-small keyboard, and it has to have a certain processor and blah, blah, blah, blah, blah," said Ballmer at a Microsoft-hosted analyst conference. Read more
August 5, 2009 at 6:38 pm

One of the compromises when buying a netbook is the limited screen real estate you have over a desktop. This can cause frustration with certain programs and endless scrolling. One such problem is not being able to read emails in the inbox properly due to the number of labels in the Gmail subject lines.
Google has now provided a work around in Gmail that allows you to automatically hide the labels from the inbox messages. To turn this on, you simply need to go to the Gmail Labs tab under Settings and click on "Remove Labels from Subjects". We do wish more software companies were as sympathetic to netbook users as Google is!
Via Gmail Blog.
August 4, 2009 at 11:36 am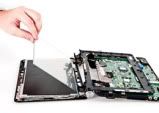 There's already a number of guides around the net on installing a touchscreen display on your beloved netbook. However, we thought we'd highlight a well-put together guide from the guys over at Laptop Mag.
It's a step-by-step guide going through all the little steps needed to successfully install a touchscreen. This includes where to buy a third-party display, including the Fido Hub touchscreen for $100. You can check out the full tutorial here.
August 4, 2009 at 10:34 am
Nvidia has launched a lightweight version of its ION platform called ION LE. The ION LE denotes that it is an entry-level product and is targeted to netbooks and nettops that use the Windows XP operating system.
"ION LE is SKU of the ION GPU that is identical to ION, except it only supports DX9. This product is designed specifically for Windows XP on Netbooks and Nettops and we are going to offer LE SKU just for OEM market," said Igor Stanek, Product PR Manager EMEA ION/Notebook products.
This seems like a good move by Nvidia as it means they can hopefully charge less for ION LE as opposed to ION, due to the inclusion of DirectX 9 rather than Directx 10. Whilst ION LE will only be limited to XP netbooks, this shouldn't be a problem as we may still see XP in netbooks up to a year after Windows 7 is launched.
Via Fudzilla.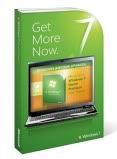 The launch of Windows 7 on October 22nd 2009 will herald a mass netbook uptake of the new OS. After that launch date, most new netbooks released will be running Windows 7 over XP. Of these, most will come with the lowest-specced 'Starter Edition' version.
For this who want to be able to personalise their desktop, use Aero Peek and Taskbar Previews then you may want to upgrade to Home Premium. Microsoft has been quiet about what it will be charging for that particular upgrade, until now.
Brandon LeBlanc, from the Windows Blog, has revealed that the move from Starter Edition to Home Premium will cost netbook users $79.99. This will be done under a program called Windows Anytime Upgrade (or WAU for short). To move from Home Premium to Professional will cost $89.99 and to move from Home Premium to Ultimate will cost $139.99. These will be available as retail upgrade packages in the US after October 22nd.
For those of you in Australia, Belgium, Canada, France, Germany, Italy, Japan, the Netherlands, Spain, Sweden, Switzerland, the UK or the US – you will also be able to purchase the upgrade directly from the Windows 7 operating system. There is no pricing for other countries right now.
July 31, 2009 at 10:47 am
Since the netbook was conceived around two years ago, the size of these devices has got larger and larger. Some of the very latest netbook models to be released from the big guys include 11.6-inch and 12.1-inches. I'm sure this trend won't go away, despite Microsoft and Intel's best efforts to crack down on netbooks larger than 10-inches.
However, in China, white-box vendors are now looking to produce 'netbooks' that are even larger than 12-inches. To get around the restrictions that Intel places on netbook display sizes, it plans to use processors from AMD and VIA instead. The advantage is that VIA's platform costs nearly half as much as the Intel Atom.
Now what defines this as a netbook? Not much in all honesty, but there is rising demand for these larger netbooks and therefore these products are being marketed as such rather than the laptops that they really are. Let's just hope this doesn't catch on.
Via Digitimes.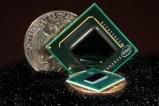 Netbooks will stop featuring the energy efficient Intel Z Atom processors, like the 1.33GHz Z520 and 1.6GHz Z530, according to a report from Digitimes. Apparently, Intel has informed all of its customers that it will no longer be accepting orders for these processors if they are to be used in netbooks. The company will still fulfil orders already made by netbook heavyweights such as Asustek, Acer and Micro-Star International (MSI).
Intel wants to completely end the supply of the Z Atom CPUs before the end of 2009. It wants to clearly define the netbook and MID segments and wants these chips to be used in MIDs only. Intel has made the move before completely running down its inventory levels. Read more
Netbook sales may not cannibalising notebook sales as much as previously thought according to Intel's Mooly Eden, general manager of the Mobile Platforms Group. He claimed that most netbook customers already own a notebook of some kind.
"If netbooks are 20% of the overall [notebook] category and 15% of the 20% is cannibalization, we have 3% cannibalization… And it's cannibalizing mainly the Celeron space because I don't see anyone buying a netbook instead of a Core [Pentium or Centrino notebook]," said Eden. ""We are still holding true to what we said before: a netbook is a companion device, the majority of the netbooks sold today are sold as secondary device. And now I'm speaking data," he added. Read more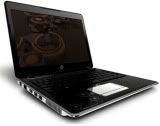 HP may be working on a couple of new netbook models to be released in the second half of the year according to Digitimes. A number of manufacturers have recently released larger sized netbook models, with display sizes of 11.6 or 12.1-inches. HP may be following suit, the report suggests that original design manufacturer, Quanta Computer, will start production of a new 11.6-inch device from August.
Quanta will also have a new 10.1-inch netbook model in production for Hewlett-Packard by the year-end too. This will be in addition to a revised 10.1-inch netbook to begin production by Inventec from the end of September.
There are no details on any of these netbooks, although looking at the timeline, a sensible guess suggests they will come with the Windows 7 operating system. They may even end up launching with the next-generation Atom 'Pineview' processor. The 11.6-inch model may also end up being a CULV-based ultra-thin device. As soon as we have clarification we'll let you know.