October 7, 2009 at 8:20 pm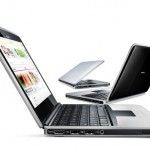 Some of the first official details regarding pricing for the Nokia Booklet 3G has been released. The Booklet 3G netbook will be available on contract for O2 customers in Germany from October 22nd.
The netbook will be available for €249 on a €20 per month tariff over 24 months. Apparently there will also be a flat rate tariff of €25 per month, but it's not made clear whether you need to pay an upfront payment for this contract. Details on pricing in other markets are expected shortly.
The Nokia Booklet 3G will come with Windows 7, has a 10.1-inch (1280 x 720) display, measures just 20mm thick and is powered by a 1.6GHz Z530 Atom CPU. It will also come with a 16-cell battery that should last for 12 hours. Other features include Bluetooth, HDMI-out and a 1.3MP webcam.
Via Engadget.
October 2, 2009 at 9:26 pm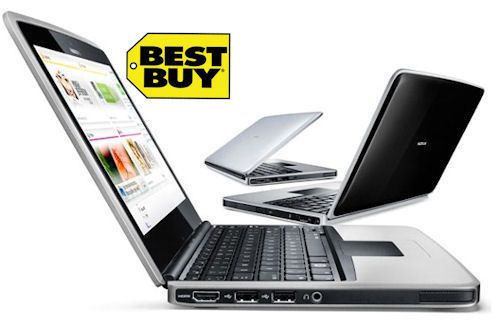 Yesterday we brought you the news that the Nokia Booklet 3G netbook is set to launch exclusively through Best Buy stores when it lands in the United States. What wasn't known, however, was the price. The guys over at PhoneArena managed to get hold of a screen-grab that shows a possible $599.99 price point from the Best Buy inventory system.
Whilst, some may argue that this price is too high for a netbook, I can't understand how it could be priced so cheap, when considering the European pricing. Recently, the Booklet 3G hit the Italian Nokia Store for pre-order at €699. If that price is indeed correct, then how can Nokia be selling it for such a discount in the US? Hopefully, some official information should come out shortly that clarifies pricing for all. Read more
October 1, 2009 at 10:54 am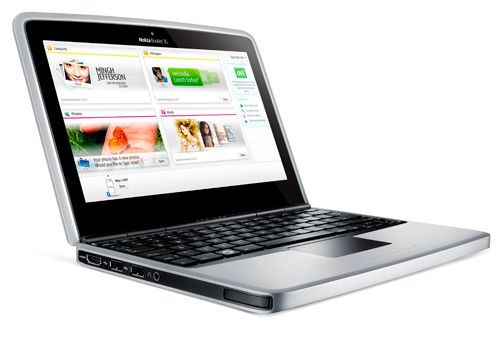 Best Buy will be the exclusive retailer for the Nokia's first netbook, the Booklet 3G when it launches in the US later this year. The news was confirmed at a Best Buy holiday gift guide event yesterday. The netbook will also be available directly from Nokia themselves. No pricing or availability has been announced thus far.
The Nokia Booklet 3G will come with Windows 7, has a 10.1-inch (1280 x 720) display, measures just 20mm thick and is powered by a 1.6GHz Z530 Atom CPU. It will also come with a 16-cell battery that should last for 12 hours. Other features include HDMI-out and a 1.3MP webcam.
Via Crunchgear.
September 10, 2009 at 10:05 pm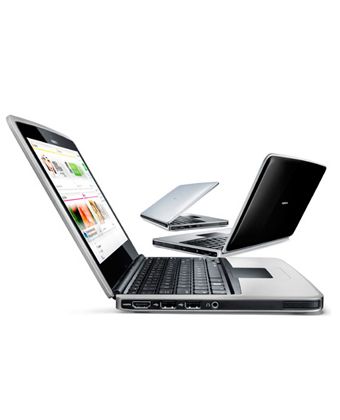 Nokia's first entry into the netbook space, the Booklet 3G, has officially hit pre-order via the Italian Nokia store. However, whilst the pre-subsidy cost was believed to be €575 at the recent Nokia World conference, the Booklet 3G has appeared for pre-order at €699.
This is exactly what we feared in our recent article "Opinion: Why the Nokia Booklet 3G is a disappointment". Nokia sometimes quote pre-tax prices for its product launches and it seems they have done the same here. Taking the €575 price and multiplying by a 20 percent tax rate brings us to €690, near enough the pre-order price.
Whilst, many felt that the €575 price was high enough as it was, it looks like the price-point will be a lot higher than people initially expected. Whilst there is no firm price for the UK yet, it's increasingly looking like it will be closer to the £600, rather than £500 mark. Despite the high price, the Booklet is likely to be offered via mobile contracts with a smaller upfront cost.
Via Notebook Italia.
September 2, 2009 at 7:46 pm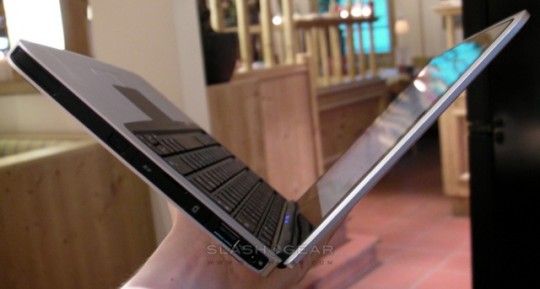 Nokia unveiled all of the details of its first entry into the netbook segment this morning. The Booklet 3G is a premium netbook and the company clearly believes that it justifies this tag for a number of reasons. Without question, it is one of the most attractive netbooks on the market today. It is just 20mm thick and comes in an aluminium chassis that leads to comparisons with the Apple Macbook. It is also one of the few netbooks to include 3G connectivity, a crucial aspect since it is likely to be sold on contract via wireless carriers as well as on a standalone basis through retail.
Looking through the initial impressions of bloggers out at Nokia World, it also seems that the keyboard is a delight to use. The touchpad is also large and has well-spaced buttons. The HD (1280 x 720) screen sits flush with the chassis, which gives it a classy look. We are also glad that Nokia has chosen to include a removable 16-cell (3,840mAh) battery in the Booklet 3G and looking at the remaining specs it certainly seems to be well featured (Wi-Fi draft-n, Bluetooth 2.1, HDMI, 1.3MP webcam). Nokia also claims that you'll get a 12-hour battery life, which is superb. You even get an accelerometer, although I'm not sure what use this has in a non-tablet device? However, despite all of these positives, there are a number of issues that we feel lead to a disappointing package overall. Read more
September 2, 2009 at 12:57 pm
Nokia has revealed further details on its Booklet 3G netbook today at the Nokia World conference at Stuttgart today. We now know that the Booklet 3G will cost €575 ($820, £504) before subsidies, which is in line to the rumoured $799 price we heard of last week.
The full technical specifications were also revealed. The HD display comes with a resolution of 1280 x 720 pixels and flush glossy screen. It will have a 16 cell (56.8 Wh) battery that the company claims will be good for 12 hours. It will be powered by a 1.6GHz Z530 energy efficient processor, 1GB RAM and 120GB HDD.
Other features include Wi-Fi (Draft-N), Bluetooth 2.1, HDMI-out, three USB ports, a 1.3MP webcam, Windows 7 Starter Edition and interestingly an accelerometer. You can check out some hands-on pictures from both Slashgear and the Nokia Blog. There's no word on an exact launch date right now. The full specs are listed after the jump. Read more
August 26, 2009 at 11:50 am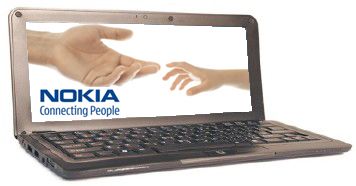 Whilst Nokia's Wintel-based Booklet 3G certainly took us by surprise, it looks like the device we always expected from them i.e. an ARM-powered smartbook is on the agenda after all. Digitimes is reporting that Nokia is planning to offer a smartbook, in addition to the Booklet 3G netbook, although it won't hit the market before mid-2010.
Nokia is expected to outsource production of the smartbook to either Compal (who is producing the company's Booklet 3G) or Foxconn (Hon Hai Precision Industry). It will be interesting to see exactly what chips Nokia uses to power such a device. Some suggest that Nokia won't launch a smartbook device until they have the powerful chips to do it justice.
August 25, 2009 at 4:51 pm
Nokia's first entry into the netbook space, the 10.1-inch Booklet 3G, was only announced yesterday. Whilst details on pricing and availability are thin on the ground right now, that doesn't stop the rumours on what we can expect to hear next week from Nokia World.
Sascha from NetbookNews.de has heard from close sources that the retail price of the Booklet 3G will cost $799. Now, even if true, this is most likely an arbitrary figure given that the likelihood is that the device will be sold on contract through mobile operators.
There is also speculation regarding the processor used, although the 1.6GHz Z530 Atom CPU has been banded around, it's be no means confirmed. Also, given the driver issues surrounding the Poulsbo chipset, we're not convinced performance would be on par even with the N270 Atom. However, I'd be very surprised if the chip doesn't include some kind of hardware acceleration either through the ION platform or Broadcom chip. We look forward to full details on September 2nd next week.
August 24, 2009 at 3:25 pm
After recent speculation, Nokia has announced its first entry into the netbook market with the Nokia Booklet 3G. This Intel Atom-powered, Windows 7-based device is touted as having a 10.1-inch HD display, 12-hour battery life and, as the name suggests, have 3G/HSPA connectivity built-in. It will be powered by a 1.6GHz Z530 Atom processor and come with a 120GB HDD.
The pictures highlight a device that looks very familiar to most netbooks, albeit one that is more slender than most netbooks out there. The aluminium chassis certainly adds to its attractiveness. The company says that the Booklet 3G is just 19.9mm in thickness. It measures 264mm in width and 185mm in length. The whole thing measures 1.25kg. Read more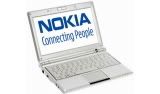 Over the weekend, a Finnish blog called Puhelinvertailu, unearthed a number of Nokia trademarks for possible upcoming handsets and devices. A steady flow of new devices were revealed including a new 'C' and 'X' series handset line-up as well as something called 'Nokia Money'. However, from our point of view, the most interesting tidbit from Finland's trademark database was the 'Booklet' name.
The trademark for the Booklet name was filed on 20 June 2009 using the following description: "Computers, laptops, smart phones; accessories for computers, laptops and smart phones." A sensible guess would be that this may the brand that Nokia might be releasing its oft-rumoured netbook/smartbook device.
Companies often trademark words and model numbers, but it does not mean they are going to use them. However, rumours of a netbook-type device have been going on for a while now so it certainly wouldn't be a surprise. Maybe we'll find out more during Nokia World in Stuttgart from 2nd-3rd September.
Via IntoMobile.
Some of you may have been expecting some more substantial news to come out of Intel's and Nokia's partnership, instead of the wishy-washy commitment we got instead. However, it looks like Nokia IS planning to enter the netbook and smartbook segment according to a Commercial Times report.
The report claims that Nokia has ordered netbooks from ODM Quanta Computer which will use an Intel Atom processor and go on sale as early as the third quarter this year. Even more interesting is that, it says it has also ordered smartbook devices from Compal Electronics that will be powered by an ARM-based Qualcomm Snapdragon processor. No muted release date was given for the smartbook. There's no other details for now, but we'll keep you posted with further developments.
Via Bloomberg.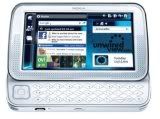 Following intense rumours and speculation this morning, Intel has now officially announced that it is to partner with Nokia to "define a new mobile platform beyond today's smartphones, notebooks and netbooks". Exactly what kind of gadgets these will be remains a mystery, although it may just be both companies trying to push the Mobile Internet Device (MID) segment which hasn't taken off as Intel hoped.
Intel talks of these devices having "ubiquitous Internet connectivity" in a "pocketable form factor". All of this sounds incredibly similar to the smartbook devices being pushed by ARM-based companies such as Qualcomm and Freescale. It even talks of low power computing. Read more
Nokia has made a number of noises about entering the netbook segment at some point in the future. There have not been many rumours surrounding what this netbook may look like; all we've had are a few rumours on possible ODM partners used to manufacture the product. One of the key questions though, is which OS will Nokia decide to use?
Symbian may be a strong possibility, given Nokia's association with the platform. However, another possibility could be a version of its upcoming tablet OS, especially since touchscreen netbooks are expected to become more prevalent as the year progresses. Read more
April 17, 2009 at 12:32 pm
There are a number of different operating systems that are vying for attention on netbooks. Apart from the upcoming Windows 7, there are a number of Linux variants such as Google's Android. Now, Symbian is also showing its efforts in a proof of concept experiment where it has run Symbian S60 5th Edition on an off the shelf Intel Atom based system.
I imagine Symbian has done this to highlight the flexibility of the Symbian platform beyond the use of smartphones into other devices. The Symbian team hopes to generate some interest in such a platform in the form of an investor. Whilst the screen shots show that it is very rough around the edges, the team were pleased with the "responsiveness of the UI and upper application layers". Read more
April 13, 2009 at 10:40 am
Taiwan-based Elitegroup Computer Systems (ECS) is currently in talks with Nokia to manufacture an upcoming netbook according to Digitimes. Talks are expected to be concluded by the end of June. This would go against recent reports that suggest Nokia is talking to Foxconn to enter the netbook segment. Maybe Nokia are hedging their bets and looking for the best deal? Either way, these Nokia netbook rumours are starting to intensify.
ECS' main business is in manufacturing motherboards, but has also moved into notebooks too. According to the same report, ECS has recently won an order to manufacture branded netbooks for a Taiwanese telecom provide called Far EasTone Telecommunications. These netbooks are expected to appear by the third quarter this year.