February 10, 2010 at 5:31 pm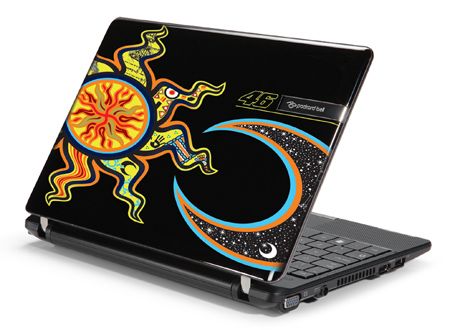 Packard Bell is set to launch the 11.6-inch dot VR46 netbook in homage to motorcycling living legend Valentino Rossi. The 'VR46' model number stands for Valentino Rossi's initials plus his racing number and is visible on the lid as well as inside on top of the display. We touched on the unique design back in mid-December, but now we have details on specifications as well as UK pricing.
The VR46 netbook will come with an 11.6-inch (1366 x 768) display and will be powered by either an Intel ULV Core 2 Duo or Celeron processor as well as Intel GMA 4500MHD graphics. Up to 4GB of DDR RAM will be supported and maximum storage of 640GB. All models will come with Windows 7 Home Premium. Read more
December 15, 2009 at 8:55 pm
Packard Bell is set to launch a new netbook that will celebrate the living legend that is Valentino Rossi, one of the most decorated motorcycle racers in history. There aren't too many details on the Packard Bell dot VR46, but we do have some pictures to share.
The dot VR46 was created by Aldo Druidi to capture the spirit of nine-time World Champion Rossi. The design showcases his number 46 and the Sun and Moon graphic that adorns Rossi's helmet. We still await the hardware spec, price and availability but we'll keep you posted. Until then, feast your eyes on some more pictures of this beautiful device after the break. Read more