When HP recently acquired Palm, there was talk that Palm's webOS would be ported to a number of different devices including tablets and netbooks. However, it appears that at least the latter is not on the agenda for now.
Monty Wong, vice president of HP's personal computing systems group has said that netbooks are too similar to desktop computers for it to provide a good fit with webOS. Wong also confirmed that the HP Slate will land before October, although it's unclear if this is the original tablet featuring Windows 7 or a new version with webOS.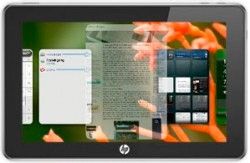 HP will launch a "a webOS tablet under the code name HP Hurricane" that may launch in the third quarter of this year according to the Examiner. This is in line with recent reports that HP will look to launch webOS tablets and netbooks, following its acquisition of Palm.
It's all rumour for now, but given reports that HP has canned its Windows 7 tablet, using webOS would be the next natural move. We don't know anymore details for now, but we'll keep our eyes peeled for further news.
Via Engadget.
April 29, 2010 at 10:28 am
In an unexpected move, HP acquired Palm for $1.2 billion yesterday. One of the side affects of this acquisition could be HP using Palm's WebOS operating system for use in a number of devices, besides smartphones, including tablets and netbooks.
On the conference call yesterday, HP's Todd Bradley said "between smartphones, slates, and potentially netbooks, there are a lot of opportunities here." HP is obviously testing a number of different form-factors and OSes at the moment including the Compaq AirLife that sports Android and the HP Slate. Whilst there's nothing definitive right now, we look forward to see exactly what could come of this deal.
Via Engadget.
We recently discussed how Palm's WebOS operating system could be perfectly suited to netbooks. Well it seems that Palm may be sharing that opinion according to an analyst from Global Equities Research, who says that it is poised to introduce a netbook of its own.
The device would be based on the Foleo and will reportedly run its WebOS operating software. Palm's Foleo device was originally announced in May 2007, before the netbook revolution started. It was a subnotebook device running on Linux intended as a companion device for PalmOS and Windows Mobile smartphones. Palm cancelled the Foleo in September 2007. Read more
March 29, 2009 at 3:21 pm
Whilst Microsoft may hold the dominant market share for netbooks, there's no certainty that it will remain the leader. There a number of Linux-based operating systems being tailored for netbook use from a number of different parties. ARM, who design low-cost, low-power processors, is knocking on the door of the netbook world and its CEO expects at least ten ARM-based netbooks this year. As it does not make x86 processors, using Windows for these netbooks is not an option. While many have talked about Google's Android as being the most natural Linux-saviour, Laptop Mag's Mark Spoonauer argues that it is in fact Palm's Web Operating System that could make waves in the netbook market. Read more