April 19, 2010 at 6:00 pm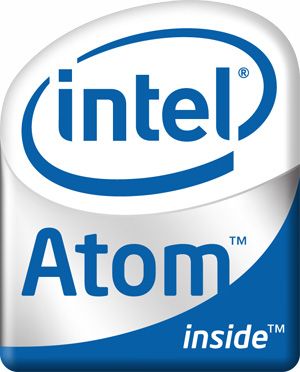 We already know that Intel is planning to announce a new dual-core Atom processor for netbooks in Q2 2010, although we were lacking details. Now Fudzilla is reporting that at least one of the SKUs will be clocked at 1.50GHz.
This 45nm part will have a TDP of 8.5W for the processor and graphics. This could mean that netbooks sporting dual-core Atom processors may have a TDP just 20 percent higher than netbooks with single-core Atoms. Read more
April 7, 2010 at 11:06 am
Intel is planning to launch a DDR3 refresh of its Pineview-D processor line in mid-June according to Fudzilla. The Atom D425 (single-core) and Atom D525 (dual-core) are an update on the current D410/D510 processors found mostly in nettops.
The Atom D425 is believed to run at the same clock speed as the D410 (1.66GHz), but the dual-core D525 will get a speed boost to 1.8GHz, an improvement over the 1.66GHz clock speed in the D510 Atom. This new processor part has a TDP of 13W, same as the old one.
Update: We managed to get hold of a chart that shows both processors. It's a few weeks old so some of the data may be out of date. For example, you may notice that the clock speed of the D525 is listed at 1.66GHz instead of 1.8GHz. See it after the break.
Update 2: Fudzilla is saying the single-core D425 will run at 1.8GHz too. Read more
February 27, 2010 at 12:21 pm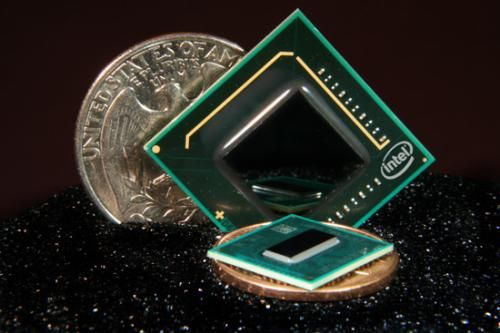 The existence of the faster 1.83GHz Intel N470 Atom Pine Trail processor has not exactly been a secret, however Intel has never made an official announcement on the Pineview CPU. In what appears to be an early leak from Intel, the processor has been formally announced over on Intel's Chip Shots press release page.
There's very little information and nothing we didn't already know. The single core Atom processor runs at 1.83GHz, with 512k of L2 cache and DDR2-667 support. The release is dated March 1 2010 and says that several systems sporting the new processor will be released "over the coming months". Expect to see quite a few of these at CeBIT next week. The (short) press release is attached after the break. Read more
February 2, 2010 at 12:37 pm
Intel will launch two new Pine Trail Atom processor parts that will support faster DDR3 memory. The 1.6GHz N455 Atom and 1.83GHz N475 Atom processors are set to launch during the third quarter.
The N455 Atom will remain at 5.5W TDP, same as the N450 Atom. Whilst the N475 Atom will have a 65W TDP, same as the N470 Atom. Expect new DDR3 netbooks at some point during the third quarter.
Via Fudzilla.
February 1, 2010 at 10:39 pm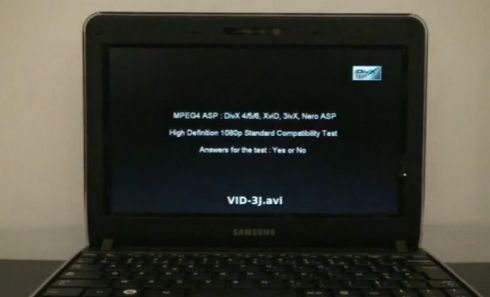 Jolicloud has already demonstrated 1080p HD video on netbooks running on Intel's Diamondville processors (N270 & N280), but now it has also announced 1080p support of Intel's new Pine Trail processors (N450 Atom). No external decoder (like the Broadcom Crystal HD) is needed and most codecs should work. Liliputing says that only 1080p H.264 content will not work.
This new update is expected to go live in the next couple of weeks and will also bring with it support for Nvidia ION, Intel GMA 500 graphics as well as the VIA C7-M. Until then, check out a demo of 1080p video content playing through Jolicloud on a Samsung N210 netbook. Read more
January 27, 2010 at 10:24 pm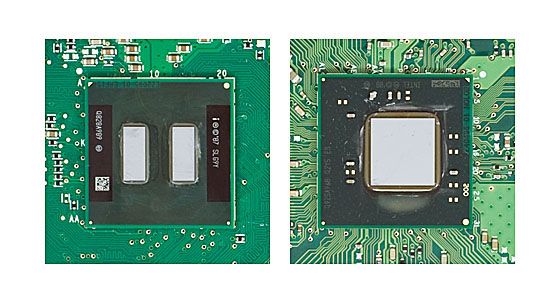 Intel's launch of the Pine Trail Atom platform left some people wanting. Whilst the power improvements were clear to see, the speeds were no faster than Intel's Diamondville processors (N270/N280 Atom). Anandtech has a theory why this was the case.
As we know, Pine Trail is built around a two-chip platform that incorporates the memory controller on-die with the actual processor (along with GMA 3150 graphics). This move produced a big boost in performance for other platforms like the AMD K8 and Intel Nehalem with a big drop in memory latency. Read more
January 26, 2010 at 8:05 am
The guys over at Laptop Mag have pitted six 10-inch Pine Trail netbooks against each other to find out a worthy winner. All models sport the 1.66GHz N450 Atom processor and various features were compared including design, performance and battery life.
The models tested were the Acer Aspire One 532h, ASUS Eee PC 1005PE-P, Dell Inspiron Mini 10, HP Mini 5102, MSI Wind U135 and Toshiba mini NB305. We won't spoil the overall winner, but three models stood out. The Toshiba has the best keyboard and touchpad, whilst the Asus offers the best battery life. The HP is a great all rounder and great for business use. Click here to read more.
January 21, 2010 at 8:01 am
Laptop Mag has published their review of Dell's new Pine Trail-powered Inspiron Mini 10 netbook. One of the biggest improvements is a new design that means less bulging batteries, however this hasn't compromised battery life. According to their tests, the Mini 10 lasted for nine hours, nearly four hours longer than the original.
Other positives include loud speakers, a fast hard drive and better performance when streaming web content compared to other netbooks. One frustration is that Dell has kept faith with its integrated mouse buttons on the touchpad that are tricky to use. Read more
January 18, 2010 at 8:13 pm
Intel hasn't officially announced any details regarding its 1.83GHz N470 Pineview Atom processor, however at least one netbook is now on sale sporting the new CPU. The Lenovo Ideapad S10-3t convertible tablet is on sale in the US (with N470 Atom) for $649 and is shipping in 9 business days. It comes with a 10-inch multitouch display.
This puts it at $100 more than the N450 Atom-based S10-3t. However the more expensive SKU does get you Windows 7 Home Premium, 2GB RAM and a 250GB HDD as standard. The cheaper version comes with W7 Starter, 1GB RAM and a 160GB HDD. This could mean other netbooks sporting the faster Pineview processor are likely to be available soon.
Via Netbooked.
January 16, 2010 at 11:38 am
A new 10.1-inch Sony Vaio netbook has been spotted passing through the FCC. The device has the 'PCG-21313L' model number, but we're not treated to any proper pictures just yet. Judging by the bottom, the model does seem to be different to the recently announced Sony Vaio W Eco Edition.
In terms of specs it doesn't look too different to what we are becoming accustomed to as the new norm for netbooks i.e. 1.66GHz N450 Atom processor, up to 2GB RAM, 250/320GB HDD and Windows 7. It will also feature Wi-Fi (b/g/n), Bluetooth and a webcam. Check out some more FCC evidence after the jump. Read more
January 10, 2010 at 12:07 pm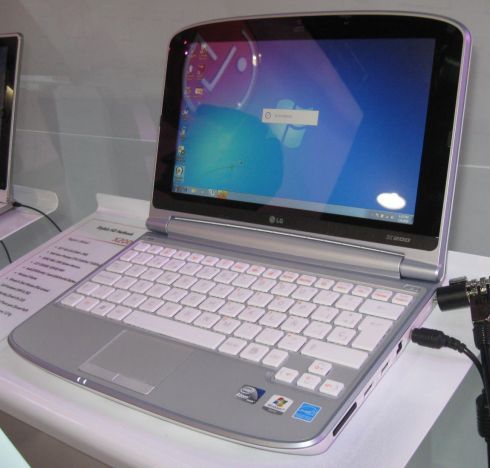 As well as the super-slim LG X300 11.6-inch ultrathin, LG will be launching the 10.1-inch X200 netbook. The LG X200 has a high resolution (1366 x 768) display and is powered by either a 1.66GHz N450 or 1.83GHz N470 Pineview Atom processor.
Other features include up to 2GB RAM, a 250/320GB HDD, Windows 7 Starter, Wi-Fi, SmartOn 2.0 instant-on OS and optional 3G. Battery options include a 4-cell 2000mAh battery or 6-cell 2600 mAh battery. There are no pricing details but it is expected to launch in February 2010. Click through for a video of the netbook in action courtesy of MobileHub. Read more
January 7, 2010 at 12:06 pm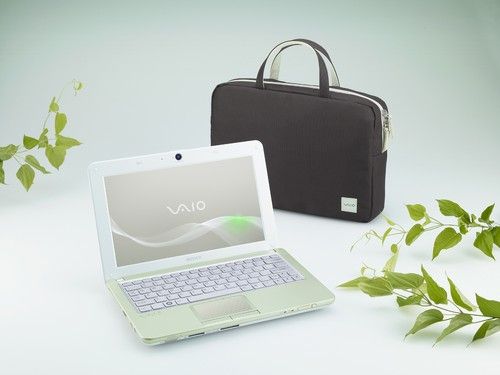 Sony has upgraded its Vaio W netbook with the Eco Edition. The new Vaio W series generates 10 percent lower CO2 emissions during production compared to its predecessor. It has recycled plastic parts, an innovative carry bag and an electronic manual (presumably loaded onto the netbook). The 10.1-inch (1366 x 768) LED backlit display is also mercury-free.
To make sure you know about its green credentials, Sony has used a mint green palm rest and touchpad. The carry bag has been designed to replace the cardboard box that normal electronic devices come in. Therefore the Vaio W Eco Edition will ship straight to your door in this bag. The outer fabric is manufactured using 100% recycled PET bottles. Read more
January 6, 2010 at 7:36 pm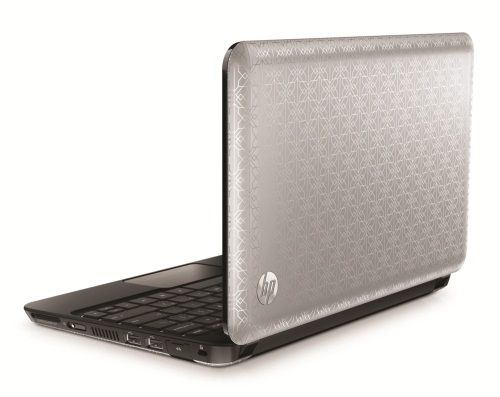 HP is on a roll, we've already reported on two of its ultraportables that launched today, the business oriented Mini 5102 netbook and TouchSmart tm2 tablet. Yet we still have more, HP has formally announced a few more 10.1-inch netbooks. This includes the HP Mini 210 which we've heard so much of recently, the Mini 2102 and the Compaq Mini 102.
Both HP Mini 210 and Mini 2102 appear to be the same in design and specifications. The latter will be targeted towards business users and therefore it comes in a brushed black metal finish instead of the plastic chassis of the 210. Read more
January 6, 2010 at 9:25 am
Gateway has introduced the LT21 series of Intel Pine Trail netbooks that promises a 10-hour battery life armed with a 1.66GHz N450 Atom Pineview processor and GMA 3150 graphics.
The LT21 series will come with a 10.1-inch (1024 x 600) LED backlit display, a 93-percent keyboard and multi-gesture touchpad (pinch to zoom in/out). The netbook has 1GB RAM on board and you can choose from 160GB/250GB HDD options. Read more
January 6, 2010 at 8:31 am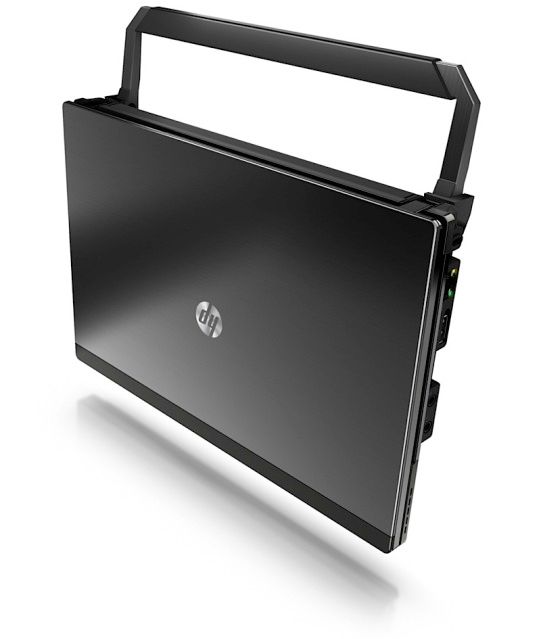 HP has announced the follow-up to its 10-inch Mini 5101 business netbook with the Intel Pine Trail enabled Mini 5102. As is denoted by the minor change in model number, the Mini 5102 looks largely the same as the 5101 with its sub 1-inch aluminum and magnesium chassis and 95 percent keyboard.
The 5102 comes with either a 1.66GHz N450 or 1.83GHz N470 Pineview Atom. Up to 2GB RAM is included and you also get a fast 7200RPM HDD (160/250/320GB) or SSD (80/128GB), Connectivity is taken care of by Wi-Fi (b/g/n) and Bluetooth. Read more