October 26, 2009 at 4:40 pm
Netherlands-based company, Point of View, announced its 10.2-inch Mobii ION netbook around three months ago although it's been distinctly quiet since. However, Fudzilla has today released one of the first thorough reviews that I've seen of this unit. The Mobii ION is currently on sale in Europe for €339, along with one other ION netbook, the 11.6-inch Samsung N510.
The Mobii ION was recommended for its good looks (it comes in a number of bright colours), build quality and it stood tall against a number of gaming and HD video tests. 1080p HD playback was possible via the HDMI port and Call of Duty 4 managed 25fps at low resolutions. One of the few points against it was poor European availability and a small keyboard/display versus the larger Samsung N510. Check out the key review points after the break. Read more
We first heard that Point of View (POV) was planning to release a 10.2-inch ION-powered netbook around a month back. It turns out that those rumours were spot on. Point of View has now officially announced the Mobii ION 230, its first ION-powered netbook.
As the name suggests, the netbook is powered by a 1.6GHz Intel Atom 230 processor, normally found in nettops. This is paired with the Nvidia 9400M GPU which enables 1080p HD video and the ability to output content at this resolution from the netbooks HDMI port. Read more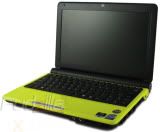 Point of View has traditionally been known for its graphic cards. The Dutch based manufacturer also has a line-up of 10.2-inch Mobii netbooks. Now POV plans to add to that line-up with an ION-powered model according to Fudzilla.
In what may start to become a trend with netbooks, the Mobii ION 230 is powered by the single-core 1.6GHz Atom 230 processor, normally found in nettops. This follows the Japanese brand Dospara, with its 12-inch Prime Note Cresion NA that uses a dual-core 1.6GHz Atom 330 CPU. Read more