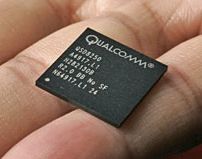 If we ever do see smartbooks make a comeback, there is a likelihood that some may end up using some newly announced Snapdragon chipsets from Qualcomm. The 1.2GHz dual-core Qualcomm MSM8260 and MSM8660 Snapdragon chips support 1080p video and get 3D/2D engines for Open GLES 2.0 and Open VG 1.1 acceleration.
Other features include a dedicated low power audio engine, integrated low power GPS, and support for 24-bit WXGA 1280 x 800 resolution displays. Both are sampling to manufacturers right now, which is likely to mean that smartphones and potentially smartbooks using the new chips may arrive before the year is out.
April 29, 2010 at 10:46 am
Compaq's AirlIfe 100 Android smartbook will be exclusively available to Telefónica customers for €229 from the middle of next month. This contract price is the up front payment, you will still need to fork out for a data contract that will set you back €48 per month.
Certainly not cheap. You can opt for a cheaper €39 per month price plan but that will require a higher initial investment of €299 for the Airlife. Engadget confirmed that the Airlife 100 will not be coming to the US, however it's unknown at this stage whether we'll see it in other European countries. Read more
February 16, 2010 at 1:55 pm
HP is showing off its 10.1-inch Compaq Airlife 100 smartbook at the Mobile World Congress tradeshow in Barcelona. The Airlife 100 looks very much like a typical netbook, although it features a touchscreen resistive display and is powered by a 1GHz Snapdragon chipset and Android 1.6 combo.
The touchpad has a few shortcut buttons adjacent to it with key controls for the Android interface, such as the Menu, Home and Back keys. Other features include a 16GB SSD, Wi-Fi, 3G connectivity and a 12-hour battery life. The Airlife 100 smartbook will initially be offered by Telefonica through subsidized contracts. Read more
February 12, 2010 at 2:32 pm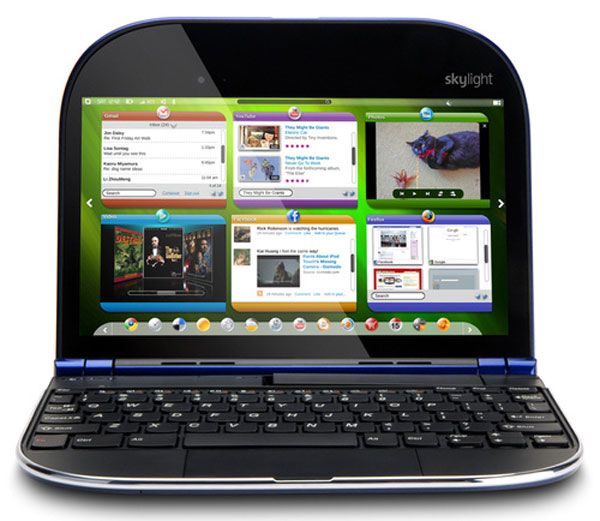 The 'smartbook' name dispute continues with the news that a Germany court has ordered Lenovo to stop using the 'smartbook' term to describe devices such as the Lenovo Skylight in Germany. Smartbook AG claims that it owns the trademark and says that Lenovo could be liable to a €250,000 penalty every time the term is used.
"Without approval by Smartbook AG, Lenovo must refrain from using the character sequence 'Smartbook' in all writing systems in association with mobile computers — such as laptops (notebooks) — as part of commercial correspondence in the Federal Republic of Germany," Smartbook AG said in a statement. Read more
January 28, 2010 at 8:17 pm
Qualcomm has released a statement, where it responds to Germany company Smartbook AG's "aggressive campaign to prevent the continued use of the term "smartbooks" by journalists, manufacturers and consumers".
Qualcomm goes on to say that it is complying with a restraining order in Germany that requires it to issue a disclaimer if it wants to use the smartbook term. It goes on to say that 'smartbook' is a generic term used to describe a subset of devices sitting between netbooks and smartphones.
Qualcomm is looking to cancel the trademark in Germany. Smartbook AG has been trying to register the term in other countries, however European countries have thrown out their request. Hopefully, we'll see an end to this ridiculous dispute very quickly. Check out the full statement below. Read more
January 9, 2010 at 5:37 pm
Following the official Nvidia Tegra 2 announcement, a whole number of different next-gen Tegra powered products were shown on the trade floor at CES. Rather than creating a post for every single one, we've summarised each below and attached any relevant videos. Most of these consisted of tablets, rather than smartbooks, but it gives you a good idea of what to expect over the coming year. Check out the Tegra 2 action after the jump. Read more
January 8, 2010 at 10:23 am
Qualcomm is planning on launching at least two new Snapdragon chipsets this year. The first is a 45nm version of the current Snapdragon, the 8X50A, which will have a 1.3GHz clock speed. It will be offered to OEMs later this month and products are expected by the end of the year.
Also, just before the year end, Qualcomm will launch the 8X72, a 1.5GHz dual-core Snapdragon chipset to be used in upcoming smartbooks and maybe some high-end smartphones. The chip will be capable of encoding 1080p HD video content.
Via Hexus.
January 7, 2010 at 12:39 pm
HP is showing off a new concept smartbook over at CES in Las Vegas. The smartbook is powered by a 1GHz Qualcomm Snapdragon (QSD8250) chipset and is loaded up with the Android operating system. It also has a 10-inch resistive touchscreen display
As with other smartbooks it has 3G and WiFi for always-on connectivity. In terms of exterior, this is no Lenovo Skylight, not a surprise given it's a prototype. The chassis used looks almost the same as the current HP Mini netbooks. There are no other details for now, but check out some hands-on videos after the break. Read more
January 6, 2010 at 7:35 pm
One of the more exciting ultraportables to be announced so far at CES is the 11.6-inch Ideapad U1 Hybrid that can be used as CULV notebook or tablet depending on preference. It was officially announced yesterday, so check out our previous post for all the details.
However, a number of publications have since gone hands-on with the device and posted their impressions. After the break, you'll find six videos of the U1 Hybrid. It's interesting to see that overall impressions were extremely positive, even more impressive given that this was only a pre-production model as the U1 isn't set to launch until June.
Below you will find videos from Engadget, Liliputing, JKKMobile, NetbookNews, Laptop Mag and Slashgear. Gizmodo's write-up is also worth a read if you're fishing for information. Read more
January 5, 2010 at 9:17 am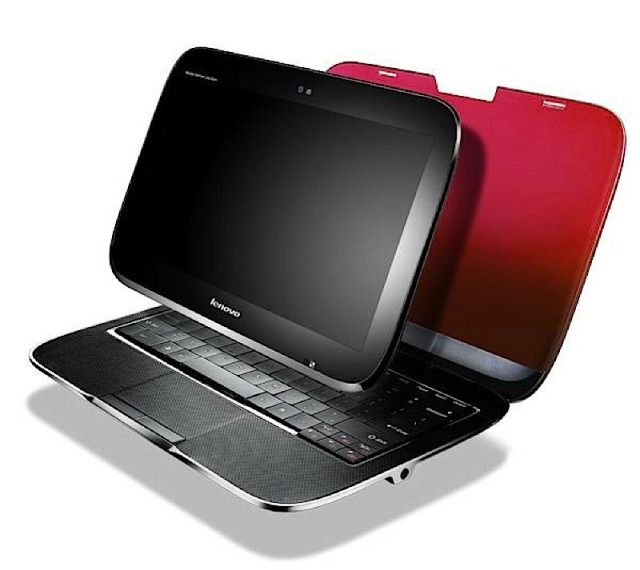 Lenovo has announced an interesting new form-factor that bears a similarity to Always Innovating's TouchBook. The Ideapad U1 Hybrid is effectively an 11.6-inch (1366 x 768) multi-touch tablet device that docks into a traditional laptop design. When paired the U1 runs off the Intel CULV processor and when in tablet mode, it is powered by a Qualcomm Snapdragon chipset.
The U1 Hybrid comes with 4GB RAM (512MB in tablet mode) and can support a 128GB SSD (16GB is used for the tablet). Other features include two USB ports, eSATA, VGA, HDMI, 4-in-1 card reader, and a 1.3MP webcam. The operating system is catered for by Windows 7 when using as a laptop and Lenovo's custom Linux OS in tablet mode (probably the same that will be used in the Lenovo Skylight smartbook). Read more
January 3, 2010 at 1:33 pm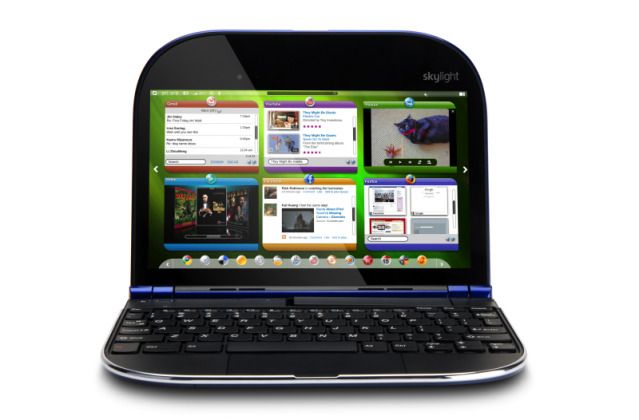 Lenovo is set to announce the Skylight smartbook at CES next week. The tipster who gave us a heads-up on the Ideapad S10-3t has given us the first details of the new smartbook.
The Lenovo Skylight is the company's first smartbook, powered by the ARM-based Qualcomm Snapdragon chipset. It will launch in the US in April, where one will be able to purchase the Skylight on a standalone basis through Lenovo.com for $499 or on a two-year AT&T 3G data contract. The Skylight will then be available in Europe and China later in 2010. Read more
November 19, 2009 at 4:57 pm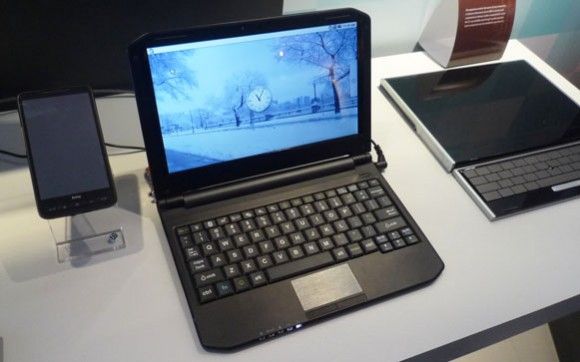 Qualcomm held a press event in London today, where it showed off different devices using its Snapdragon chipset. One of these was an Android smartbook from OEM Quanta. The fanless prototype is based on the Snapdragon chip and therefore very slimline.
The keyboard has been reconfigured to allow one-touch access to the homescreen, programs menu, applications and settings (such as 3G, Wi-Fi and Bluetooth). However, it did suffer from flex. Qualcomm confirmed that Lenovo's smartbook will be even thinner with curvier edges. Check out a hands-on video from Slashgear after the break. Read more
November 12, 2009 at 9:03 pm
As expected, Qualcomm's CEO, Paul Jacobs, revealed one of the first smartbooks expected to hit the market. The device was announced at a Qualcomm investor day in New York. Information on the new device is sparse, however what we do know is that the new smartbook will be powered by Qualcomm's Snapdragon chipset, manufactured by Lenovo and sold in the US through AT&T.
There is a crude image of the device lifted from the investor webcast that shows a red device with a homescreen split into six widgets. Jacobs said that the device was thinner than a Palm Pre and it certainly seems very thin. The device will also have full Flash 10.1 support and sport a high-resolution display. A formal launch is expected during CES in January 2010. Check out the first image of the device after the break. Read more
October 30, 2009 at 10:36 am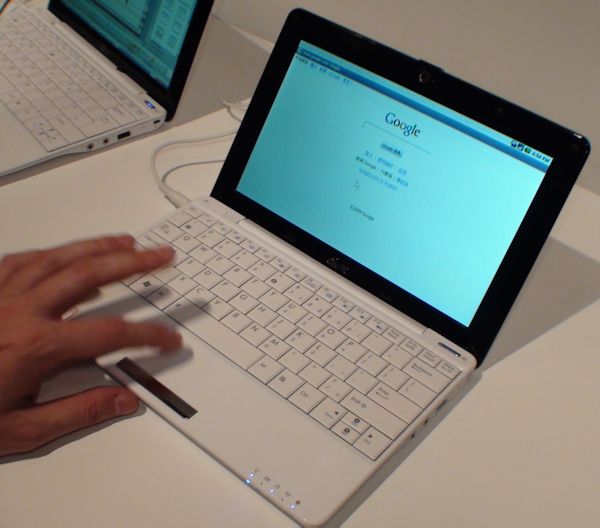 This is why you should never trust what a Chief Executive says. Asustek CEO, Jerry Shen, has apparently told an investor conference yesterday that it will be launching a smartbook device in the first quarter 2010. He even referred to smartbooks with such colorful language as a "secret weapon" that could take the company to a new "Eee PC-like peak"
However, it was only in late August when Shen had reportedly frozen development of smartbooks. "Currently, I still don't see a clear market for smartbooks," Shen said at the time. Obviously something has changed his mind in the intervening two months, looking at the contrast in sentiment.
Little detail is known about the Asus smartbook, although Shen said that pricing will be around the NTD 6,000 ($185, €125, £110) mark, before tax. It will also apparently be powered by a Qualcomm Snapdragon (ARM-designed) processor. We're still waiting for the hoard of smartbooks to launch this quarter, however despite this, it would take a foolish person to write off this interesting new category of device.
Via Shanzai.
September 3, 2009 at 8:05 pm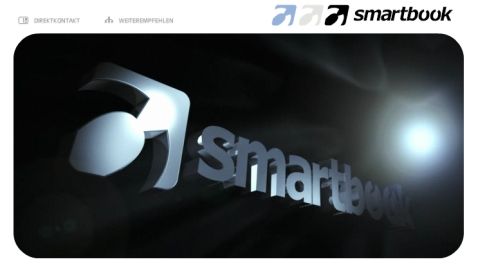 Qualcomm has given their response following a restraining order from Smartbook AG who claim that the 'smartbook' term is trademarked. Smartbook AG has ordered Qualcomm to stop using the term in Germany or risk facing a fine.
Qualcomm has responded by saying that smartbook is a "descriptive and generic term" and one that is used by a number of companies. Qualcomm will have the opportunity to object to the order," the company noted, adding that it is reviewing the litigation and that "the order does not impact Qualcomm's services, products, shipments or customers." Read more