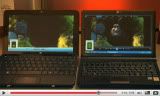 There have been many questions surrounding the Broadcom Crystal HD video accelerator, which gives you the ability to watch 1080p HD content on your lowly Atom-based netbook. The HP Mini 110 XP is one of the first netbooks that uses this Crystal HD solution and more are planned in the future.
Broadcom has given a video demonstration of this technology in action. Naren Sankar from Broadcom's Consumer Electronics Group, placed two 10-inch netbooks side-by-side. One HP Mini 110 XP (with Crystal HD) and a Lenovo S10 to the right of it. He played a 1080p h.264 video file on both and noted the differences. Read more
April 16, 2009 at 2:59 pm
Two netbooks have passed through the US Federal Communications Commission (FCC) overnight. The first is a 9-inch Lenovo netbook with built-in 3G card. We heard rumours last week that a 3G-enabled S10 was being planned, but this is the first we've heard of a 3G-enabled Lenovo S9. The card is compatible with AT&T which could suggest that AT&T may start to offer this netbook on a subsidised data contract.
The second is the 10-inch LG X110, which has been available in Europe for some time now. The news is not surprising as we already know that both the X110 and X120 netbooks are due to hit the US by July. The specifications remain the same with the X110 having a 10-inch (1024 x 600) display powered by a 1.6GHz Intel Atom N270 CPU, 1GB of RAM and 160GB hard drive. It is believed that the X110's unsubsidised price will be around $400.
Lenovo is getting ready to launch some updates to its S1X series of netbooks. It plans to launch a refresh to its 10-inch S10 netbook with integrated 3G and is also introducing a 12-inch model which will also have a built-in 3G module.
Both netbooks will have the instant-on OS, Splashtop. This will give access to a browser based on Firefox 2, Skype, a multi-IM chat client; a basic audio player and a photo viewer. The Lenovo install should also include its social Web site forums too.
According to Liliputing, the official press release for the new Lenovo models has been delayed, however we'll keep you updated as soon as we have confirmation.
March 13, 2009 at 12:07 pm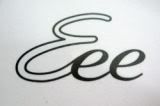 The Asus' Eee PC brand is Japan's favourite according to research firm Gfk, with a market share of 27 percent in terms of sales. Since the start of 2009, Asus has sold 60,000 Eee PCs.
The best selling netbook in Japan last week (March 2nd to 8th) was the Asus Eee PC 1000H followed by Lenovo's S10 4068A. The Acer Aspire One claimed third spot according to Digitimes.

Voting is currently open at Engadget to determine nominations for Netbook of the Year 2008. It's worth popping along to nominate which netbook you feel deserves the accolade. At the current comment count of 67, it looks like the Acer Aspire One is leading the charge along with the Dell Mini 9 with ten votes and nine votes respectively. Those just behind on six votes each are the Samsung NC10, MSI Wind U100 and the Lenovo S10. A solid list of nominees so far.