February 14, 2010 at 4:59 pm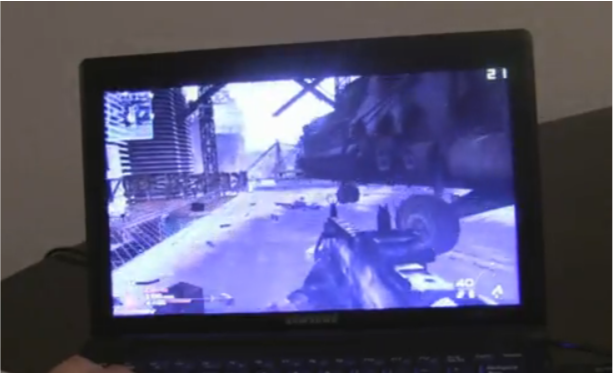 Netbooks aren't meant for gaming, or so the saying goes. Nvidia has other ideas with its ION chipset that means you should be able to play even recent games as long as you don't mind sacrificing settings and resolution. To give you an idea of how well an ION netbook can play games, we have a quick video demo of one of the current best-sellers, Call of Duty: Modern Warfare 2 playing on the 11.6-inch Samsung N510.
It is being played at a resolution of 800 x 600 with the lowest settings. We managed to score between 20 to 30fps on average with the occasional drop below that. I've tried it quite a few times and it is actually reasonably playable. Obviously it's not as smooth as my quad-core PC, but for those times when my desktop isn't around, it gives you a quick gaming fix. Check out the video of my demo playing the game (badly) below as well as a couple of extra videos looking at HD YouTube Flash and 1080p video content. We have also updated our Samsung N510 review with these videos. Read more
January 31, 2010 at 8:26 pm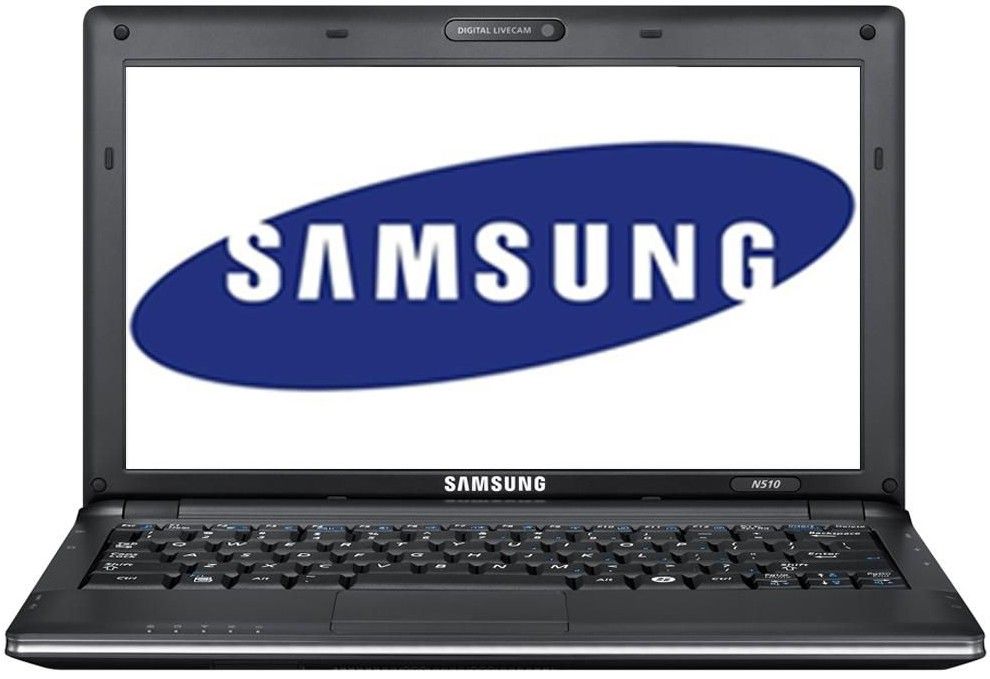 The Samsung N510 is the company's first 11.6-inch netbook and also the first to come with the Nvidia ION chipset. We were quite impressed with the device when we reviewed it at the end of last month, with the main negative factor being the high price. However, it seems like there is a design issue affecting a number of people that we didn't encounter whilst testing it.
The hinge that holds the display in place has broken for a number of people. It clicks out of place when the display moves, the most likely cause is a broken clip inside the hinge. SammyNetbook member tintii first reported this problem back in November, but since then there are a number of others that have had the same issue. Read more
December 31, 2009 at 10:50 am
The Samsung N510's arrival is important for a number of reasons. It is one of the first netbooks to be released armed with the Nvidia ION LE chipset. It is also the company's first 11.6-inch device. On paper it sounds like a winning combination, you get a 1.66GHz processor, high-resolution matte display, HDMI, Wi-Fi (including Draft-N), Bluetooth 2.1 and a 6-cell 5900mAh battery.
However, times move quickly and with the advent of Windows 7, some may not want to purchase a new netbook that only comes with XP. It's also not cheap at around the £380 mark, pitting it a significant premium to the main other ION netbook on the market right now, the Compaq Mini 311c at £330. Read on to find out whether ION really makes a difference and whether the Samsung N510 is worth the premium. As usual, you'll also find some comprehensive performance and battery tests. Read more
December 25, 2009 at 12:10 am
Laptop Mag has pitted the four current ION netbooks on the market against each other. This includes the dual-core Asus Eee PC 1201N, HP Mini 311, Lenovo S12 ION and Samsung N510. They compared each of the four across a number of categories including battery life, value for money, design as well as video and gaming performance.
It's probably not surprising to hear that the Asus Eee PC 1201N won most of the performance tests, whilst the HP Mini 311 won best design and value for money. The Samsung N510 came out on top in terms of battery life. Choosing a winner seems a bit subjective as people will value different features more strongly than others. Click through to find out who the overall winner was.
Update: Engadget also has a good write-up of the above four ION netbooks head-to-head.
November 22, 2009 at 10:39 pm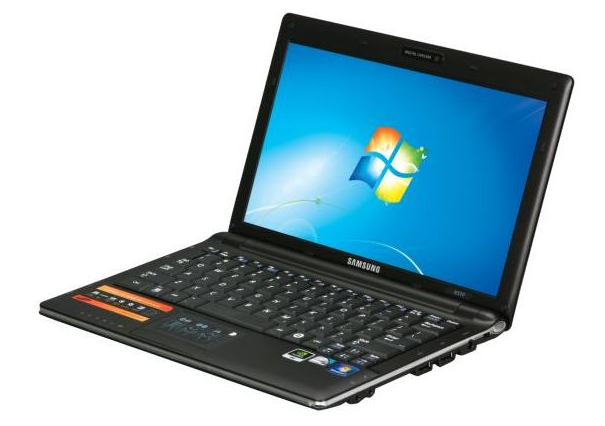 The 11.6-inch Samsung N510 netbook has finally started to ship in the United States. Newegg.com
has it listed for $599.99 and offers free shipping. Looking around, it seems to be the first major retailer to stock the Nvidia ION-powered netbook. The Samsung N510-4B (NP-N510-JA02US) only comes in black.
The US model has some material improvements over the European SKU, including Windows 7 Home Premium, 2GB RAM and a 250GB HDD. This compares to the European version that comes with XP, 1GB RAM and a 160GB HDD. I'm sure the Windows 7 N510 will hit Europe at some point, although I haven't seen it listed thus far. Read more
September 28, 2009 at 8:22 pm
The Samsung N510 is one of the first Nvidia ION-powered netbooks on the market. It has just seen its retail release in the UK, where it is selling for around the £400 mark. Whilst it is towards the top-end of netbook price-points, it is worth remembering that the Samsung N120 cost around £370 on launch. Not too bad considering that the Samsung N510 offers an 11.6-inch (1366 x 768) LED-backlit display, ION chipset and 7-hour battery.
The much-anticipated Samsung N510 has landed at NbC HQ and we've promptly done an unboxing to show you what to expect inside the box. We would like to clarify that we have the UK SKU and it seems that Samsung has been kind to us. The UK model has a 1.66GHz N280 Atom processor and 5900mAh battery. This is an improvement over the mainland European version that is sold with the 1.6GHz N270 Atom and lower capacity 5200mAh battery. Read more
September 14, 2009 at 11:31 pm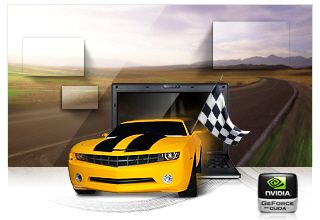 The Samsung N510 is already on sale in a few places including Italy, Germany and Hong Kong. It is expected to go on sale in the UK very shortly, with a number of UK e-tailers opening up pre-orders but no one actually shipping right now.
To gear up for the launch, Samsung has unveiled the official product page for the N510 netbook, which includes an official spec list. The interesting part is that it does look like the UK will get slightly beefier specs compared to mainland Europe. The N510 UK SKU will get the N280 Atom (Europe gets N270) and we believe that the 6-cell battery will be rated at 5900mAH, compared to 5200mAh for Europe.
Also, now that the N510 is already out in Europe, some users have been busy putting the ION-powered netbook through its paces. One such person is Fungus-T, who has ran a number of video tests (including gaming & HD video) to show off what it can do. Check out a selection of videos after the break. Read more
August 27, 2009 at 8:42 pm
Samsung's ION-powered N510 netbook should bring a new level of 3D graphics performance compared to current netbooks. For those wondering just how well it fares with games then it may be worth checking out the video below. It showcases how playable Doom 3 is on the N510.
The Doom3 timedemo was first played at a 640×480 resolution where a FPS of 18 was achieved. Cranking the resolution up to 1024×768 lowered the FPS to 16. Whilst this may seem disappointing, it is worth pointing out that Doom 3 was one of the most graphical intensive games back in 2004. Yes, it may be 5 years old but it can still be relatively demanding on low-end desktop PCs.
HD YouTube performance was also tested and played fine apart from in full-screen mode (hardly surprising). However, the content played fine when downloading the file and playing it through VLC. Check out the Doom 3 video after the jump. Read more
August 22, 2009 at 12:11 pm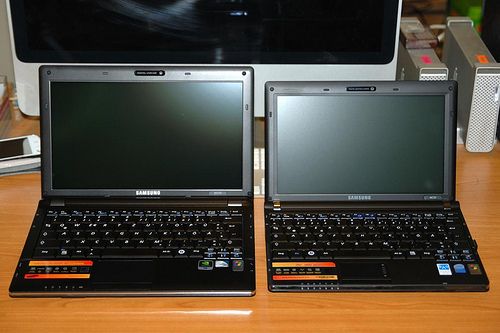 Samsung's ION-powered N510 netbook is now shipping in parts of mainland Europe. This concurs with the news we received yesterday that Samsung will be shipping the 11.6-inch N510 with Windows XP and won't be waiting for Windows 7, unlike the US. Italian retailer MediaWorld has the Samsung N510 in stock right now for €499. It is also shipping in Germany.
We don't know whether different SKUS are planned for the mainland European and UK market, but all of the ones appearing in mainland Europe come with the 1.6GHz N270 Atom CPU. This contrasts to the UK SKU (NP-N510-KA02UK) being listed with the 1.66GHz N280 Atom. The UK SKU is also meant to have a 5900mAh 6-cell battery compared to the 5200mAh battery found in the European SKUs. This could be a mistake but we'll only find out for sure when it releases here in a few weeks time.
NetbookNews.de managed to get hold of the first N510 unboxing pictures via reader, Joerg Ingenbrand. There are a number of pictures of the device itself and also compared against the company's best-selling 10-inch NC10 netbook. It is nice to see the N510 sporting a matte display and it's nice to see a bigger touchpad too. Sometimes, despite having a bigger chassis, manufacturers don't actually increase keyboard/touchpad sizes that much. Check out some of the unboxing pictures after the break. Read more
August 21, 2009 at 10:56 am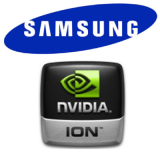 We heard yesterday that Lenovo will not be launching its ION-powered Lenovo Ideapad S12 until after Windows 7 has been released. This left a clear road for Samsung to be first on the market with their N510 ION-powered netbook. However, according to Laptop Mag, the 11.6-inch N510 may also be delayed so that Samsung can ship it with Windows 7.
I'm not sure if the release will be delayed worldwide or just in the United States. But from our sources, a number of retailers are still looking to launch the N510 at the beginning of next month. It will be a shame if the launch were delayed, especially as a wait for Windows 7 may mean a higher price point.
Samsung is planning on shipping the N510 with the ION LE platform and Windows XP. They may have decided that they will deliver a better experience by shipping it with Windows 7 instead and using the full ION platform that is DX10 compatible. Hopefully, all will be revealed shortly.
Update: We have heard from a reliable source that the Samsung N510 will indeed be shipping in Europe with Windows XP. However, this model will be stopped when Windows 7 is released. Whether that means it will then simply ship with Windows 7 or a change of specs is not known right now.
August 20, 2009 at 11:30 pm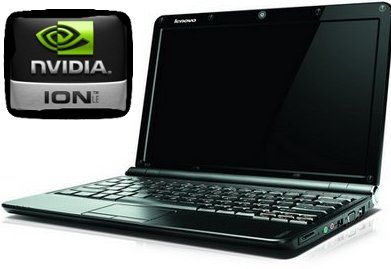 The Lenovo Ideapad S12 ION netbook was one of the first netbooks to be announced with Nvidia's ION wizardry. However, since its announcement back in May, we've not heard too much about the ION version (the Atom and VIA SKUs are already out). Indeed, the Samsung N510 has stolen much of the ION momentum away from the S12 ION.
Gizmodo now has word that the S12 ION will not ship until Windows 7 has launched i.e. it will launch after October 22nd. This means it will be able to use the newer OS that should deliver better performance than the Vista version it was planning to ship with. No firm date was given, but it is expected to retail for $550, around $50 more expensive than the standard Atom SKU.
They were also told that a HP ION netbook is also due in the coming weeks. Looks like everyone wants to jump on the ION bandwagon.
August 18, 2009 at 12:38 pm
The manual for Samsung's ION-powered N510 11.6-inch netbook has now appeared on the official website. With a release date expected at the beginning of September, the manual's release is certainly timely.
We've been pouring through all of the pages to find out any new information. Whilst the specifications page doesn't list detailed specs, it does give the first confirmation that the N510 will be running on the DX9-compatiible ION LE platform, rather than the DX10-compatible ION. In real world results, I'm not sure whether this will make too much difference, but it's worth pointing out. We also know that it will be using the nVidia MCP79-D9 chipset. Read more
August 11, 2009 at 11:28 pm
We have received word from a reliable source that Samsung's ION-powered N510 11.6-inch netbook will be available to buy in UK retail from the first week of September. We can also reveal that the recommended retail price in the UK will be £449. This seems right when placed against the rumoured European price of €499 and US price of $599.
We have also seen the full specification list of the UK N510 SKU. For those worried about battery life, then fear not. The Samsung N510 will be shipping with a 6-cell 5900mAh battery that should be good for 7.5 hours of use according to the company. The netbook will come with a HDMI port and a chargeable USB port. The whole thing will weigh 1.46kg.
There has been some speculation whether or not the N510 will use ION LE, which uses a DirectX9 GPU instead of the DirectX10 compatible 9400M (ION) chip. From the information we have received, the Samsung N510 will be using the ION platform and not ION LE. You can check out the specs after the break. Read more
August 11, 2009 at 12:17 pm
All of the buzz on Samsung's upcoming Nvidia ION-powered netbook has been on the NP-N510, which is rumoured to include a 11.6-inch high-resolution display and launch later this month in Europe. However, we can now reveal that this will not be the only ION netbook from Samsung.
Samsung is also planning to release two further models, the Samsung NP-N508 and Samsung NP-N511. We don't have any details on specifications or availability of these previously unheard of models. However a sensible guess would be that the N511 may include a different Atom processor whilst the N508 could sport a smaller display – maybe a 10-inch ION netbook? Read more
August 11, 2009 at 10:58 am
We have already heard speculation that Samsung's ION-powered N510 11.6-inch netbook will hit Europe by the end of this month. Now Brad from Liliputing has word from Samsung that the N510 will launch in the United States in September for a recommended retail price of $599.
This price-point puts it much higher than its peers, even against other 11.6-inch netbooks. However, this will be one of the first with the ION platform and I'm sure the netbook will have a market despite the high price tag. Much to Intel's and Microsoft's annoyance, there are many people who are demanding the ability to playback high-definition video on their netbook.
The Samsung N510 has a high-resolution (1366 x 768) display powered by a 1.66GHz N280 Atom, 1GB RAM and a 160GB HDD. It will come with the Nvidia 9400M GPU, HDMI-out, Wi-Fi (Draft-N), a 1.3MP webcam and 6-cell battery.