April 15, 2010 at 11:08 am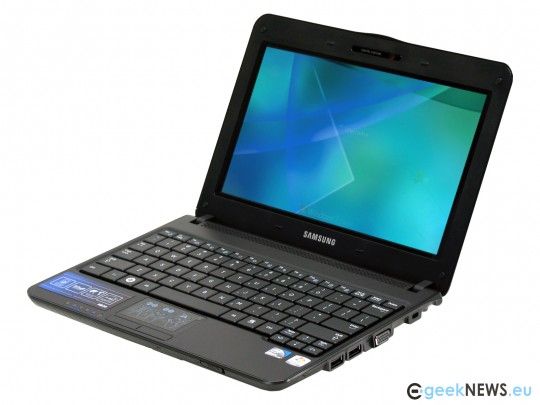 The Samsung NB30 Touch was officially launched in Italy yesterday. It is similar in most respects to the rugged NB30 netbook but comes with a 10-inch touchscreen display. GeekNews have reviewed a pre-production NB30 Touch already and liked what they saw.
It's nice to see the netbook sport a matte display, that should hopefully make fingerprint marks less of an issue compared to a glossy touchscreen. It's also worth noting that it comes with a multitouch capacitive display, something we weren't sure of on its official announcement. Performance from the 1.66GHz N450 Atom processor was fine along with the response of the screen. Read more
April 14, 2010 at 8:22 am
Rumours surfaced a while back over a touchscreen enabled version of the rugged Samsung NB30 netbook. Well it looks like this model has seen its official launch in Italy. The Samsung NB30 Touch (NB30-JT01IT) is the same in all other respects compared to the original NB30 and costs €399.
The NB30 Touch only comes with Windows 7 Starter, so you won't benefit from the full touch experience you get with W7HP. The type of touchscreen (resistive/capacitive) is also not mentioned, although I expect it's the former. Other features remain including its rubberised chassis, hard-disk protection and an anti-spill keyboard. Click through for the specs. Read more