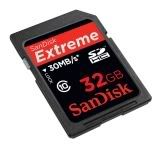 Sandisk has announced what it believes is the fastest SDHC memory card available on the planet. The 32GB SanDisk Extreme SDHC card has read and write speeds up to 30MB/s and falls under the newly announced Class 10 specification, which exceeds the requirement for high definition video recording. The card has the capacity to store 160 minutes of full HD 1920×1080 pixels at a 24Mb/s data transfer rate.
For those netbook users who only have limited storage options and crave super-speeds, than this may be ideal. However, it's unlikely to be cheap, with the price currently undisclosed. The SanDisk Extreme SDHC 32GB will start shipping in August. At the same time, all current SanDisk Extreme SDHC cards with capacities of 4, 8 and 16GB will be upgraded from class 6 to class 10.
Via Gizmodo.
Sandisk has revealed some new solid-state drives as well as SDHC cards targeted to netbooks. Sandisk has always been keen to add prefixes to its SSDs, we have previously had the Sandisk uSSD range (quarter the size of a 1.8-inch SSD), and now Sandisk has announced its second-generation pSSD drives.
These pSSDs (parallel ATA solid state drives) feature new technology called nCache, which supports burst performance up to five times the steady to enhance the user experience. This prevents the incidence of "stalling" or "shuddering" often seen in first generation netbook SSDs. As nCache is non-volatile, the user's data is also protected in the event of a power interruption. Read more