December 18, 2009 at 11:40 am
The Asus Eee PC 1201N netbook always had the building blocks to be a raring success. It combines the much sought after Nvidia ION chipset with a dual-core 1.6GHz Atom 330 processor. This is the first time we have seen such a combination from one of the big netbook manufacturers and judging by HotHardware's review, Asus is onto a winner.
The dual-core CPU was quick in their benchmarks and the inclusion of Nvidia ION meant that the ability to play even recent games was possible. Under their real world battery testing, the battery lasted for 3 hours and 23 minutes. This is obviously lower than the claimed 5-hour battery life but it was achieved with 50 percent brightness, Wi-Fi & Bluetooth switched on. Read more
December 17, 2009 at 2:50 pm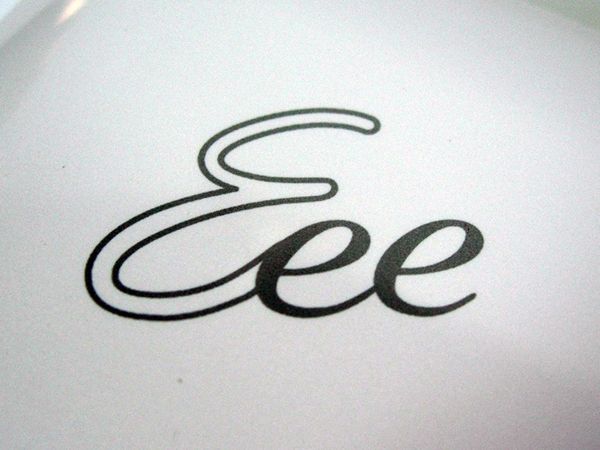 Asus, like most other manufacturers, are set to launch new netbooks based on Intel's upcoming Pineview processors. We have already heard that two of these models will follow the footsteps of the popular Eee PC 1005HA/1008HA Seashell models in the form of the Eee PC 1005P/1008P netbooks.
Details on the Eee PC 1008P have already emerged, but now we are starting to see specifications for the 1005P and 1005PE listed on several retailers. The 10.1-inch Asus Eee PC 1005P will be powered by a 1.66GHz N450 Atom Pineview, 1GB RAM, 160GB HDD and come with Windows 7 Starter. The 1005P will be available in white (1005P-WHI008S) and black (1005P-BLK009S). Read more
December 17, 2009 at 7:39 am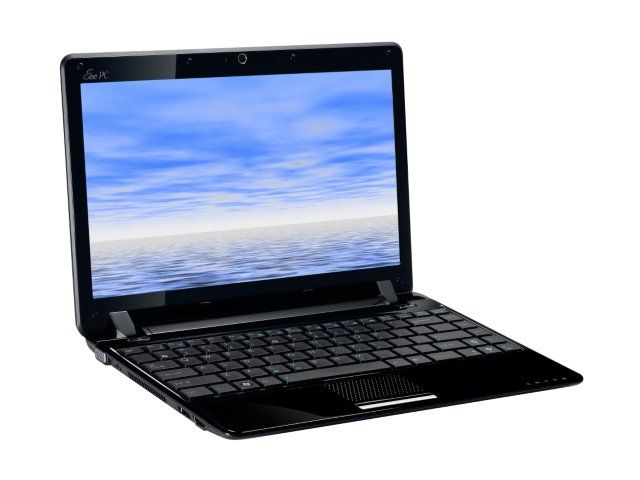 Judging by the Amazon pre-order it was widely expected that the ION-powered dual-core Eee PC 1201N would not be available until mid-January. However, Newegg has come up trumps and has the 12.1-inch netbook in stock for $499.99 with free shipping. That means that if you order now there's a good chance of getting it under the Christmas tree!
A quick reminder on the specs: the 1201N will come with a 12.1-inch (1366 x 768) display, 1.6GHz dual-core Atom 330 processor, Nvidia ION, 2GB RAM, 250GB HDD and Windows 7 Home Premium.
Via Netbooked.
December 14, 2009 at 4:54 pm
We have already seen some hands-on impressions of the 12.1-inch Asus Eee PC 1201N netbook, but we are now treated to some more detailed performance results of the dual-core ION powered netbook. Blogeee did some exhaustive testing on battery life and the results were quite surprising. Noti also did some benchmark performance testing.
Both sites praised the machine and found it to be a great 'bridge' device between netbooks and ultra-thin devices. Build quality was reasonably solid although Noti found the battery to be a bit loose. Overall performance was very good with multi-tasking proving no problem for the 1201N. Read more
December 11, 2009 at 9:11 pm
The Asus Eee PC 1201N dual-core ION netbook is not set to hit US/UK shores until next month, but it appears that a lucky few have already got hold of the powerful device. Pierre over at Blogeee has a very thorough selection of photos of the netbook including a number of hands-on videos. The videos are in French but it's not hard to get the gist of what's going on.
Pierre also compares the 1201N to other netbooks but unfortunately there are no benchmarks or battery life results, this will come later. However Vention from Noti did manage to do some graphics benchmarks against the HP Min 311 (also ION-powered).
Interestingly, the performance between both machines were very similar. The Asus 1201N was slightly ahead in 3DMark2006, but was behind in 3DMark 2003 and 3DMark2005. I'm looking forward to seeing the results comparing more CPU-intensive tasks to see how the dual-core processor of the 1201N fares against traditional single-core netbooks. Check out the graphs after the break. Read more
December 4, 2009 at 10:33 am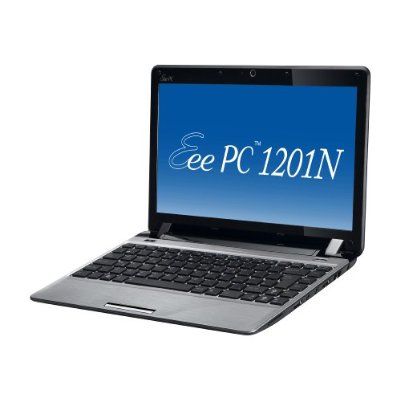 Asus' dual-core ION-wielding Eee PC 1201N netbook has hit pre-order on Amazon.com for $499.99
. It is available in both black
(1201N-PU17-BK) and silver
(1201N-PU17-SL) colours and has a release date penned in for 15th January 2010. This is a month later than was expected in the US.
No UK pre-orders have popped up so far, but that US launch date is in line with what Asus has previously told us was penned in for the UK market. Hopefully, not too long to wait for a belated Christmas present to yourself. Click here for the lowdown on specs.
Via Engadget.
December 2, 2009 at 5:06 pm
The Asus Eee PC 1005HR is pretty much identical to the Eee PC 1005HA apart from the fact that it sports a high-resolution (1366 x 768) display. Peter from Netbooked has his review up of the device and whilst it took time to adjust to the small font-size, Windows can be adjusted to make for a more comfortable experience.
The 1005HR is also quieter over the 1005HA according to Peter. Combine this with a 7-hour battery life, excellent keyboard and multi-gesture touchpad and you have a very capable machine. It's just a shame it's only being sold in Japan right now. Click through for the video review. Read more
December 1, 2009 at 10:18 pm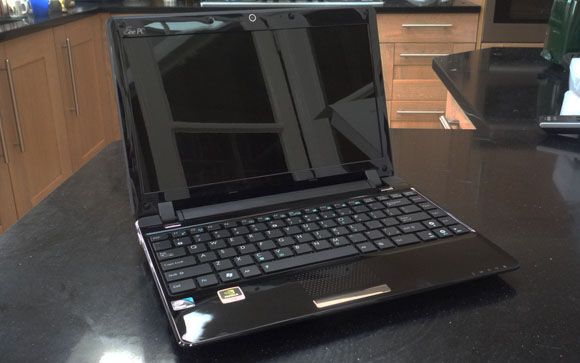 Whilst we are waiting for the 12.1-inch ION-breathing Asus Eee PC 1201N to hit UK shores in mid-January, the guys over at ElectricPig have already managed to unbox a unit. As part of the Seashell range, it's no surprise that it looks very similar to the 11.6" 1101HA and 10.1" 1005HA netbooks.
This includes a dimpled touchpad and clam shell design. This particular model comes with a chiclet keyboard though, rather than the flat keys seen in the rest of the Seashell range. The model is due to retail for £399 and will come with a dual-core 1.6GHz Atom 330 processor along with the Nvidia ION chipset.
December 1, 2009 at 3:47 pm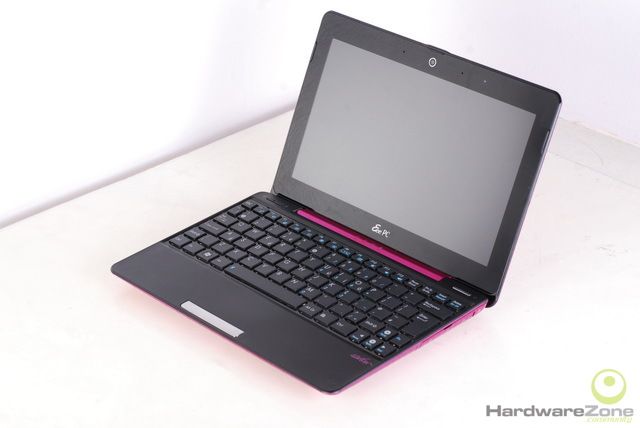 We already know that Asus is set to launch Intel Pineview-powered netbooks under the Eee PC 1008P and 1005P model names. From what we understand, these are just the Pineview (hence the 'P' in the model name) Atom versions of the 1008HA and 1005HA netbooks respectively. We now have pictures of one of the 1008P versions due to hit the market called the ASUS Eee PC Seashell 2 1008P-KR netbook.
The 'KR' part stands for renowned designer Karim Rashid, who has created this designer netbook. Judging by the pictures, it has been designed to resemble a clutch bag with its rippled exterior. Apart from the shell, the 1008P-KR appears to be very similar to its predecessor. It has the same 'seashell' shape and comes with flaps that cover its ports. Read more
November 30, 2009 at 6:56 pm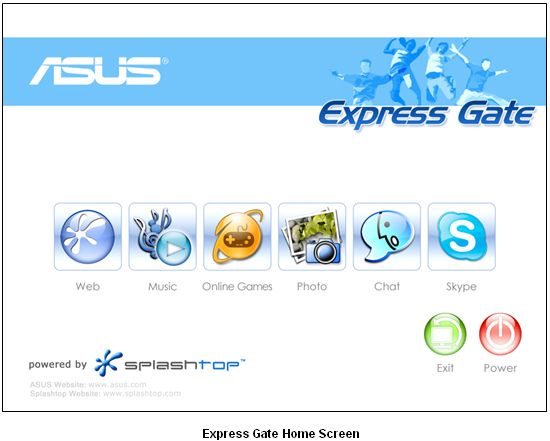 The Asus Eee PC 1008P already made an appearance though the FCC, but it appears that Asus will also be launching the Eee PC 1005P, powered by the next-generation Intel Pine Trail chipset. The model number was spotted on the Asus support site, which means it'll probably be a matter of time before it makes an appearance.
Also, according to the BIOS drivers it will also come with the instant-on OS from Asus called ExpressGate, which utilizes Splashtop. The instant-on operating systems haven't really become a must-have feature in netbooks, but it looks like manufacturers are still trying to push them. Hopefully, we'll hear more on the 1005P and 1008P netbooks at CES in January.
Via Netbook Italia.
November 30, 2009 at 11:55 am
The Asus Eee PC 1201HA sits oddly with the rest of the '1201' lineup. Unlike the ION 1201N and AMD Congo-powered 1201T, the 1201HA sits at the bottom of the pack without too many redeeming features. In fact it is much like a 12.1-inch version of the 11.6-inch 1101HA. It sports the same 1.33GHz Z520 Atom processor, 1GB RAM, 160GB HDD and even comes with Windows XP.
Other features include Wi-Fi (b/g/n), three USB ports, card reader and a 6-cell battery good for 5.5-7 hours. No Bluetooth here I'm afraid. The Eee PC 1201HA netbook is now on sale in the US for $329.99 at Best Buy. Only a black model is listed currently.
Via Netbooked.
November 29, 2009 at 11:49 am
Details of the Asus Eee PC 1201T have emerged. We already knew of such a model number, when the manual for the 1201HA and ION-powered 1201N made an appearance. However, we didn't know what kind of specifications it would sport. All we knew was that it lacked the HDMI port seen on the 1201N and had only two USB ports.
The Asus Eee PC 1201T was launched at a Chinese press event yesterday, lifting the lid on the 1201T spec-sheet. We now know that it will be powered by the 1.6GHz dual-core AMD Congo MV40 processor. It will come with 2GB DDR2 RAM and a 250GB HDD. Read more
November 25, 2009 at 4:26 pm
The dual-core ION armed Asus Eee PC 1201N netbook appears to be on the wish list of many. Not only does it offer cutting edge netbook specs, it is also priced very competitively at £399/$499.
The guys over at MobileandNotebook scored some hands-on time with the device. They handled a pre-production unit and felt it was solid and well built. You can check out their video after the break. The full specifications can be found in our previous post here. Read more
November 22, 2009 at 2:32 pm
The Asus Eee PC 1005HR netbook is pretty much identical to the 1005HA Seashell apart from one key fact, it has a high-resolution 1366 x 768 pixel 10.1-inch display. This compares to the 1024 x 600 resolution found on the 1005HA display. It's only available in Japan right now and Peter from Netbooked has shot an unboxing video.
He also unboxed the Samsung N140 netbook and liked the keyboard, matte display and lightweight chassis. The N140 is similar to the N130, but has a higher capacity battery and stereo speakers. You can check out both videos after the jump. Read more
November 20, 2009 at 9:52 am
Asus UK has officially confirmed that the dual-core ION-powered Eee PC 1201N netbook will be coming to the UK. It will be priced at £399 (including VAT) and is set to launch "around mid January".
This seems like an aggressive price point to us, especially considering the fact that one of the other ION-powered netbooks on the market, the 11.6-inch Samsung N510, has the same RRP but only comes with XP and a single-core 1.66GHz N280 Atom processor.
The Eee PC 1201N will come with a dual-core 1.6GHz Atom 330, 12.1-inch display and Windows 7 Home Premium. The specifications are as revealed yesterday, although we've listed them again after the break. Read more