June 29, 2009 at 10:30 pm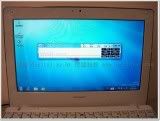 The guys over at UMPC Fever have been busy modding their Sharp Mebius NJ70A which was unboxed just last week. If you remember, the Mebius NJ70A is the first netbook to feature a touchscreen LCD as a touchpad. SKY from UMPC Fever has now modded the main 10-inch display and replaced it with a touchscreen display.
He has loaded the netbook with Windows 7 to make use of the touch features of the new OS. SKY also discovered that the optical touchpad has its own CPU and RAM, whilst taking the netbook apart. He also found two RAM slots, which means upgrading the 1GB standard RAM is quite easy. Check out the dual-touchscreen Sharp Mebius NJ70A in action after the jump. Read more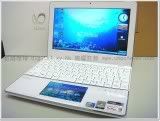 Sharp's 10.1-inch Mebius PC-NJ70A netbook is the first in the world to feature a touchpad in the form of a LCD display. This secondary display comes with a resolution of 854 x 480 pixels that one can use to play games, edit photos as well as use as a notepad. As you can imagine this tech doesn't come cheap, at around $1,000.
This is despite the fact that apart from the LCD optical touchpad, you'll find typical netbook specs under the hood. This includes a 1.6GHz N270 Atom CPU, 1GB RAM and a 160GB HDD. UMPC Fever has managed to get hold of a Mebius NJ70A and shot an unboxing video.
The massive Mebius logo doesn't look too tasteful in our eyes and upgradeability seems to be relatively catered for too. The video is in Cantonese, but includes English text to help you know what's going on. Check out the video after the jump. Read more
April 21, 2009 at 8:50 am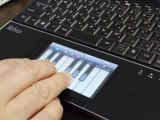 Sharp has introduced a new netbook this morning, the 10.1-inch Mebius PC-NJ70A. When a teaser was posted on its website last week, we speculated that the netbook may feature some kind of touch element. Right on cue, Sharp has done exactly that, but not in the way I was envisaging. The Mebius PC-NJ70A is the first netbook to feature a second LCD display with resolution of 854 x 480 pixels that doubles up as a touchpad. Read more