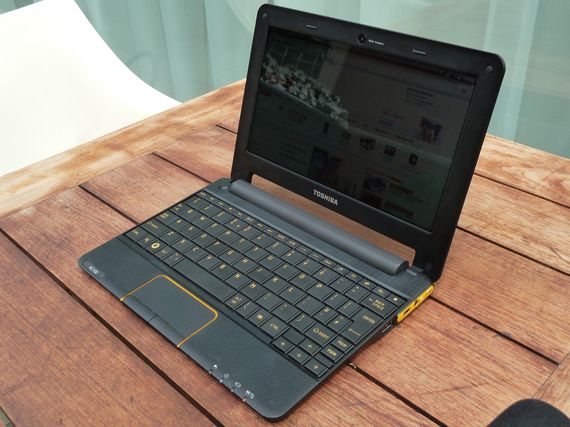 Toshiba has announced the AC100 10.1-inch Android 2.1 netbook/smartbook powered by the 1GHz Nvidia Tegra 2 (250) chipset. The AC100 smartbook offers a super slim profile, 512MB RAM, 8GB of NAND flash, a start-up time of "less than a second" and a battery runtime of 8 hours (or seven days of standby under mixed use). It looks like a traditional netbook but is slimmer and comes in a striking black and orange design (well we like it) along with a full sized-keyboard. It weighs just 870g and measures 14mm at its thinnest point.
Toshiba have made slight tweaks to Android 2.1 to make it more suited as a netbook. You'll get the usual homescreens that can be pre-configured and a number of apps will be pre-installed including Documents to Go for viewing and editing Microsoft Office files, a POP3 email client and a Toshiba Media Player. Read more
The 10.1-inch Snapdragon-powered Compaq Airlife 100 smartbook is one of the first on the market. It comes with a resistive touchscreen display, the Android operating system, 512MB RAM and a 16GB flash drive.
Carrypad has just published the first review I've seen of this device. They loved some of the headline features of smartbooks generally including the always on 3G experience and long battery life (18 hours from mixed use). However, internet connectivity was patchy and there is no included Android Market that mars the experience. Software is one of the main negatives with the feeling that Android is too "immature in large-screen" scenarios. Click here for the full review.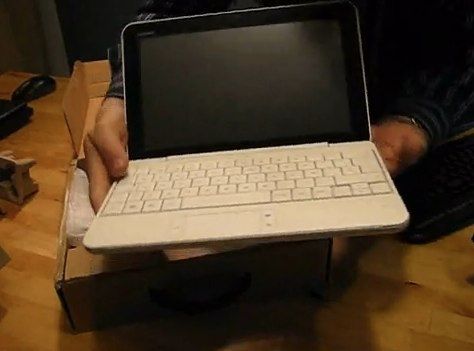 The Compaq Airlife 100 smartbook is only available in Spain right now, but that hasn't stopped Carrypad getting hold of one device to unbox and test. The 1GHz Snapdragon powered Airlife sports a lighter chassis compared to first-gen touchscreen netbooks as well as benefiting from a longer battery life.
The 10.1-inch Airlife 100 comes with the Android operating system, 512MB RAM and a 16GB flash drive. The touchscreen display is resistive rather than capacitive but comes with a matte finish. The OS has been tweaked to easily work with the touchpad as well as touchscreen. You can check out the unboxing video after the jump. Read more
Acer really wants to be first out of the door with a Chrome OS device. According to a report from VentureBeat, Acer will be launching new Chrome OS devices (most likely netbooks, smartbooks or tablets) sporting the new OS at Computex Taipei in early June.
Acer may not have the Chrome OS limelight to itself though. Samsung has also talked of developing ARM-based smartbooks powered by the Nvidia Tegra 2 chipset. Google is expected to release Chrome OS during the second half of the year. Techcrunch says that Chrome OS is coming along quickly but isn't ready as things stand, they've also got some images of what the OS is likely to look like.
Update: Acer has confirmed that it will not be showcasing Chrome OS netbooks at Computex.
When the smartbook category was first announced, many didn't expect that we'd still be waiting for the first device to make an appearance almost a year later. ARM's marketing VP, Ian Drew, has commented on the delays and says that they have been caused by issues with Flash optimisation as well as cold feet from manufacturers.
"We thought [smartbooks] would be launched by now, but they're not. We've seen things like Adobe slip — we'd originally scheduled for something like 2009," said Drew. "Our target is mostly internet machines — it becomes sort of a requirement that they run the internet. [The delay in optimising] Flash has stalled it". Read more
April 25, 2010 at 8:07 pm
Dell will launch a "netbook tablet " and normal netbook, both sporting Android according to a leaked roadmap obtained by Android Central. The Dell Sparta netbook will come with a rotatable 11-inch (1024 x 768) display powered by an ARM processor. It will also come with optional 3G along with Wi-Fi and Bluetooth.
The Dell Athens netbook is more typical in its form-factor and will sport a similar sized display and ARM processor. It will have a thin chassis and weigh less than 900g (1.98lbs). These models are expected to launch during the Autumn. Check out a large screencap of this Dell roadmap after the break. Read more
April 21, 2010 at 5:57 pm
We pretty much knew a lot about HP's upcoming smartbook, the Compaq Airlife 100, however the company has now put up its product page including the full specifications. The page confirms the 1GHz Snapdragon chipset and customized Android OS.
The Airlife 100 also sports a 16GB SSD, 512MB RAM, 512MB ROM and a 28Whr battery that should last for over 12 hours. It also comes with a 10.1-inch (1024 x 600) resistive screen. Click though for the full specs. Read more
One of the most exciting smartbooks announced thus far, the Lenovo Skylight, is seeing its launch pushed back by three months to July 2010. It is a shame as it's one the most attractive models to be announced this year in our opinion.
The delay has been caused by the need for further tweaking. Here's what Lenovo sources told LaptopMag: "With any new product that we introduce, we owe it to our customers to get it right and we would rather take the little extra time that sometimes takes to finalize a product."
Lenovo confirmed that its interesting tablet/ultrathin, the U1 Hybrid, is still on track. Despite the delay, the Skylight is still set to launch in China in May and will show up in other markets in June.
Update: Digitimes reports that the Skylight's UI and browsing is not as smooth as the Apple iPad, hence why Lenovo has pushed back the release.
March 25, 2010 at 10:26 am
It has been almost two months since we last saw any news on the Lenovo Skylight. The smartbook was announced at CES in early January and comes with an unusual clamshell design boasting a super-slim chassis, 10.1-inch HD display and 1GHZ Snapdragon processor.
Darryl Kang from DK.sg has had a few days of playtime with a pre-production Skylight. He was impressed that the keyboard and touchpad had not been compromised in terms of size, with the keyboard proving comfortable to type on. The touchpad has integrated left/right buttons that don't appear to everyone's taste. Read more
March 23, 2010 at 5:18 pm
The Mobinnova Beam smartbook (previously known as the élan) has been waiting on the wings for a while now. The 8.9-inch Tegra 2 powered device has made a change in OS from Windows CE to Android according to Laptop Mag.
However, somewhat curiously, there will be no access to Android Market. Instead, Mobinnova is working on its own app store and will include games that take advantage of Tegra's hardware. Read more
March 12, 2010 at 1:56 pm
Google 's Chrome operating system is not expected to launch until the second half later this year. Many question marks over OS remain, however what we do know is that Chrome OS will be heavily cloud based and Google is likely to dictate hardware requirements for devices running it.
Whilst the requirements are under wraps for now, it is believed to include relatively high performance graphics, SSDs and accelerometers. This has led Bob O'Donnell, VP of clients and displays at International Data Corp, to say that Chrome OS smartbooks will be even more expensive than Microsoft Windows-based netbooks. "PC OEMs say the hardware requirements—still under NDA–will make the systems actually more expensive than a Windows device, yet they don't have anywhere near the applications support," O'Donnell said. Read more
March 10, 2010 at 6:17 pm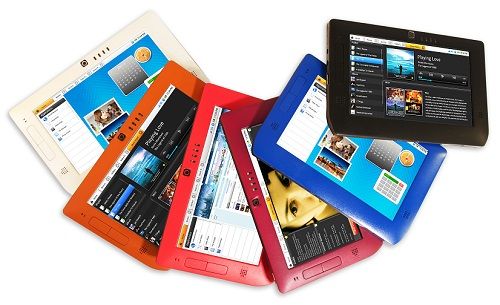 The impending release of the Apple iPad tablet will cause a rush to market of similar devices says ARM. The company expects that it will see ARM-powered 50 tablet devices launching globally this year. Not surprising, considering that this years CES and CeBIT were swamped with tablet devices of one form or another.
This is set to continue at the Computex show in Taipei in June, with ARM renting more space than last year to show off various mobile devices including tablets, smartbooks and e-readers. "The first tablet devices will launch in the second quarter by [mobile network] carriers," said Roy Chen, ARM's worldwide mobile computing ODM manager. "You'll see a lot more in the third quarter." Read more
February 23, 2010 at 10:31 am
We are very excited about the smartbook form-factor here at NbC. Whilst some may question the need for yet another device category, smartbooks sit distinctly from netbooks in our view. Our definition of a smartbook is a device that is always connected and one that runs on an ARM-based chip.
Both are interconnected as ARM provides a SoC with embedded 3G, Wi-Fi and Bluetooth functionality. The result is similar to that of many smartphones, long battery life, a near enough instant resume function and the ability to check the internet from wherever you are. Read more
February 16, 2010 at 1:55 pm
HP is showing off its 10.1-inch Compaq Airlife 100 smartbook at the Mobile World Congress tradeshow in Barcelona. The Airlife 100 looks very much like a typical netbook, although it features a touchscreen resistive display and is powered by a 1GHz Snapdragon chipset and Android 1.6 combo.
The touchpad has a few shortcut buttons adjacent to it with key controls for the Android interface, such as the Menu, Home and Back keys. Other features include a 16GB SSD, Wi-Fi, 3G connectivity and a 12-hour battery life. The Airlife 100 smartbook will initially be offered by Telefonica through subsidized contracts. Read more
February 15, 2010 at 8:36 am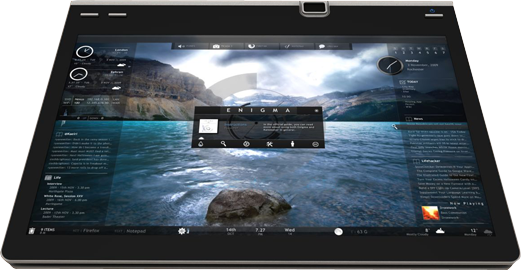 Hard details of Notion Ink's 10.1-inch Adam tablet have been few and far between. That has now changed with the company unveiling the specifications over on it its official site. We can now confirm that there will indeed be two SKUs, one including the Pixel-Qi display and one without. It will also come with a HDMI out, a rotating 3.2MP webcam, a 10.1-inch (1024 x 600) capacitive multitouch display and a 3-cell battery that should be good for 16 hours in full colour mode.
The design has also changed since our last look of the device at CES 2010 earlier in the year. The guys over at Technoholik managed to spend some time with the Adam and we've included their hands-on video after the jump. Slashgear also has had a pre-MWC play around and shot a video demonstrating Adobe Flash and its rotating webcam. Pricing is still a mystery, but hopefully more details will emerge at MWC that officially starts today. Read more