March 15, 2010 at 7:38 pm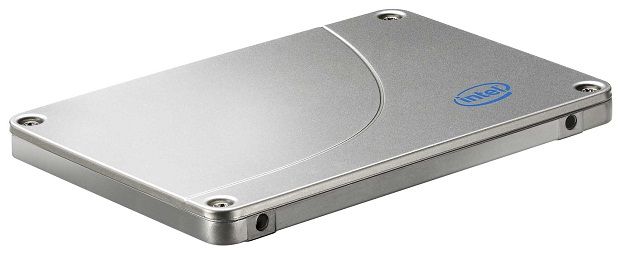 Intel has formally announced its 2.5-inch X25-V series of solid state drives, despite the fact that they have been shipping from the likes of Newegg for some weeks now. The 'V' stands for value here, where the 40GB SSD will set you back for around $125 when bought in large unit quantities (Newegg has it for $129.99).
The X25-V uses 34nm MLC NAND flash memory and features TRIM support within Windows 7. It has a 1.2 million hours mean time before failure rating. The sustained write bandwidth is up 35MB/sec while sustained reads is a zippy 170MB/sec. These drives are aimed at netbooks, although whilst 40GB may be fine for a Windows XP installation, I do wonder whether the same can be said for a Windows 7 install.
November 9, 2009 at 3:00 pm
Active Media has unveiled a new line of performance SSDs aimed at Asus Eee PC netbooks. The SaberTooth S4 series uses the 3Gbps SATA-II interface and offers sequential read speeds of up to 130MB/sec and sequential writes up to 50MB/sec. The drives use the Jmicron JMF602B controller and MLC flash memory for transfer speeds promised to be two to five times faster than the standard SSD that shipped in many netbooks from ASUS.
The company has posted a detailed Benchmark Report of the SaberTooth S4, tested on an Eee PC 1000 under Windows XP here. The benchmark results show the S4 soaring to read speeds over 120MB/sec, nearly four times faster than the default SSD in the Eee PC 1000. The Mini PCI-E SSDs measure 70 x 32 mm (2.7 x 1.3 inches). Read more
August 10, 2009 at 5:13 pm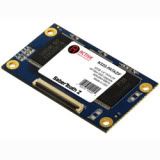 We recently saw Active Media launch a Solid State upgrade line for Asus Eee PC netbooks. The company has now followed this up with a Zero Insertion Force (ZIF) line-up for HP Mini netbooks. These PATA SSD flash drives come in 1.8-inch size only and are designed to be easy to install.
Active Media claim that these drives will fit a number of HP netbooks including the HP Mini 1000, 1010NR, 1030NR and 2510P. These drives are quite reasonably priced, a 16GB unit will cost $70 and the $32GB costs $110. However, this reflects speeds that aren't the best in class. It has sequential reads and writes up to 82MBps and 38MBps, respectively. It is also unknown whether these will fit the recently announced Mini 110 series.
There seems to be a new solid-state drive (SSD) netbook upgrade from a different manufacturer every few weeks. This time round, Active Media has announced its SaberTooth SSD upgrade for the Asus Eee PC. This SSD is tested to work with the Asus Eee PC 900, 900A and 901 and S101 models and should just fit into the Mini PCI-E card slot.
There are two different lines depending on the performance you after. The SaberTooth S has maximum read and write speeds of 90 and 55 MBps respectively and comes in capacities of 16GB ($62.95) and 32GB ($96.95). The faster SaberTooth SS has faster read and write speeds of 155 and 100MBps respectively. This line comes in 16GB ($82.95), 32GB ($124.95) as well as 64GB ($219.95) storage.
Via JkOnTheRun.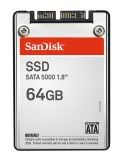 The penetration of Solid State Drives in notebooks and netbooks will not be as high as expected in 2009 due to their high price according to DRAMeXchange. It claims that the ratio of SSDs used in notebooks and netbooks continues to decline, resulting in "sloppy overall SSD shipments". SSDs are generally more power efficient, faster and less prone to shocks like HDDs are, although the flip side is that these advantages come with a big price premium.
The report suggests that the SSD penetration rate in notebooks will be as low as 1.0 to 1.5 percent in 2009, and below 10 percent in netbooks. The higher penetration rate seen in netbooks is due to the fact that many of the original models shipped with low capacity flash drives.
SSD price points shot up in the first half of the year, which hampered SSD adoption rates. A solid state drive costs four times higher than a hard-disk drive when looking at cost per gigabyte. The report said that SSD demand forecasts have been tailed back over previous expectations. NAND flash price is expected to decrease once 30nm and 20nm fabrication processes become mainstream and SSDs become more popular in the market.
Via Fudzilla.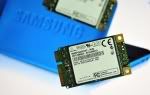 Samsung is working with a number of manufacturers to implement a newly designed SATA mini-card SSD in netbooks and other devices. The SSD comes in a mini PCI Express form factor with a SATA 3.0GB/s interface. This drive has a sequential read rate of 200MB/s (megabytes per second) and writes data sequentially at 100MB/s, which is extremely fast.
The drive should run cool as it is manufactured with 40nm technology, this also makes it power frugal, consuming just 0.3W of power. It is nearly 80 percent smaller than normal 2.5-inch drives, measuring 30 millimetres (mm) wide, 51mm high and just 3.75mm thick. It also only weighs up to 8.5g and comes in capacities of 16GB, 32GB and 64GB densities.
Samples are current with manufacturers at the moment and standardisation could be expected as early as the third quarter this year. The press release talks of using these devices as part of a Hybrid storage solution (SSD as main memory and HDD as supporting storage space), however I'm not sure how this will work in netbooks since Microsoft seems to be banning hybrid storage netbooks that run Windows XP.
Via OC3D.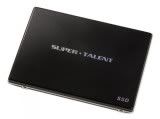 Two companies have announced solid-state drive upgrades for different netbook lines. Active Media has some new SSD drives for the Dell Mini 9 netbooks. Its new half-Mini PCI-Express SSDs offers sequential read speeds of 82 MBps and sequential write speeds of 38 MBps. The modules measure just 2″ x 1.2″ and should be able to hold data for up to 10 years. Active Media charges $65.95 for a 16GB SSD and $119.95 for the 32GB version, quite a bit cheaper than a similar drive from Runcore.
Another manufacturer, Super Talent, has also announced new SSD upgrades for the Dell Mini 9 and Asus Eee PC. The Eee PC SSD upgrades, dubbed SATA Mini 2 PCIe solid state drives, will be available in two flavours, one with MLC and one with SLC memory. The MLC based ones will be available in 16, 32 and 64GB capacities and will offer read and write speeds of up to 150 and 100MB/s. These will be backed by a two year warranty. Read more
April 18, 2009 at 1:12 pm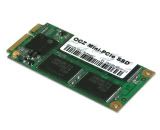 OCZ has unveiled its first range of mini PCI-Express Solid State Drives targeted to increase the capacity for netbooks. OCZ is a respected hardware enthusiast brand whose main focus has been memory components. However, it recently announced its first netbook, the 10-inch OCZ Neutrino DIY.
Solid State Drives offer a quieter, cooler and more durable alternative to traditional hard-disk drives. Battery lives are also extended due to lower power consumption and improved access times. They are ideal for netbooks in that they are much more shock resistant compared to normal drives, especially considering a netbook is likely to get knocked around on the move. Read more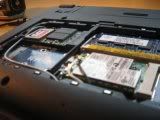 For those owners of the Dell Mini 9 who find their solid-state drive (SDD) storage capacity is just not enough, JKKMobile has a mod that you might be interested in. The video tutorial explains how you go about installing a 128GB SSD into the Dell Mini 9. Why is this so special you may ask? Can you not just swap one out for the other?
The reality is not so simple. If you want to upgrade to a larger capacity SDD in the Dell Mini 9 you are limited to 64GB. This is as these SDDs come in Mini PCI-e sizes of 50mm. The larger capacity SSDs (>64GB) come in a Mini PCI-e size of 70mm, the only way of fitting in the extra 20mm requires you to actually cut into the Dell Mini 9 case with a dremel.
For those that feel confident enough to do this mod, the result will be a SDD that offers 20 percent more speed and double the capacity. Just remember, you need to source a PATA SDD as the Mini 9 does not accept SATA SDDs. Check out the video after the jump. Read more
Intel is discontinuing its line of Z-P230 PATA solid-state drives according to TG Daily. The SSD drives which launched last Summer were specifically designed for "value mobile and desktop systems such as netbooks and nettops." They came in capacities ranging from 4GB to 16GB.
The drives were one-fourth the size of a standard 1.8-inch hard drive and benefited from the low-power requirements you'd expect from a SSD. The main difference between the Z-P230 and the company's Z-P140 for MIDs (mobile Internet devices) was a focus on low cost for the Z-P230s. Z-P230 flash drives sold for less than $15 in 4 GB versions, for less than $25 in the 8 GB version and for less than $45 as 16 GB models.
Intel has not announced a successor to the Z-P230 SSD range and is instead focusing on the higher capacity 80GB and 160GB SSDs which sell at higher prices. Final orders will be taken on May 4 of this year with last shipments planned for June 4, 2009.