February 22, 2010 at 5:06 pm
When Lenovo launched the 11.6-inch AMD-powered Thinkpad X100e, I thought that would be as close as we get to a Thinkpad netbook. Well according to the official site, Lenovo may be planning to launch a 10.1-inch version at some point soon.
Lenovo's support page for the Thinkpad X100e clearly lists both the Intel N450 Atom processor in addition to the AMD Athlon MV-40 that is used in current models. Also, under the display heading, a 10.1-inch LED backlit display with 1280 x 720 resolution is listed alongside the current 11.6" (1366 x 768) specs. Read more
January 29, 2010 at 8:41 pm
As a seasoned Thinkpad user, I have to admit in being slightly horrified that Lenovo adopted a new chiclet (or isolation) style keyboard for its new 11.6-inch Thinkpad X100e and Edge 13". The keyboard is one area in which Thinkpads have excelled and I can't help but wonder whether the move to an isolation keyboard was more out of fashion than design.
However, Lenovo has outlined on its official blog the ways in which its chiclet keyboard differs from its competitors. The shape of the keys is a big difference, the top of the keys being concave in shape allowing your fingertips to hug the keys with ease. The keyboard has also been specially tuned with the same pantograph design as the original Thinkpads. Read more
January 3, 2010 at 4:48 pm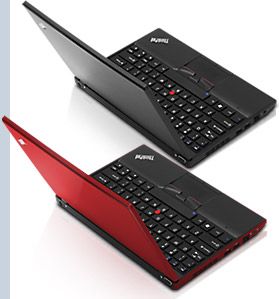 Lenovo has outed the 11.6-inch Thinkpad X100e ultra-thin on its own website, ahead of CES next week. There are few surprises given the detailed leaks that we've seen to date. The X100e is a landmark device for us, as it's the first netbook to sport a trackpoint! As a Thinkpad user myself I much prefer navigating with the trackpoint rather than the touchpad.
Thinkpad's are known for their great keyboards and the X100e looks like it won't disappoint in this regard. It will come with an ISO full-sized, spill-resistant chiclet keyboard. Personally I would have preferred their traditional keyboard over a chiclet one, but I'll give them the benefit of the doubt until I see one in person. As well as a trackpoint, the X100e is equipped with a multi-touch touchpad that lets you zoom, scroll and rotate using two-finger gestures. Read more
November 19, 2009 at 10:25 am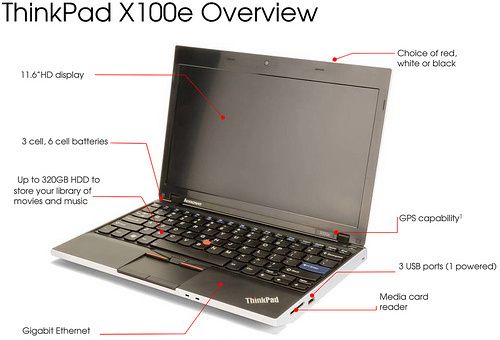 New details surrounding the rumoured Lenovo Thinkpad X100e have been leaked by German news site Chip.de. There is a whole host of new information including specifications and other marketing material. The leak suggests that the X100e will come with an 11.6-inch (1366 x 768) display and AMD Athlon Neo MV-40 processor.
This ultra-thin will support up to 4GB of RAM and comes with 160/250/320GB storage options. As you would expect for a ThinkPad, you'll get Trackpoint navigation along with a multi-touch touchpad. Other features include Wi-Fi (b/g/n), optional 3G, three USB ports, 4-in-1 card reader and a 0.3MP webcam.
It will come with both 3-cell and 6-cell batteries, with the latter quoted to last for just over 5 hours. Unusually for a Thinkpad, it will also come in white and red colours and have a chiclet keyboard. No release date has been given, although the previous rumour suggested that this will launch at CES in January. It is expected to launch with prices starting from $449. We'll keep you updated with further developments. Click through for some X100e slides. Read more
November 9, 2009 at 10:18 am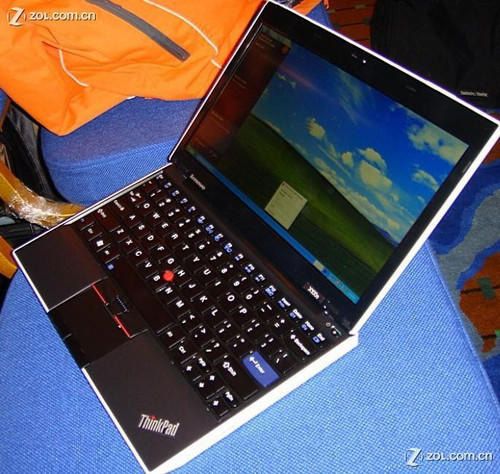 Thinkpad will release the X100e netbook in time for the Consumer Electronics Show (CES 2009) on 5th January 2010 according to ThinkpadToday. The device has been dubbed the "entry level ultra portable, the first ThinkPad of its size" according to its sources.
Pictures floating around the web show a device with white lid, flush touchpad and chiclet keys. I hope I'm not the only one who would love to see the traditional black styling and normal keys. Specifications of the X100e remain a mystery for now, ThinkpadToday have taken a guess and believes it will come with a 12.1-inch (1280 x 800) display and 1.6GHz AMD Neo processor.
As a Thinkpad user myself, this sounds like great news, although I'm personally a bit skeptical until we hear something more official. However, back in April, the company were fishing around for consumers thoughts on whether a Thinkpad netbook was a good idea. So we know it is something they have been thinking of. Thinkpads are renowned for their bullet-proof build quality, excellent keyboards and reliability. I'd love to see a Thinkpad netbook, as long as it doesn't compromise too much on the brands core attributes.
April 30, 2009 at 6:03 pm
We reported last week that Lenovo may be bringing its business oriented Thinkpad brand to netbooks. Well we have now some solid information to back that up, this time from Lenovo itself. A post on the Lenovo Blog, which dates back prior to last week's rumour, talks about the dilemma about bringing such a device to the market.
"Seriously, designing a netbook is a difficult task that is very different from designing a traditional ThinkPad. User experience items like keyboard stroke, overall layout, key spacing, palmrest size, and pointing device options are all instantly thrown under the development electron microscope for examination. Beyond the usability issues, we also have to balance the typical performance criteria such as weight, thickness, battery life, wireless technology, footprint and of course cost," says David Hill from Lenovo. Read more
April 24, 2009 at 6:49 pm
Lenovo is considering a netbook targeted to business users under its Thinkpad brand according to APC. This follows from the considerable success Lenovo has seen through its IdeaPad netbooks. "It's an area we're exploring, but I can't comment one way or the other. Watch this space, that's all I can say," said Matthew Kohut, Lenovo's Worldwide Competitive Analyst.
There has been much talk of businesses looking at netbooks with greater interest given their low cost and weight. "Businesses are definitely asking about netbooks, they're wanting them more and more. Business problems, whether the economy is good or not, remain the same: do more with less, be more efficient and all that. This ties in very nicely with netbooks," said Kohut. Read more