December 12, 2009 at 7:55 pm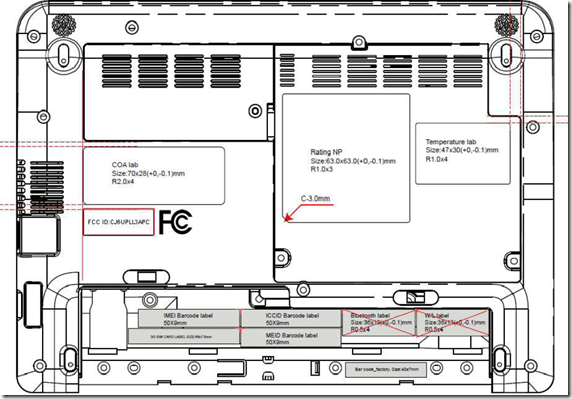 The Toshiba NB300 has passed through the FCC highlighting that a new 10.1-inch netbook is on the way from the company. There is not too much information from the filings but we can tell is that the NB300 is of similar size to the NB200/NB205. It will also come with Qualcomm's Gobi2000 chipset for 3G coverage.
Apart from that, there's not too much information. It is likely that the Toshiba NB300 will come with Intel's upcoming Pineview N450 Atom processor and launch in Q1 2010.
Via Wireless Goodness.
October 15, 2009 at 9:21 am
The Toshiba NB200 will be getting a Windows 7 update on October 22nd. It will arrive with Windows 7 Starter Edition and either 160GB or 250GB storage. Other specifications remain the same.
It will be available in five colours including Sable Brown, Frost White, Indigo Blue, Posh Pink and Onyx Black. Prices start from $399.99. We're still waiting to see UK launch details for the refresh, although there's not too long to wait now.
On the back of receiving a very positive review from Laptop Mag, the 10.1-inch Toshiba NB205 has now started to ship in the United States. It is listed on the Toshiba Direct site with prices starting from $349 and includes free shipping. The basic specs include a 1.66GHz N280 Atom CPU, 1GB RAM (2GB max), 160GB HDD and Wi-Fi (b/g).
The more expensive models ($399) come with a glossy lid, chiclet keyboard and Bluetooth V2.1 + EDR. All models come with a 6-cell battery rated at 5800mAh that Toshiba claim should last for 9 hours. It comes in a number of colours including Brown, Black, Blue and White. It also available to pre-order from Amazon
.
Via Portable Monkey.
Toshiba's Mini NB205 netbook for the US market is essentially the same model as the Japanese SKU (Dynabook UX) and the European SKU (NB200). The 10-inch netbook is Toshiba's follow-on from its first entry in the netbook space, its 8.9-inch NB100. Laptop Mag has published a full review of the NB205 and was full of praise of Toshiba's 10-inch effort.
According to reviewer Joanna Stern, the netbook "soars past the competition" and she admired the "stunning design, stellar keyboard, and the longest battery life of any netbook to date". Pretty convincing stuff, although with the last point, we already know that the MSI Wind U115 has the longest netbook battery life from other benchmarks we've seen. The NB205 managed to last for a respectable 8.5 hours on its 6-cell battery. Read more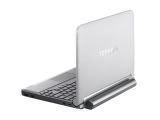 Following on from the recent Toshiba 'Dynabook UX'/NB200 launches in Japan and Europe respectively, Toshiba has confirmed that this 10-inch follow-on from the 8.9-inch NB100, will land in the US in the form of the NB205.
The model looks very similar to the NB200, albeit slightly slimmer, and will even come in 2 SKUs, as seen in Europe. The NB205-N310 netbook will be the more expensive version, featuring a metallic textured finish, a chrome hinge, chiclet keyboard and will be available in four different colours (Sable Brown, Frost White, Indigo Blue and Posh Pink). The mini NB205-N210 netbook has a fusion finish in Black Onyx, comes with a flat keyboard rather than chiclet with black matte finish. Read more