January 6, 2010 at 8:22 pm
The Toshiba Satellite T115 ultra-thin (known as T110 in the UK) has been out for a while already. The 11.6-inch device is powered by Intel CULV processor (Pentium SU4100). However, Toshiba has announced that an AMD Neo processor/AMD graphics option is available on the device.
A number of different AMD CPUs will be available including the AMD Turion X2 Neo, Athlon X2 Neo and Athlon Neo MV-40. ATI Radeon HD 3200 graphics are also standard. The T115 should last for 5.5 hours with its 6-cell battery.
The rest will remain the same including 2GB RAM and a 250GB HDD. All this is wrapped in a 1-inch chassis with full-sized keyboard. Other features include an eSATA/USB combo port, Wi-Fi (b/g/n), Bluetooth 2.1, two USB ports and Windows 7. Pricing starts at $449 for the T115 when it arrives on 17th January. There is no detail on whether the UK will also see this AMD processor option. Laptop Mag has an initial hands-on here.
November 26, 2009 at 8:56 am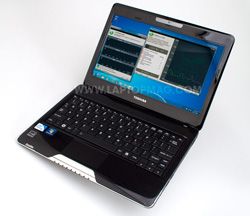 The Toshiba Satellite T115 (or T110 as it is known in the UK) is the company's first CULV-powered 11.6-inch ultra-thin. Just as many companies jumped onto the netbook bandwagon, it looks like we are seeing a glut of 11.6-inch ultra-thins too. This is great news for the consumer, helping to drive competition.
Laptop Mag has its review up of the T115 and found that it delivered better performance than Atom netbooks as well as over 7 hours of battery life. However, compared to the Acer Aspire 1410, it underperforms on most tests whilst costing $80 more. It does have a slightly better battery life but the keyboard is also not as comfortable. Overall, they feel it is still worth a look, but there are other models that offer better value for money. Click through for the main review points. Read more
September 29, 2009 at 8:06 pm
Toshiba has announced a new 11.6-inch CULV-based ultra-thin notebook under the T100 model series. The Satellite T110 (or T115 as it will be known in the US) is the company's first CULV-powered model and the company is boasting a battery life of up to 11 hours. The LED backlit display has a high resolution of 1366 x 768 pixels.
The Satellite T110 will live up to its 'ultra-thin' moniker, measuring just 22.2mm at its thinnest point and weighing 1.58kg. It will be available in either a Pentium or Celeron single core ultra low voltage processor. The T110 will support up to 4GB RAM (DDR3) and up to 500GB of storage space. Read more