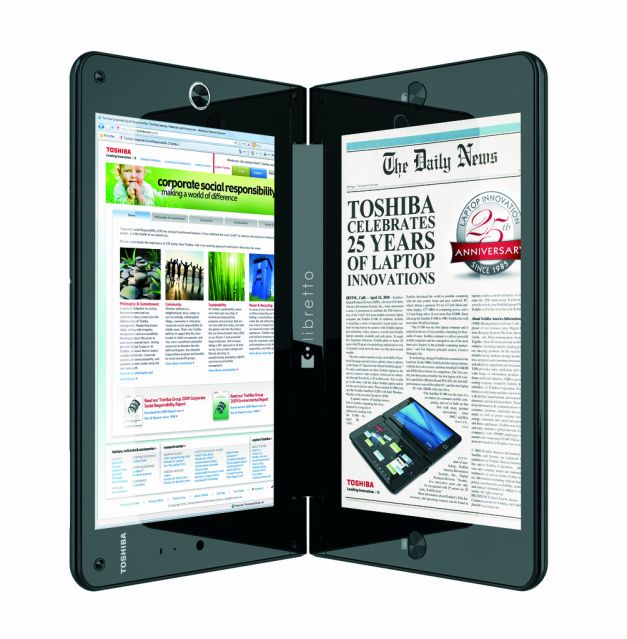 Toshiba hasn't finished announcing new devices just yet, we've already seen the AC100 smartbook, but now we've got something much more interesting, the libretto W100. The W100 has a form-factor similar to that of the Microsoft Courier before it was canned. The W100 comes with two 7-inch (1024 x 600) multi-touch capacitive displays in a clam-shell design with brushed aluminium finish and will run Windows 7 Home Premium.
The libretto W100 is powered by a 1.2GHz Intel Pentium U5400 processor, 2GB RAM and a 62GB SSD. Other features include a 1.0MP HD webcam, Wi-Fi (b/g/n). Bluetooth 2.1 , one USB port, a microSD memory card slot and 8-cell battery. Read more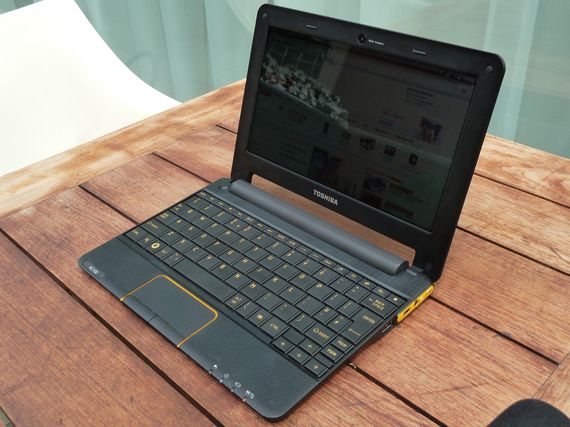 Toshiba has announced the AC100 10.1-inch Android 2.1 netbook/smartbook powered by the 1GHz Nvidia Tegra 2 (250) chipset. The AC100 smartbook offers a super slim profile, 512MB RAM, 8GB of NAND flash, a start-up time of "less than a second" and a battery runtime of 8 hours (or seven days of standby under mixed use). It looks like a traditional netbook but is slimmer and comes in a striking black and orange design (well we like it) along with a full sized-keyboard. It weighs just 870g and measures 14mm at its thinnest point.
Toshiba have made slight tweaks to Android 2.1 to make it more suited as a netbook. You'll get the usual homescreens that can be pre-configured and a number of apps will be pre-installed including Documents to Go for viewing and editing Microsoft Office files, a POP3 email client and a Toshiba Media Player. Read more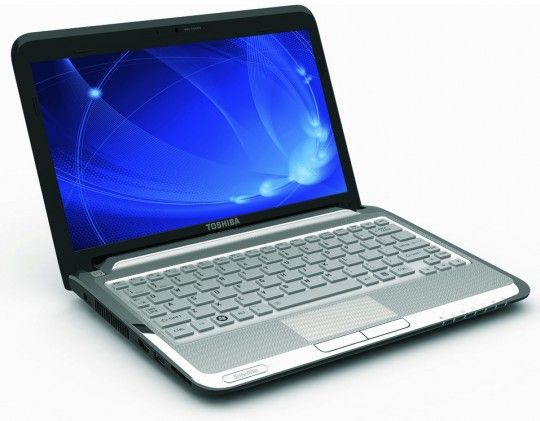 Toshiba has announced an AMD sibling to the Intel-powered Satellite T210. The device is similar in most respects to the T210 and has an 11.6-inch (1366 x 768) display with a choice of either single-core or dual-core AMD Athlon II Neo processors armed with integrated ATI graphics.
It will come with a chiclet keyboard, HDMI output, webcam and a sleep-charging USB port and two normal USB ports. The T215 has up to 320GB of storage and 2GB of DDR3 RAM, and weighs in at 3.3lbs. It will be available in three colours (red, black or white) and the inside has a matte silver textured with chrome trim. It will release on 20 June in the US for $469.99.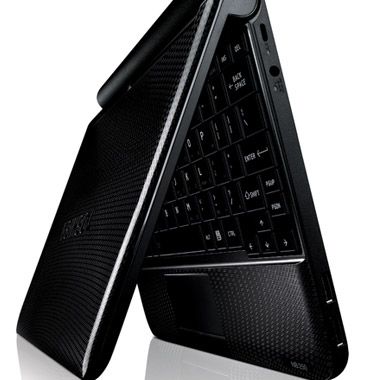 Toshiba is getting ready to launch the Mini NB250 10-inch netbook that will come with the DDR3-enabled N455 Atom processor. The design is a slight departure from previous designs coming with a glossy black finish and textured pattern.
The NB250 has a 10.1-inch (1024 x 600) display, 1GB RAM and up to 250GB HDD. The model will come with a 3-cell battery good for 4.5 hours or a 6-cell battery for 8 hours of runtime. No details of availability and pricing for now.
Update: It seems that this same netbook will be known as the Mini NB255 in the US.
Via NetbookNews.de.
Toshiba is prepping a new 11.6-inch ultra-thin that will be powered by a 1.2GHz Intel U5400 ULV processor, up to 3GB RAM and a 250GB HDD. The ultrathin will measure 1.3-inches at its thickest point and 0.7-inches at its thinnest part.
It will come with a 6-cell battery that should be good for 8.5 hours of runtime. Other features include two USB ports, HDMI, eSATA/USB, Wi-Fi (b/g/n) and Bluetooth 2.1. It should be available in the UK from July.
Via Liliputing.
April 26, 2010 at 8:06 pm
A new version of Toshiba's popular NB305 netbook will launch with Intel's new DDR3-enabled N455 Atom processor along with 1GB of 1066MHz DDR3 RAM. The Toshiba NB305-10F has been spotted on the official Toshiba France website complete with a list of specs.
Other specs remain the same. It will come with a 10.1-inch (1024 x 600) display, 250GB HDD and Windows 7 Basic. The exact launch date for the new NB305 is unknown but it will launch with a price around the €350 mark.
Via Netbook Italia.
April 15, 2010 at 3:09 pm
We already heard that Toshiba were preparing to launch its own tablets by Q1 2011 and now we have a bit more detail on the slates themselves. According to a Reuters report, Toshiba will launch at least one 10-inch tablet on the Android platform and another "dual-screen model running Windows."
These tablets are expected to be media consumption devices, much like the Apple iPad. The company also doesn't expect tablets to cannibalise other devices. "We definitely see a place for the slate, we see there's a market there" says Jeff Barney, general manager of digital products for Toshiba America. "It'll be expansive like netbooks, it won't be cannibalistic … Media consumption on these slates will be the main user activity." Read more
March 11, 2010 at 2:13 pm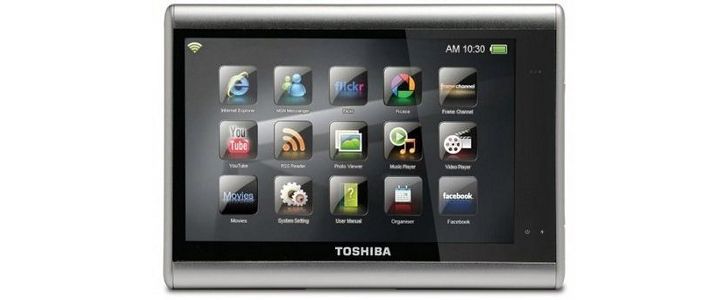 The craze for tablet devices is expected to explode when the Apple iPad hits the market next month. Many companies appear to be sitting on the sidelines and waiting for the consumer reaction to the iPad before launching their own slate devices.
Toshiba is one of them and plans to introduce a family of tablet devices by early 2011 at the latest. "It has proved to be a mistake to underestimate these new categories. And besides, we need new category creation to grow our industry," says Jeff Barney, head of Toshiba's U.S. notebook business. Now we just need to see whether there is an appetite for these upcoming slates.
Via Akihabara News.
January 26, 2010 at 8:05 am
The guys over at Laptop Mag have pitted six 10-inch Pine Trail netbooks against each other to find out a worthy winner. All models sport the 1.66GHz N450 Atom processor and various features were compared including design, performance and battery life.
The models tested were the Acer Aspire One 532h, ASUS Eee PC 1005PE-P, Dell Inspiron Mini 10, HP Mini 5102, MSI Wind U135 and Toshiba mini NB305. We won't spoil the overall winner, but three models stood out. The Toshiba has the best keyboard and touchpad, whilst the Asus offers the best battery life. The HP is a great all rounder and great for business use. Click here to read more.
January 12, 2010 at 7:02 pm
The Toshiba NB305 is the 10-inch netbook follow-up to the well received NB205 (NB200 in the UK). According to Toshiba, one of the biggest criticisms it faced over the NB200 was the large 6-cell battery that protruded from the back of the chassis. It's probably not surprising to see, therefore, that the main difference between the new Pine Trail NB305 and its predecessor is a smaller chassis.
The Toshiba NB305 fits its battery underneath (rather than at the back) leading to more tilt compared to the NB200. Whilst we were very fond of the NB200 in our review, we do feel this newer design to be more practical. Laptop Mag reviewed the NB305-410 and found that whilst the new design is sleeker it does have shorter battery life. Read more
January 4, 2010 at 5:24 pm
I have not seen any official announcement regarding the Toshiba NB300/NB305 netbook, but despite this Laptop Mag has come clean with some hands-on impressions of the Pine Trail netbook. In case you are wondering how it differs from the NB200/NB205, the NB300 has an 11-hour battery that is now flush with the chassis compared to its predecessor whose battery jutted out from the back.
If you were just having a quick glance you'd be forgiven for thinking they were the same device. The design has hardly changed at all, from the stripy textured lid to its chiclet keyboard and large touchpad. This isn't an issue as we already felt that the NB200 is one of the finest looking netbooks on the market today. Read more
December 31, 2009 at 10:49 am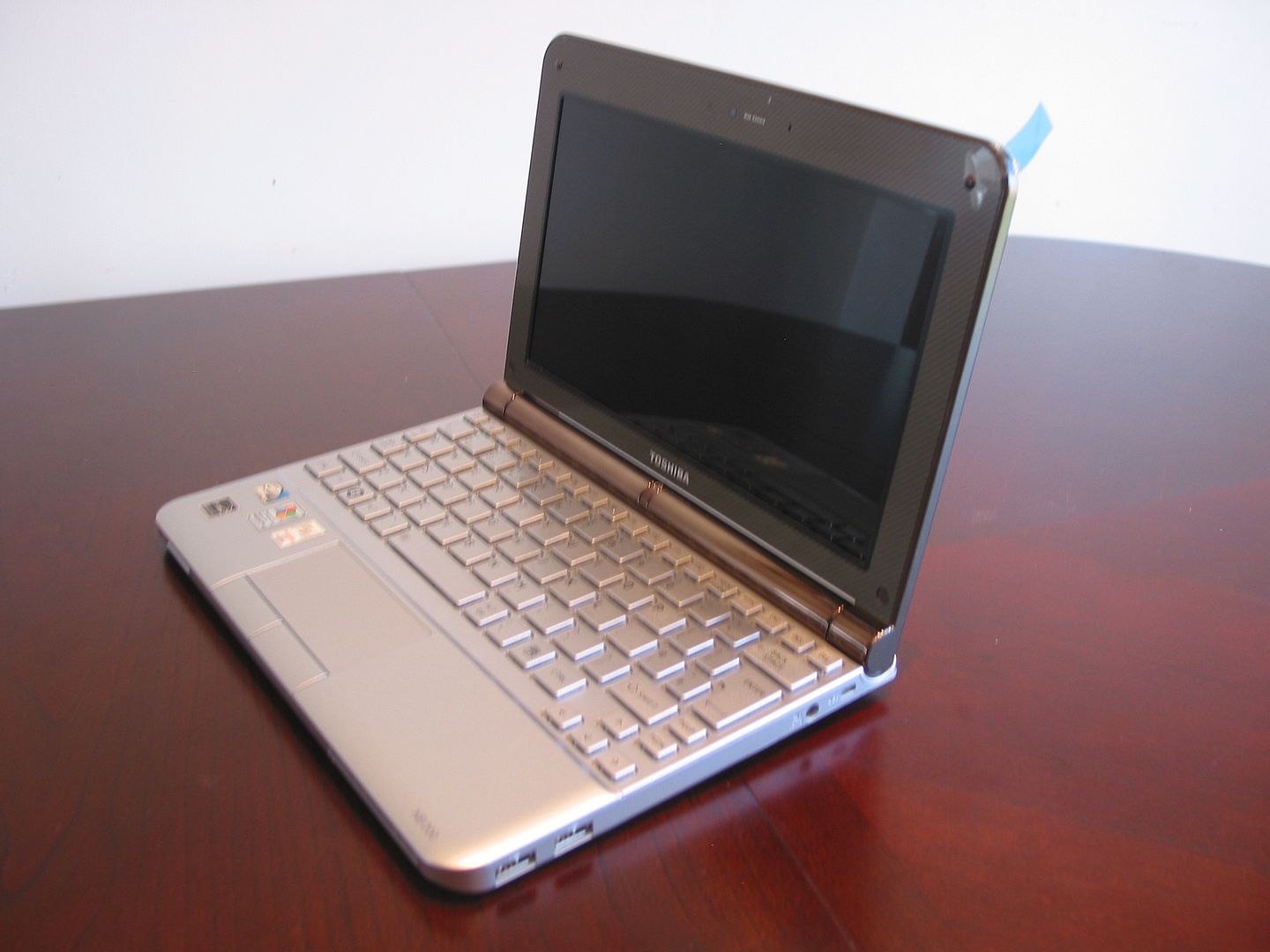 Toshiba hit a home run with the Mini NB200, its first 10-inch netbook, winning rave reviews since launch. The NB200 follows on from its 8.9-inch NB100 and the company certainly upped the game in terms of marrying desirability, portability and endurance.
The Toshiba NB200 exists in various configurations. We tested the NB200-10Z, one of the higher end SKUs that comes with a 1.66GHz N280 Atom processor, chiclet keyboard, Bluetooth, Windows XP and a quoted 9 hours battery life. Read our full review and decide for yourself whether the Toshiba NB200 lives up to the hype. Read more
December 31, 2009 at 10:07 am
Toshiba is looking to release its second 10-inch netbook in the form of the NB300 (or NB305 if you're in the US), following the well-received NB200. The Toshiba NB300 has already passed through the FCC and now its appearance at a few retailers gives a hint on what specifications to expect.
Two product numbers have cropped up, the NB300-100 and NB300-106. The Toshiba NB300-100 even has a placeholder page on the official European site. As expected, the NB300 will come with Intel's Pine Trail platform (1.66GHz N450 Atom Pineview processor and GMA 3150 graphics), 1GB RAM, 250GB HDD.
Other features include Wi-Fi (b/g/n), three USB ports and card reader. Bluetooth inclusion is unclear right now but may appear on more premium models. The NB300-106 is expected to have a larger capacity battery, capable of an 11 hour run time.
Via NetbookNews.de.
December 12, 2009 at 7:55 pm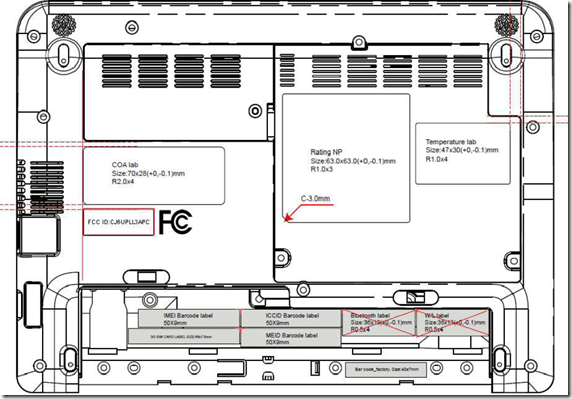 The Toshiba NB300 has passed through the FCC highlighting that a new 10.1-inch netbook is on the way from the company. There is not too much information from the filings but we can tell is that the NB300 is of similar size to the NB200/NB205. It will also come with Qualcomm's Gobi2000 chipset for 3G coverage.
Apart from that, there's not too much information. It is likely that the Toshiba NB300 will come with Intel's upcoming Pineview N450 Atom processor and launch in Q1 2010.
Via Wireless Goodness.
November 26, 2009 at 8:56 am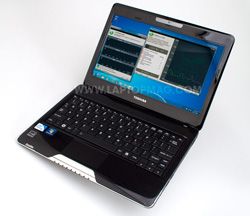 The Toshiba Satellite T115 (or T110 as it is known in the UK) is the company's first CULV-powered 11.6-inch ultra-thin. Just as many companies jumped onto the netbook bandwagon, it looks like we are seeing a glut of 11.6-inch ultra-thins too. This is great news for the consumer, helping to drive competition.
Laptop Mag has its review up of the T115 and found that it delivered better performance than Atom netbooks as well as over 7 hours of battery life. However, compared to the Acer Aspire 1410, it underperforms on most tests whilst costing $80 more. It does have a slightly better battery life but the keyboard is also not as comfortable. Overall, they feel it is still worth a look, but there are other models that offer better value for money. Click through for the main review points. Read more