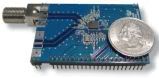 Hauppauge is partnering with MaxLinear to provide a TV Tuner that can be used for netbooks. The new integrated mini-card is based on MaxLinear's MxL5007T chip, which is already used in the market and supports nearly every major TV standard.
This includes DVB-T, ATSC, DVB-H and DTMB. The card can also handle unencrypted HD channels. The card is power efficient and consumer just 350mW of power whilst in use. This makes it around 50 percent more energy efficient than other TV Tuners. It's likely that we could start to see more and more netbooks embedded with TV Tuners, which is something of a rarity today.
Via Liliputing.
It looks like Dell has messed up the TV Tuner integration into Dell Mini 10 netbooks according to reports from the MyDellMini forums. The option for an internal TV tuner costs $50 and only recently went on sale. However, the first owners to receive their TV-equipped Mini 10's are not a happy bunch.
Users are reporting about not being able to receive any channels from the internal antenna. Frustrated users are reporting that Dell support has so far not been able to give any useful response as to when this issue will be sorted.
Whilst an external antenna would make a difference, Dell didn't include one in the box. This is despite showing off the antenna at a recent press event as pictured above. To be fair to Dell, the TV Tuner listing on the website never suggested that an external antenna would be included in the package. However, Dell should at least be offering an upgrade to purchase this part if needed.
Update: Dell has rectified this mistake and has now sent out an email to say that they will be sending an external TV antenna along with the necessary adaptor accessories. These are expected to start shipping within the next week. Future customers should receive this external antenna as standard.
Via Portable Monkey.