The new Sony Vaio P brings some new improvements to the clamshell ultraportable including touchpad, accelerometer, built-in GPS and PS3 remote play. However, the guts powering the Vaio P is essentially no different to the older models (Z series Silverthorne processor).
Engadget has reviewed the new Vaio P but felt some of the sticking points from previous models remain. This includes its high price tag ($800) , low battery life (4 hours) and sluggish performance. The accelerometer was praised and the keyboard was comfortable enough to actually type out the whole review! Read more
Sony has officially announced its new Vaio P (P11S1E) ultraportable. The new model comes with several differentiating features that include a touchpad and mouse buttons (in addition to the central trackpoint). The small touchpad sits to the right of the display, whilst the buttons are on the left side that is said to make it easy to use when holding it with two hands.
In terms of specs, the Vaio P will still be powered by a Silverthorne processor. Specifically the 1.86GHz Intel Z540 Atom is mentioned for Europe along with 2GB RAM, 54GB SSD and Windows 7 Premium. You'll also get Bluetooth 2.1, Wi-Fi (b/g/n) and two USB ports. Read more
April 28, 2010 at 9:03 am

Sony will soon announce details of its new ultra mobile Vaio device, according to the official Sony Japan website. There's little information apart from a "Coming soon" notice and an orange symbol that looks like a paperclip. Hopefully, we'll find out soon enough.
Via Engadget.
March 16, 2010 at 10:52 am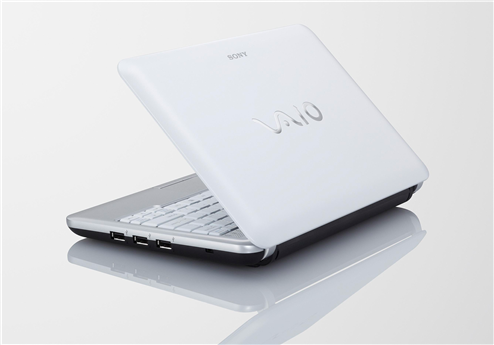 Sony has officially announced the Vaio M netbook that we've heard so much of recently. The Vaio M is Sony's value offering compared to its Vaio W netbook, eschewing the HD display and chiclet keyboard of its higher-priced brother.
The Sony Vaio M (M11M1E) comes with a 1.66GHz N450 Atom processor, 1GB RAM, 250GB HDD, Windows 7 Starter, 6-cell battery and a 10.1-inch (1024 x 600) display. It will be available in either black or white and should be available from the end of the month. Click through for the specs and some promo shots. Read more
Sony is set to launch a budget netbook series under the Vaio M name. The specs are nothing to get excited about, it has a 10.1-inch (1024 x 600) display and is powered by a 1.66GHz N450 Atom processor, 1GB DDR2 RAM and a 250GB HDD. Other features include Wi-Fi (b/g/n), Bluetooth 2.1 and a webcam.
The Sony Vaio M will be priced around the £320 mark when it launches later this month. It is cheaper than the Sony Vaio W as it doesn't have a chiclet keyboard and high-resolution display.
Via Engadget.
January 16, 2010 at 11:38 am
A new 10.1-inch Sony Vaio netbook has been spotted passing through the FCC. The device has the 'PCG-21313L' model number, but we're not treated to any proper pictures just yet. Judging by the bottom, the model does seem to be different to the recently announced Sony Vaio W Eco Edition.
In terms of specs it doesn't look too different to what we are becoming accustomed to as the new norm for netbooks i.e. 1.66GHz N450 Atom processor, up to 2GB RAM, 250/320GB HDD and Windows 7. It will also feature Wi-Fi (b/g/n), Bluetooth and a webcam. Check out some more FCC evidence after the jump. Read more
January 7, 2010 at 12:06 pm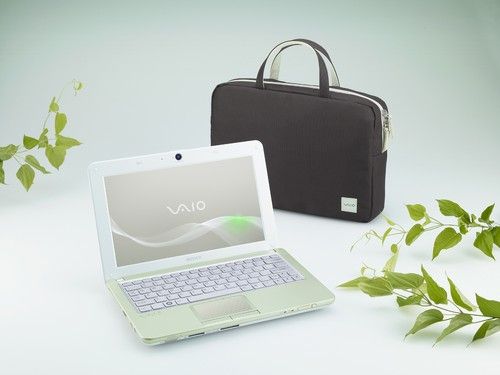 Sony has upgraded its Vaio W netbook with the Eco Edition. The new Vaio W series generates 10 percent lower CO2 emissions during production compared to its predecessor. It has recycled plastic parts, an innovative carry bag and an electronic manual (presumably loaded onto the netbook). The 10.1-inch (1366 x 768) LED backlit display is also mercury-free.
To make sure you know about its green credentials, Sony has used a mint green palm rest and touchpad. The carry bag has been designed to replace the cardboard box that normal electronic devices come in. Therefore the Vaio W Eco Edition will ship straight to your door in this bag. The outer fabric is manufactured using 100% recycled PET bottles. Read more
November 5, 2009 at 4:03 pm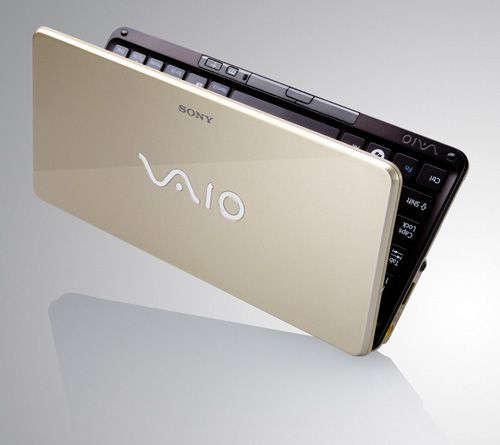 Sony is now selling its ultra-portable Vaio P with Windows 7 Home Premium or Professional in the United States. An option now also exists for a higher-specced configuration, which includes a 2GHz Atom and 256GB SDD, costing a whopping $1,900.
Other configurations include the base model (1.33GHz Atom, 2GB RAM, 80GB HDD) for $850, whilst another model with a 1.6GHz Atom and 64GB SSD will cost $1,000. These models will appear by the end of this month.
Checking the UK site, it appears that they may be offering something similar soon. The SonyStyle product page for the Vaio P only lists one model, but goes on to say that "this product is no longer available".
Via Electronista.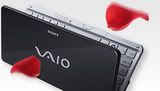 The trend of mobile phone operators offering netbooks on subsidised contracts continues to grow apace. Now T-Mobile Germany is offering the Sony Vaio P (VGN-P11Z) for 599 Euros on a two-year Web'n'Walk contract. This is an upfront saving of 400 Euros on the current retail cost of the entry-level Vaio P (1.33GHz Atom CPU, 2GB RAM, 60GB HDD, Vista Home Premium) is 999 Euros. The first shipments are expected in April. So far there is no word whether this will appear in the other countries/mobile phone operators. T-Mobile UK currently only offers the Asus Eee PC 904HD netbook.
In other news, HP has announced a three-year deal with mobile operator, Orange, to distribute 3G-enabled HP netbooks/laptops in Europe. The first European countries to be offered subsidised netbooks will be UK, Austria, Portugal, Belgium and Switzerland. The first netbook to be offered will be the HP Mini 1000.
Via Pocketables.