June 23, 2010 at 10:16 am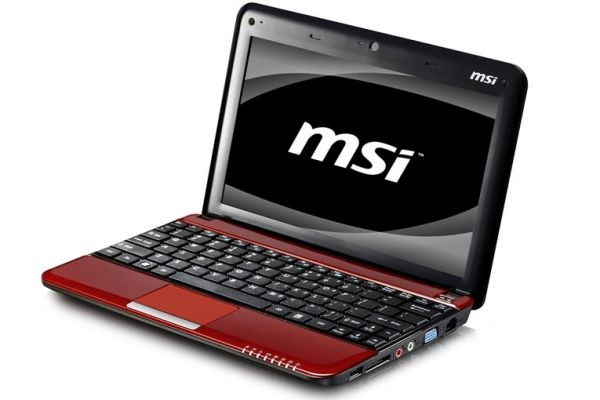 Intel recently launched new DDR3-enabled Atom processors, the 1.66GHz N455 Atom and 1.83GHz N475 Atom. A number of manufacturers are refreshing existing models using these new chips given their energy efficiency. The latest one to do so is MSI with the Wind U135DX.
This model appears identical to the Wind U135 that we enjoyed reviewing recently, but comes with the 1.66Ghz N455 Atom processor. As with the Wind12 U250, the Wind U135DX also comes with MSI's new overclocking utility called TDE (Turbo Drive Engine). Other than that everything else looks the same. No word on pricing or availability. Click through for the specs. Read more
MSI is planning on launching an updated version of the stylish Wind U160 that will be armed with the DDR3 N455 Atom processor. The Wind U160DX will be the same in all other respects, coming with a 10-inch display and the same chic looks.
Intel has not formally announced its DDR3 1.6GHz N455 and 1.83GHz N475 Atom processors, however we may expect further details at Computex in a couple of weeks time. One of the benefits of the new chip was increased power efficiency. MSI claims that the Wind U160DX should be good for 15 hours of runtime. No word on availability or pricing for now.
Via NewGadgets.de.
April 7, 2010 at 11:33 am
Colour me confused. MSI only just launched the U130 and U135 netbooks, yet they have some new models up on the MSI US site that appear be largely the same. The MSI Wind L1300, L1350 netbooks are 10-inch models, whilst the L2300 is the 12-inch version, perhaps an update of the U230?
The L1300 has Windows XP and the L1350 has Windows 7. Apart from that, both models come with a 10.1-inch (1024 x 600) display and are powered by 1.66GHz N450 Atom processors. The Wind L2300 has a 12.1-inch (1366 x 768) display and a 1.6GHz AMD Athlon Neo MV-40 processor. If anybody can figure what new things these models bring to the table, we'd love to know!
Via Liliputing.
March 29, 2010 at 12:14 pm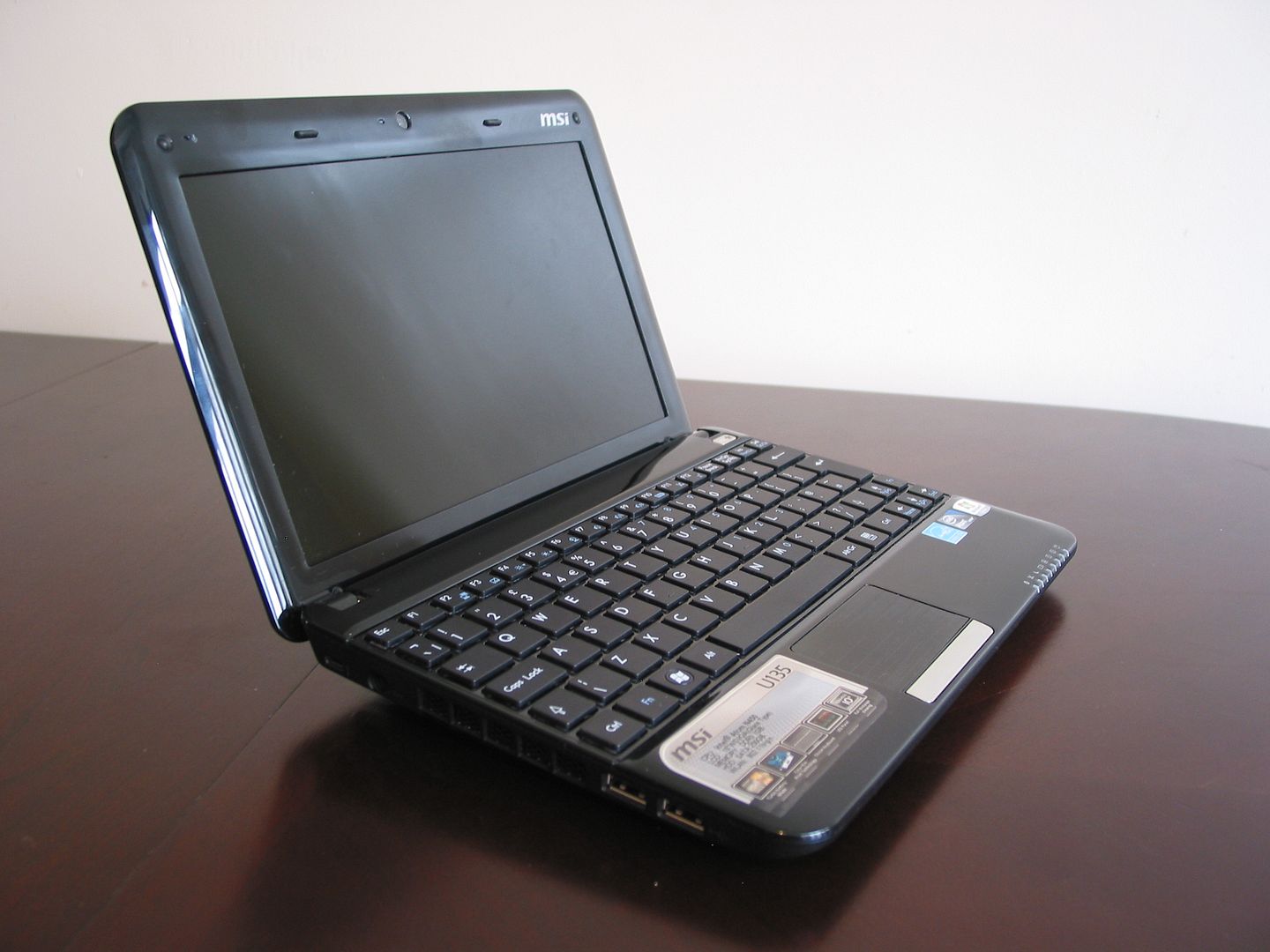 The MSI Wind U135 netbook is interesting for a number of reasons. It is one of the company's first Intel Pine Trail offerings, it moves away from the usual bland MSI Wind design, it's reasonably fully featured in terms of specifications, provides good battery life and, best of all, is priced at a reasonable price point.
We have put the Wind U135 netbook through its paces and overall we were left with positive impressions. Yes, we did find a few niggles, but couldn't complain too much given its keen pricing at £280. Click through for our in depth review, along with our customary performance and battery tests. Read more
March 29, 2010 at 9:48 am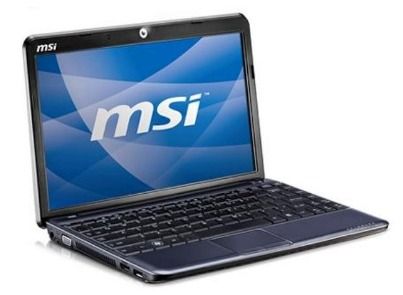 It looks like MSI will soon be launching the 12-inch Wind12 U250 netbook that follows the U210 and U230 AMD-powered devices. The Wind12 U250 was spotted on the ENERGY STAR website along with some unveiled specs.
The model will come with an unspecified dual-core 1.3GHz processor, up to 4GB RAM and a 320GB HDD. System power in idle is quoted as 10.61W suggesting it will be an AMD processor as it's higher than typical CULV power consumption. It will come with dedicated graphics (ATi Radeon 3200?) with 512MB memory. Hopefully some more definitive information will be released shortly. Read more
March 22, 2010 at 9:44 am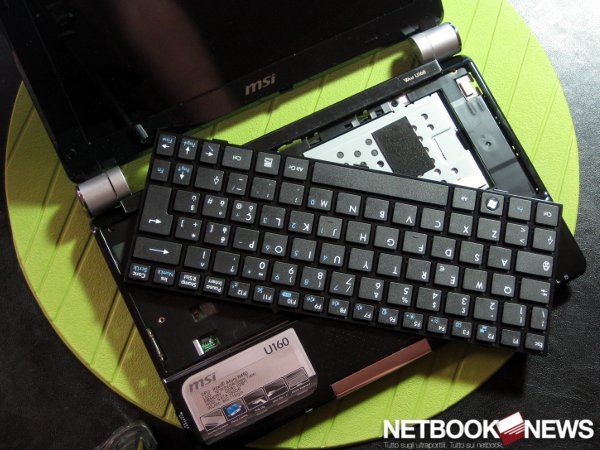 The MSI Wind U160 is one of the prettiest netbooks around, recognised by the fact that it won the 2010 iF Product Design Award. To give an idea on how MSI's engineers packed everything into its slim chassis, the guys over at NetbookNews.it have dissected the Wind U160 to give us a closer look.
They claim that dismantling the U160 is both easy and fast, with ten main screws holding the bottom cover in place. Be aware though that by removing the bottom invalidates your warranty, so proceed with caution if you think of doing something similar once the Wind U160's eventually hit retail. Read more
March 21, 2010 at 10:32 am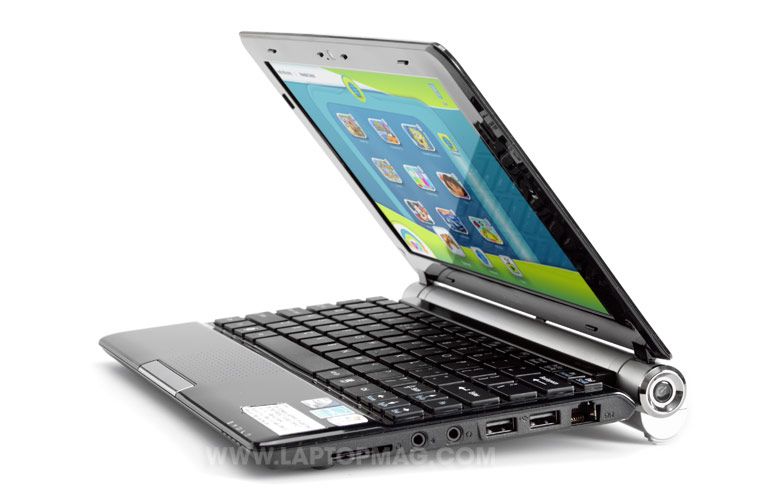 MSI's new range of Pine Trail netbooks have moved away from the functional, but bland designs of the past. This is most prevalent in the Wind U160 that appears to have taken design touches from both the Asus Eee Seashell series as well as Toshiba's NB200/NB300 netbooks.
Laptop Mag has put the Wind U160 to the test where it scored a respectable 3.5 stars. One area where it really excelled was battery life, lasting for 8 hours and 37 minutes, way ahead of the average (6 hours 11 minutes). They liked the fact that it ran cool, it has a fast hard drive and is amongst the lightest netbooks around. Read more
March 15, 2010 at 9:08 am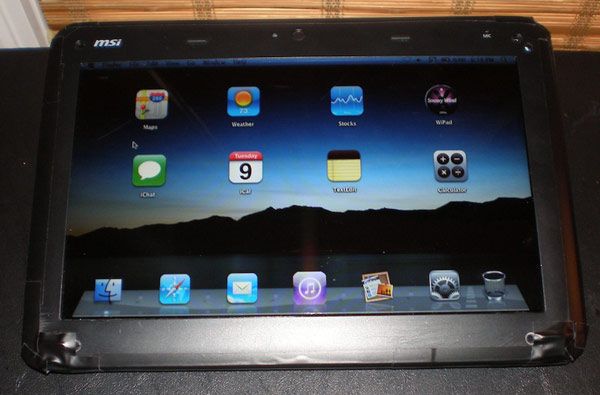 An intrepid modder has come up with an innovative mod that turns the MSI Wind U100 netbook into a tablet device complete with hackintosh OS X operating system and customised UI. The mod involves removing the keyboard and then mounting the LCD where the keyboard once was.
As the modder alexbates says, this mod enables you to "build an iPad with 10 times the storage, twice the speed, external video (VGA), webcam, USB ports, and built-in multi card reader, all for $350." Hopefully a video should be available in due course, in the meantime you can find all the details on this mod here.
Via Engadget.
February 17, 2010 at 3:04 pm
Back at CES in January, both MSI and Samsung announced that it was planning to release netbooks with the Moblin operating system installed. MSI were planning a Moblin Wind U135, whilst Samsung was prepping the N127 netbook that will primarily go on sale in India and Russia.
Now the MSI Wind U160 has been spotted running Moblin at MWC in Barcelona. The hardware remains the same: 10.1-inch (1024 x 600) display, N450 Atom processor, 1GB RAM, 250GB HDD and a 15 hour battery life. We don't know whether this was just a demonstration or whether MSI plans on making this a commercial reality. However, you can check out a video of the Moblin Wind U160 after the break. Read more
February 8, 2010 at 11:15 am
MSI were kind enough to send over the MSI Wind U135 netbook for us to test. Whilst we'll be putting the 10-inch U135 through its paces over the next couple of weeks, we first shot an unboxing video along with our preliminary impressions.
I have to say I'm impressed with MSI's efforts in its new range of Intel Pine Trail netbooks. Whilst the Wind U160 may be the head-turner, the U135 isn't too bad itself. Whilst we're never fans of seeing a glossy lid, it doesn't seem to be as much of a fingerprint magnet compared to the other models. The chiclet keyboard also has proved to be comfortable and we really like the textured touchpad. It's not the biggest, but the tracking is very accurate and the finger scrolls smoothly over the surface. The single rocker bar underneath also has good feedback.
We're currently conducting our usual round of battery and performance tests and will come back with a review in due course. Until then, check out our unboxing video after the break. Read more
February 1, 2010 at 8:59 pm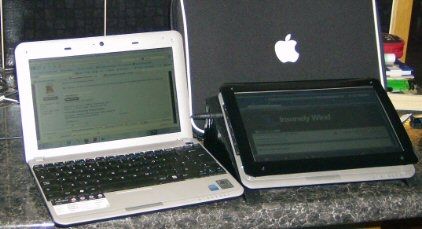 One enterprising MSI Wind owner is conducted a nifty mod where he is looking to turn his Advent 4211c netbook (a rebadged MSI Wind U100) into a touchscreen tablet that opens up to reveal the keyboard, much like a slide form-factor seen on some mobile phones.
The whole project is work in progress, but he has managed to install the touchscreen and flip the display around. He has even added some custom buttons allowing him to dual boot the device between Windows 7 or OS X 10.6.2. The whole thing is working as a normal tablet but he hasn't got round to installing the rails so far. That to me sound like the biggest challenge, so fingers crossed he completes his vision!
Via Netbooked.
January 9, 2010 at 9:13 pm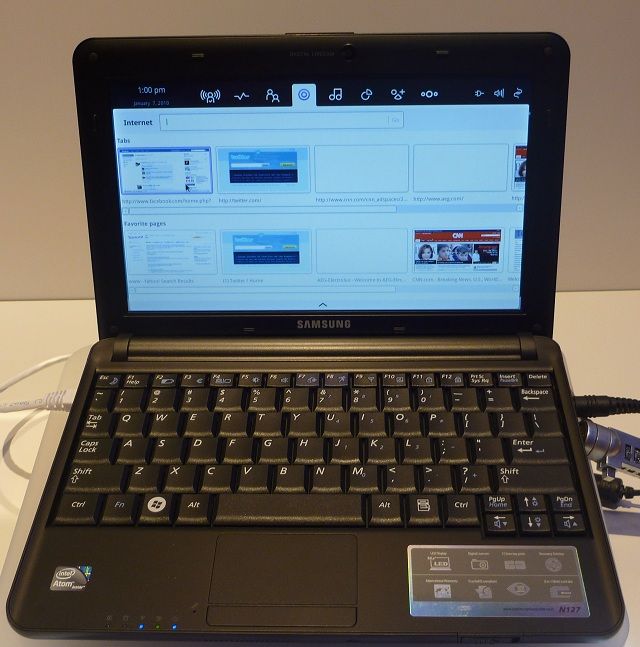 Samsung is prepping a 10.1-inch netbook with the Moblin operating system during Q1 2010. The Samsung N127 will first launch in India and Russia at an unknown price point. If the launch goes well, either this model or another Samsung Moblin netbook will launch in Q2 2010.
The Samsung N127 is powered by an Intel Atom Z-series processor, more than enough grunt to run Moblin adequately. Ars Technica got some hands-on time with the Samsung N127 and found that Moblin ran very snappily. As Moblin has been designed for small screens, the large icons and bright colours help with the user experience. Read more
January 6, 2010 at 9:12 pm
The MSI Wind U160 has made an appearance at CES as predicted. We drooled over the leaked press shots that appeared a few weeks back and now we are treated to a number of hands-on videos. The U160 is without doubt the sexiest netbook design coming out of MSI's labs in a while.
It has taken inspiration from a number of other models including the Toshiba NB200, Asus Eee PC Seashell range and even the Sony Vaio. The end result is a slim device with glossy mocha-brown lid (we wish MSI had looked at the excellent Toshiba NB200 matte lid here). The chiclet keyboard was found to suffer from some flex issues.
The MSI Wind U160 is powered by a 1.66GHz N450 Atom, 1GB RAM, 250GB HDD and Windows 7 Starter. It will be sold for $399 on release. Check out some hands on videos from Engadget, NetbookNews and Laptop Mag after the break. Read more
December 24, 2009 at 11:51 pm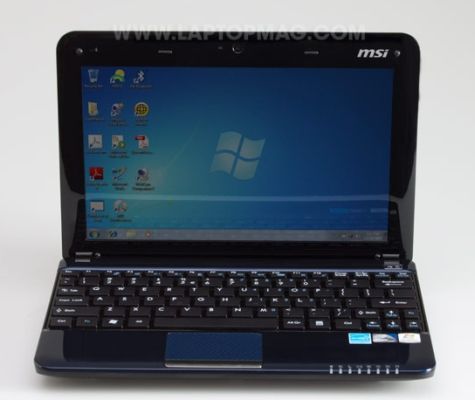 The MSI Wind U135 netbook is just one of the company's new netbooks running on the new Intel Pine Trail platform. The Wind U135 offers some extra features over the entry-level U130 including a chiclet keyboard and 20 percent larger touchpad. Laptop Mag has posted a full review of the unit and it seems to fare reasonably well given its $329 price point.
Positive points include a comfortable keyboard, bright display and great value for money. However, it does lose marks for having 5 hours less battery life than the Asus Eee PC 1005PE (the Wind U135 lasts for 5 hours and 35 minutes). The fan can also be quite noisy and the U135 suffers from long boot times. The Wind U135 is worth consideration, however they recommend that if you can plump for the extra $50, then the Eee PC 1005PE may be the better bet.
December 22, 2009 at 11:14 am
The MSI Wind U135 was officially announced yesterday armed with Intel's N450 Atom Pineview processor. The 10-inch netbook has already seen some hands-on impressions from both Engadget and Laptop Mag. The Wind U135 comes with a chiclet keyboard, 20 percent larger touchpad over the U130 and a new stripy lid pattern.
Engadget found that performance was pretty much on par with the Asus Eee PC 1005PE that was widely reviewed yesterday. The chiclet matte keys felt sturdier than the 1005PE. The plastic chassis feels solid enough and it's good to know that the 6-cell battery only protrudes slightly. Read more