Pegatron first showed off this very thin and lightweight smartbook back at CES in January. This particular model reappeared at Computex and NetbookNews.de managed to get hands-on with the unit. The 10-inch netbook was running on a Freescale IMX51 800MHz ARM-based CPU and Xandros Linux. The most notable aspects appear to be a very lightweight, fanless glossy model with 8 hours of battery life.
Storage is catered for by a 4GB SSD meaning that the weight doesn't creep above 800g. The Pegatron netbook includes a 4-in-1 card reader, USB 2.0 ports and a VGA out. As you would expect with an ARM-based chip, wireless connectivity includes 3G, GPS, Bluetooth and Wi-Fi.
Build quality was found to be good, despite some flex in the palm rest area. The keyboard had good feedback but only had a small right shift key. Interestingly, a second model (with the same hardware) was shown running the Movial OS, which I've not heard of before. It was similar to Asus' Easy Mode OS. There is no idea on cost right now, but hopefully it won't be too far off the Wistron N900z's predicted $200 price tag. Check out the video after the jump. Read more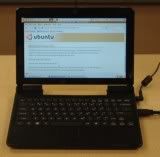 Computex has been a revelation for the new type of smartbook devices that have emerged. Whilst some may view these devices as underpowered, they will only get stronger as time goes on in our view. Freescale showcased some smartbooks of its own, including the 10-inch Wistron N900z.
The N900z uses an 800MHz Freescale ARM-based CPU, runs Ubuntu and has a 4GB flash drive. Battery life is very good at around 10 hours of life. Laptop Mag went hands-on with the bland-looking device. They liked the rubberised keys on the keyboard but found the touchpad to be unusable. Performance wasn't that great though, with some hiccups when trying to play a video whilst having two applications open. With the applications closed, the video played fine.
There is no timeline as to when this device might launch, but Freescale expects it to cost around the $200 mark when it does. NetbookNews also went hands-on with the device and we've attached a video of it after the break. Read more