April 16, 2009 at 2:59 pm
Two netbooks have passed through the US Federal Communications Commission (FCC) overnight. The first is a 9-inch Lenovo netbook with built-in 3G card. We heard rumours last week that a 3G-enabled S10 was being planned, but this is the first we've heard of a 3G-enabled Lenovo S9. The card is compatible with AT&T which could suggest that AT&T may start to offer this netbook on a subsidised data contract.
The second is the 10-inch LG X110, which has been available in Europe for some time now. The news is not surprising as we already know that both the X110 and X120 netbooks are due to hit the US by July. The specifications remain the same with the X110 having a 10-inch (1024 x 600) display powered by a 1.6GHz Intel Atom N270 CPU, 1GB of RAM and 160GB hard drive. It is believed that the X110's unsubsidised price will be around $400.
March 23, 2009 at 2:11 pm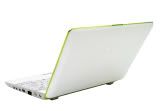 We have not heard anything about LGs upcoming X120 netbook since Mobile World Congress in February, however we now know that the X120 should start shipping in Asia by the end of this month. According to the official LG Korean site, the X120 will see its European launch in April, although specific countries have not been announced.
The LG X120 will cost 849,000 Korean Won ($610, €450, £420) when it is released in the region. Two models are expected to be released (X120-L76LK and X120-L76PK) although the press release is vague in what the differences between the two models are – possibly just colours? If the price translates over to the UK, it seems quite pricey, especially since the LG X110 can be bought for £230 right now. Read more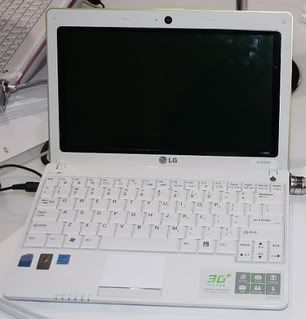 LG plans to ship its 10-inch netbook models, the X110 and X120, to the US this Summer. The X110 model had already launched in most territories last Winter and now the company is preparing to bring it to the US. Whilst no firm date has been given, it hopes to release the X110 before July. It is believed that the X110's unsubsidised price will be around $400. LG's X120 which debuted at the Mobile World Congress in Barcelona last month is also scheduled to launch in the US this summer, whilst hitting European markets later this month.
The X110 was LG's first foray into the netbook market and bears a strong resemblance to the well-established MSI Wind U100, this time with an HSDPA 3G modem added. It has a 1.6GHz Intel Atom N270 CPU, a 10 inch (1024 x 600) screen, 1GB of RAM, and a 160GB hard drive. The LG-X120 netbook is powered by an Intel Atom 1.6Ghz CPU and includes integrated HSDPA, a 10.1″ WSVGA screen and 1.3 megapixel webcam.
Via Forbes.