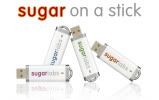 The Sugar operating system was originally developed for the One Laptop Per Child (OLPC) project and was first found on the XO-1 netbook. The operating system was created to engage young children with a simple user interface and to help develop their IT skills.
Sugar Labs has now announced that this operating system is now available to download straight to your netbook, whether it runs Windows, Linux or even a Hackintosh Mac. They've called this download 'Sugar on a Stick v1 Strawberry' and full instructions on how to download this on a 1GB USB flash drive can be found here.
"Sugar is preferred because it is a superior learning experience for young children: engaging while being affordable," said Walter Bender, founder and executive director. "Sugar on a Stick is a great way to try Sugar without touching your computer's hard disk. It is also well suited to slower, older PCs and low-powered netbooks."
Via Tech Radar.
April 23, 2009 at 11:02 pm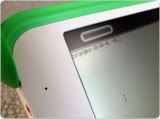 Ever since it spun off from the OLPC project last year, Pixel Qi has been pushing the idea that the future of inexpensive portables and longer-lasting batteries depends much on screen innovations. Apart from the fancy dual-mode display technology found in the XO-1, we've yet to see Pixel Qi's ideas fulfilled on more commercial devices.
Pixel Qi is looking to revolutionise display technology with its 3Qi screen which, Cnet reports, will hit the scene next month. The 3-in-1 display can not only switch between an efficient black-and-white mode and a high resolution colour screen, like on the XO, but also to an e-paper mode suitable for reading. It's not clear whether this would let images remain on the display when power is shut off, as with most e-book readers.
The current focus is on getting this technology into developing markets, where things like using a minimum of power and readability in broad daylight are initially more important. Only samples will be shipping initially for evaluation purposes, but Pixel Qi is looking for mass volume production this summer. Which clients have been lined up outside of OLPC aren't known, the XO-2 is due next year and should include twin multi-touch screens, but isn't yet known to be using Pixel Qi technology.
April 18, 2009 at 12:17 pm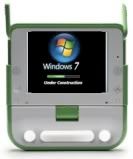 The One Laptop Per Child project has announced a v1.5 refresh of its XO-1 laptop. Whilst the unit will use the same design and batteries as v1.0, it will now use the VIA C7-M chipset as opposed to the AMD Geode processor found in the original. This chip has a clock speed ranging from 400MHz to 1GHz but the speed may be throttled back depending on the heat generation. Other improvements include 1GB RAM and 4GB of flash storage including an optional 8GB SKU.
The CPU will be used with the recently announced VX855 media processor that offers among its features the ability to decode full 1080p video. The move to the new chipset will see faster speeds using less power when idle as well as costing less than the Geode processor. This move could theoretically mean that the XO-1 may even be able to run Windows 7! Read more
March 13, 2009 at 10:20 am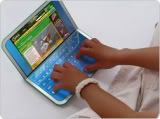 The next notebook due from the One Laptop Per Child (OLPC) project, nicknamed XO-2, is likely to drop AMD's x86 Geode CPU in favour of an all-in-one ARM processor according to PC World. While x86 chips have the potential to become more power efficient, ARM has the upper-hand in this area with advanced power management features and built in integrated graphics and Wi-Fi networking. Read more