March 7, 2009 at 10:47 am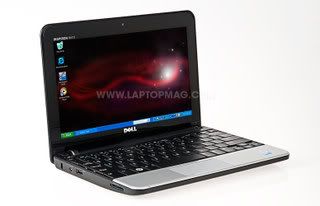 Laptop Mag has posted their review of Dell's upcoming Mini 10 netbook. Overall while they thought it was a competent offering, they believe other netbooks offer better value for money. The main criticisms came in the form of an awkward touchpad design and no six-cell battery offered at launch. Whilst the Dell Mini 10 is the thinnest and lightest in its class, both the Samsung NC10 and Asus 1000HA offer better battery life for less money.
Key points from review:
CPU performance was fairly standard (1.6-GHz Intel Atom Z530 CPU) although a 720p WMV video gave the Mini 10 some trouble.
The 10.1-inch display resolution of 1024×576 is less than standard for this size (typically 1024×600). This results in two less lines of text on Web pages.
The Mini 10 keyboard was larger than that of the Mini 12. They keyboard itself was relatively comfortable offering good, springy feedback.
Touchpad buttons quite small and hard to use.
The included three-cell battery lasted 2hrs 45 minutes.
Laptop Mag's review sample had a configured cost of $449, however Dell is currently offering the base configuration on pre-order for $299, a saving of $50. The base configuration includes a 1.33GHz Z520 Atom CPU, 10.1-inch (1024×576) display, 160GB HDD, 1GB RAM, 1.3MP webcam, 3-cell battery and Windows XP Home SP3.