March 9, 2009 at 10:08 am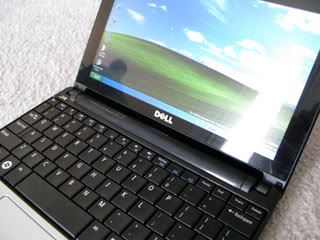 Electronista has released a thorough review of the Dell Mini 10. Overall they found the netbook very enjoyable to use on a day-to-day basis, but as with Laptop Mag's thoughts, they found that other netbooks offer more for the money, namely Asus' Eee PC 1000HE. The Asus provides better battery life and more power under the hood for the same price. However, an upcoming six-cell battery, sharper display (1366 x 768 resolution as opposed to 1024×576) due in April and 2GB RAM could change the overall proposition depending on pricing.
Key points from the review:
Not as thin and light given the size. At 2.86 pounds in weight and 1.25 inches at its thickest point, the Mini 10 is heavy enough to feel more like a notebook.
Flush glass display is bright and colourful.
The HDMI video output provides an edge over other netbooks where VGA is offered. However, unfortunately limitations on the CPU mean that HD video at 720p is not an option, diminishing the value of the HDMI output.
No upgrade available on 1GB RAM. The RAM is soldered on to a board inside the system rather than put into one or more RAM slots. A 2GB version is on the way.
Mini 10's keyboard is arguably the highlight of the system. The full trackpad area is a positive development for Dell netbooks.
Specifications don't differ to most other netbooks on the market: 1GB of RAM, an Intel Atom processor, and a 160GB hard drive.
Mini 10's small 3-cell battery lasted 2.5 hours.