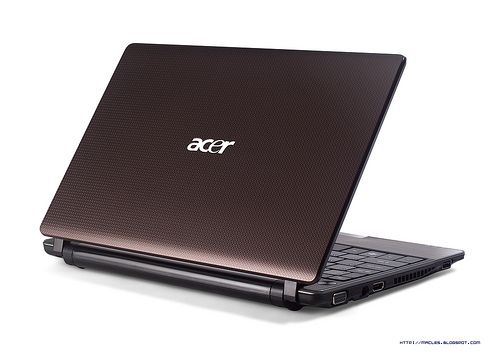 Acer is preparing to launch the 11.6-inch Aspire TimelineX 1830Z alongside the already heard of 1830T, in August/September according to Blogeee.
Both models are expected to be very similar apart from the processor used. The 1830T will be powered by a Intel Core i3-330UM CPU, whilst the 1830Z will come with an Intel Pentium U5400 ULV processor. Both devices are expected to cost around the €599 mark on launch. Check out the specs after the break.
Acer Aspires 1830Z-U514G50n
Processor: Intel Pentium U5400 with 1.2GHz (dual-core – 3Mo of mask)
Graphic Chipset: Intel HD Graphics
Random access memory: 4 Go (DDR3/2 Go X 2 – max 8Go)
Hard drive: 2.5 ″ 500 Go SATA
Posting: 11.6" in 1366 X 768 with retro brilliant lighting LED
Networks: WiFi 802.11b/g/n, Ethernet 10/100, Bluetooth
Connector industry: 3 ports USB 2.0, left helmet and a catch for microphone, 1 port VGA, 1 port RJ45, 1 port HDMI
Audio: Audio HD, 2 stereo, microphonous loudspeakers
Reader of memory cards 3-in-1 (SD, SDHC, MMC)
Webcam: 1.3 megapixel
Battery 6 cells with lithium ion 5800 mAh
Weight: 1.4 kg with battery 6 cells
Dimensions: 28.4 X 20.4 X 2.5.2.8 cm
Operating system: Windows 7 Premium Home
Price: 599€ including all taxes.
Acer Aspires 1830T-33U3G32n
Processor: Intel Core i3 330UM with 1.2GHz (dual-core – 3Mo of mask + HyperThreadings)
Graphic Chipset: Intel HD Graphics
Random access memory: 3 Go (DDR3/2 Go + 1 Go – max 8Go)
Hard drive: 2.5 ″ 320 Go SATA
Posting: 11.6" in 1366 X 768 with retro brilliant lighting LED
Networks: WiFi 802.11b/g/n, Ethernet 10/100, Bluetooth
Connector industry: 3 ports USB 2.0, left helmet and a catch for microphone, 1 port VGA, 1 port RJ45, 1 port HDMI
Audio: Audio HD, 2 stereo, microphonous loudspeakers
Reader of memory cards 3-in-1 (SD, SDHC, MMC)
Webcam: 1.3 megapixel
Battery 6 cells with lithium ion 5800 mAh
Weight: 1.4 kg with battery 6 cells
Dimensions: 28.4 X 20.4 X 2.5.2.8 cm
Operating system: Windows 7 Premium Home
Price: 599€