March 2, 2010 at 10:24 pm
Intel has announced a new Classmate PC with a convertible chassis design. The Intel Atom Pine Trail processor powers the new 10.1-inch (1024 x 600) Classmate, along with increased memory and storage to give it full PC functionality. It comes with a resistive touchscreen display.
The Classmate has several features including enhanced e-reading capabilities, a built-in rotational camera, Wi-Fi and an optional 6-cell battery will give the unit up to 8.5 hours of battery life. It supports several mainstream ebook formats including pdf and ePub. Read more
We caught our first glimpse of the beautiful Asus Eee PC 1016P and 1018P aluminium netbooks last week, however little was known about the hardware underneath the hood. Luckily all has been revealed over at CeBIT and we now know that these new netbooks will be powered by the, as yet, unannounced N455 and N475 Pine Trail processors. As a quick reminder, the N455 & N475 CPUs are rumoured to support faster DDR3 memory.
The top model is the ultra-slim Eee PC 1018P that measures just 18mm in thickness and sports an aluminium chassis. It comes with a chiclet keyboard boasts a 10-hour battery life. It comes with 1GB RAM, and storage of 160GB/250GB. The Eee PC 1016P is similar but not as slim. Asus will also be selling 'GO' versions that are 3G enabled. Click through for specs and pictures of both models. Read more
February 27, 2010 at 12:21 pm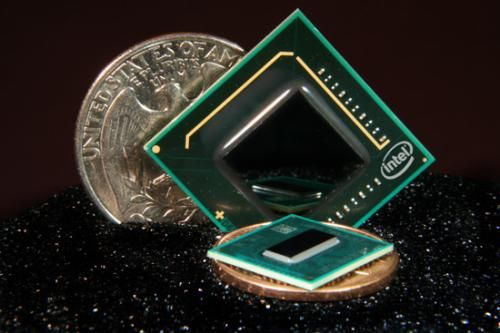 The existence of the faster 1.83GHz Intel N470 Atom Pine Trail processor has not exactly been a secret, however Intel has never made an official announcement on the Pineview CPU. In what appears to be an early leak from Intel, the processor has been formally announced over on Intel's Chip Shots press release page.
There's very little information and nothing we didn't already know. The single core Atom processor runs at 1.83GHz, with 512k of L2 cache and DDR2-667 support. The release is dated March 1 2010 and says that several systems sporting the new processor will be released "over the coming months". Expect to see quite a few of these at CeBIT next week. The (short) press release is attached after the break. Read more
February 24, 2010 at 5:11 pm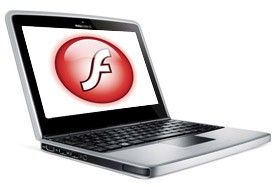 The third beta of Adobe Flash Player 10.1 is now out and brings with it some new additions including Intel GMA 500 graphics support. The GMA 500 GPU is found in several netbooks out there including the Asus Eee PC T91MT, Dell Mini 10, Asus Eee PC 1101HA and Acer Aspire 751. According to the release notes, the Broadcom BCM70012 chipset is also supported, although several people are struggling to get it to work.
Netbooked tested the new Flash Player on the Asus Eee PC T91MT and found that 720p HD video playback was smoother than before, although still not jerk-free. The latest update is available for Windows, Mac and Linux users and you can download it here.
February 18, 2010 at 9:59 pm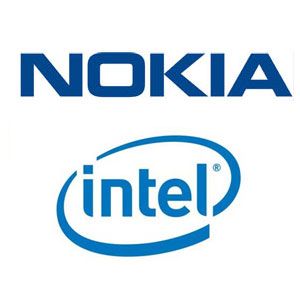 Intel and Nokia seem to be best of buddies at the moment. Not only have they stuck both their respective mobile Linux platforms into one melting pot to create Meego, rumours are surfacing of a hardware collaboration too. Apparently both companies are working together to create a new Atom-based SoC (system on chip) called Penwell for netbooks and mobile phones.
Any such partnership would make sense strategically. Intel is looking to crack the mobile/smartphone market that is heavily dominated by ARM and Nokia wants to grow its mobile market share in the US as well as developing its netbooks. Sounds like an exciting venture if true and would fit very well with their MeeGo mobile operating system.
Via SemiAccurate [via Ars Technica].
February 18, 2010 at 9:38 pm
Intel may be set to launch a replacement of the Atom Z series of processors according to PC Watch. The Atom Z CPUs are found on a number of netbooks including the Sony Vaio P, MSI Wind U115 and Asus Eee PC T91MT. Intel had already announced Moorestown, the successor to Menlow that includes the Atom Z series, as part of its MID/smartphone platform.
Rumours suggest that Intel may be launching a new version of Menlow called "Menlow Plus" or "Menlow Refresh" with clock speeds faster than 2GHz. However, another rumour suggests that Intel is working on a Moorestown version for PCs dubbed Oak Trail. It's all rumours for now but we'll keep you posted with any developments.
Via NetbookNews.de.
February 15, 2010 at 12:37 pm

Intel and Nokia have merged their respective Moblin and Maemo mobile Linux operating systems to form MeeGo. This is huge news. MeeGo will be backed by two of the largest technology companies in the world and should create a mobile OS that will suit a wide range of devices from netbooks to smartphones.
Nokia recently delivered its first Maemo device the Nokia N900 smartphone and Intel's Moblin is a credible open-source software platform for netbooks as well as MIDs. The MeeGo project will be hosted by the Linux Foundation. There will be access to both the Nokia Ovi Store and the recently announced Intel AppUp Centre. Read more
February 9, 2010 at 11:43 am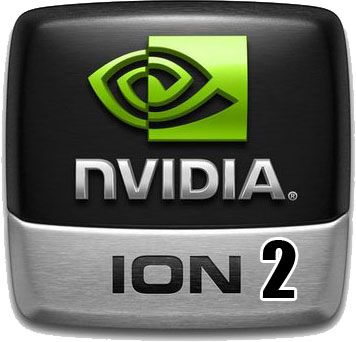 All fingers are pointing to the fact that Nvidia ION 2 will be a discrete graphics part, rather than a chipset as seen in the original Nvidia ION. One of the benefits of this is that it will support Nvidia Optimus technology according to Fudzilla. Optimus is a power saving technology, particularly useful for netbooks/laptops, as it can switch between both discrete and integrated graphics depending on the task at hand, ultimately extending battery life.
It differs from current switchable graphics technology as there is no manual selection, Optimus will automatically detect what kind of application is running (i.e. word processing or gaming) and switch between the GPUs with no input required from the user. Intel's Centrino 2 platform does have similar functionality although it only automatically detects when a laptop is running on AC or battery power, it doesn't work at the application level. Read more
February 2, 2010 at 12:37 pm
Intel will launch two new Pine Trail Atom processor parts that will support faster DDR3 memory. The 1.6GHz N455 Atom and 1.83GHz N475 Atom processors are set to launch during the third quarter.
The N455 Atom will remain at 5.5W TDP, same as the N450 Atom. Whilst the N475 Atom will have a 65W TDP, same as the N470 Atom. Expect new DDR3 netbooks at some point during the third quarter.
Via Fudzilla.
February 1, 2010 at 10:39 pm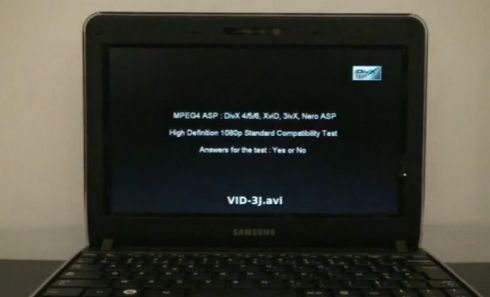 Jolicloud has already demonstrated 1080p HD video on netbooks running on Intel's Diamondville processors (N270 & N280), but now it has also announced 1080p support of Intel's new Pine Trail processors (N450 Atom). No external decoder (like the Broadcom Crystal HD) is needed and most codecs should work. Liliputing says that only 1080p H.264 content will not work.
This new update is expected to go live in the next couple of weeks and will also bring with it support for Nvidia ION, Intel GMA 500 graphics as well as the VIA C7-M. Until then, check out a demo of 1080p video content playing through Jolicloud on a Samsung N210 netbook. Read more
January 27, 2010 at 10:24 pm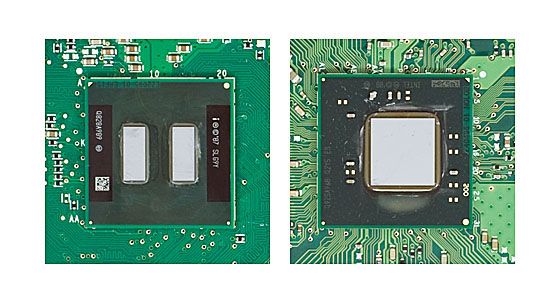 Intel's launch of the Pine Trail Atom platform left some people wanting. Whilst the power improvements were clear to see, the speeds were no faster than Intel's Diamondville processors (N270/N280 Atom). Anandtech has a theory why this was the case.
As we know, Pine Trail is built around a two-chip platform that incorporates the memory controller on-die with the actual processor (along with GMA 3150 graphics). This move produced a big boost in performance for other platforms like the AMD K8 and Intel Nehalem with a big drop in memory latency. Read more
January 27, 2010 at 8:12 am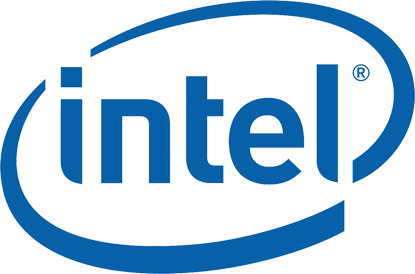 The rise and rise of netbooks has helped to drive Intel's graphic chip share over both AMD and Nvidia. According to the latest Jon Peddie Research, Intel's Q4 2009 market share stood at 55.2 percent, comparing to Nvidia at 24.3 percent and AMD at 19.9 percent.
Out of the three main players, Intel saw the strongest quarter-on-quarter growth of 17.9 percent in the fourth quarter last year, which also relates to the largest year-on-year growth of 114.7 percent. Intel's growth came mainly from Atom sales in netbooks as well as strong growth in the desktop segment due to the Windows 7 launch. Read more
January 26, 2010 at 8:05 am
The guys over at Laptop Mag have pitted six 10-inch Pine Trail netbooks against each other to find out a worthy winner. All models sport the 1.66GHz N450 Atom processor and various features were compared including design, performance and battery life.
The models tested were the Acer Aspire One 532h, ASUS Eee PC 1005PE-P, Dell Inspiron Mini 10, HP Mini 5102, MSI Wind U135 and Toshiba mini NB305. We won't spoil the overall winner, but three models stood out. The Toshiba has the best keyboard and touchpad, whilst the Asus offers the best battery life. The HP is a great all rounder and great for business use. Click here to read more.
January 26, 2010 at 7:31 am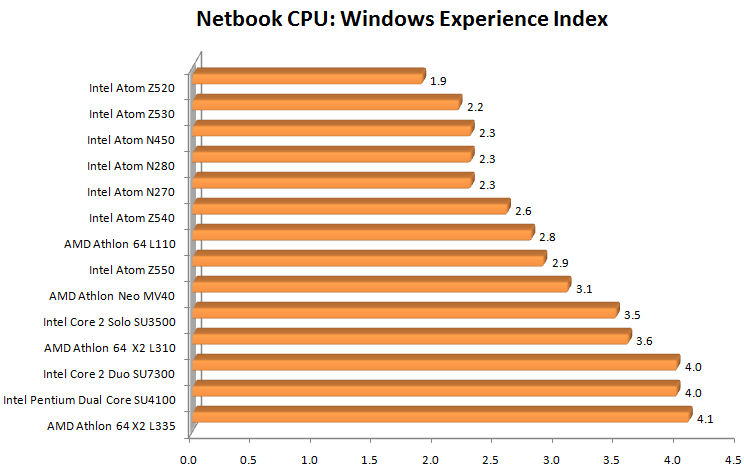 The sheer number of processors on the market can be a minefield to try and differentiate – different clock speeds, cores and cache sizes all need to be considered (along with TDP).
When testing netbooks, it's strange that some models have felt more sluggish than others, especially when they're meant to have the same clock speed. In particular, I'm talking about the 1.6GHz N270 and Z530 Atom. Both had the same speeds but the Z530 always felt more sluggish.
Well it looks like Yugatech has come to the same conclusion (albeit marginal). They have charted all the main Atom netbook processors including a few Intel ULV processors as well as AMD ones. Check out the interesting chart after the jump. Read more
January 25, 2010 at 1:10 pm
Panasonic has announced a new line-up of "Let's Go" notebooks and amongst them is a netbook sporting the new Intel Core i7 processor. Panasonic has managed to fit a 1.06GHz Intel Core i7-650UM processor into its R9 series that boasts a 10.4-inch (1024 x 768) display.
This processor benefits from Intel's Turbo boost technology that allows the speed to flex up to 2.13GHz depending on usage. It manages to include this in a chassis weighing just 0.93kg, whilst also bundling a 3100mAh battery rated to last for 7.5 hours. It features 2GB RAM (max 4GB), 250GB HDD and Windows 7 Professional 32-bit. Read more