April 15, 2010 at 10:35 am
One of the best Hackintosh netbooks around has reached its natural end of life. Dell is discontinuing the Mini 10v netbook, in light of the new Pine Trail Mini 10 models. The Mini 10v came with a 1.6GHz N270 Atom processor.
If you were considering buying a Dell Mini 10v then fear not as Amazon
is still selling the model, although you'd better act quick as it may not be around for long.
Via TUAW.
December 3, 2009 at 10:45 pm
Dell's Doug Anson has given his impressions of Google's Chromium OS as well as demonstrating it in action on a number of Dell netbooks including the Mini 9, Mini 10v and Latitude 2100. With the latter, he even times how long it takes to boot to the login screen (15 seconds). It looks very quick and that's just using a standard 250GB hard-disk drive rather than SSD.
His impressions so far are mixed. On the one hand it feels nimble and fast and uses new web technologies, but on the other hand, it is only really useful when connected to a strong fast network. Without a continuous network connection it's pretty redundant.
If you want to try it out for yourself, the image has been recut and now comes in a 302MB download (rather than several GB). You can download it here, where you'll find both the image and ReadMe text instruction files. I have also included Doug's installation instructions after the break along with the video. Read more
October 28, 2009 at 3:16 pm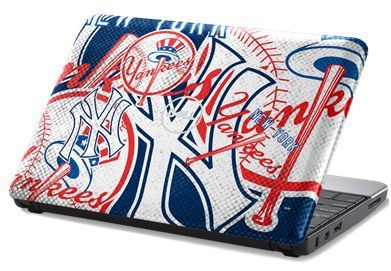 There are a lot of people that are not satisfied with their stock netbooks and look to personalize these through custom skins. A number of manufacturers have created 'limited edition' versions of their popular netbooks that come with a designer lid. Dell already has a wide choice of colours available for its netbooks, but it has announced that it has opened the Dell Design Studio for its Mini 10/10v netbooks.
What this means is that you can order a Dell Inspiron Mini netbook with one of 200 original works of art for an $85 fee. The collection includes everything from sports to RED (which donates $20 to fight AIDS in Africa). As well as these designs, Dell will also be launching more colours for its netbook range including colours such as "Dear Santa", "Smitten with Mittens" and "Pompeii Purple". There's no word when/if these options will hit the UK.
September 24, 2009 at 3:51 pm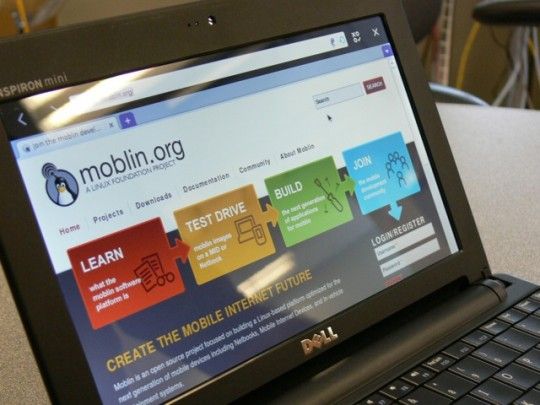 Dell is now shipping its Mini 10v netbook with the Ubuntu Moblin Remix Linux distribution. This particular version combines the interface & applications of Moblin 2.0 with the internals of Ubuntu 9.04. It is priced at $299 and comes with the typical Mini 10v's specifications (Atom N270 processor, 1GB of RAM, 160GB hard-drive).
This version has been labelled as the "Developer Edition" as it is still a work in progress. Despite this, Dell is shipping the Inspiron Mini 10v with it factory installed. If you already have the Mini 10v and just want to download the image click here. Check out a video demo after the break. Read more
August 12, 2009 at 10:39 am
It looks like Disney isn't the only company to release a netbook targeted to kids. Dell has introduced a new Inspiron Mini Nickelodeon Edition netbook. It is based on the Mini 10v netbook but is aimed at kids, coming in three different designs. One is for fans of Spongebob Squarepants, another is for iCarly fans whilst the last one is a Nickelodeon slime version that features a green splash on the lid and key rest.
Apart from the design, the netbook will have a tailored UI developed by Stardock Systems that's branded with Nickelodeon wallpaper and icons and offers quick access to Nick's Web portals. Educational software from Whyville.net and LoJack's anti-theft software will also be included. A 15-month trial of McAffee Family Security to monitor their kids' usage should give parents peace of mind.
Dell hasn't said whether any of the internal hardware will change from the existing 10v, which normally has a 1.6GHz Atom chip, 1GB of RAM, a 120GB hard drive and a 10-inch, 1024×600 display. The Nickelodeon edition netbook will be available in Walmart and at Dell.com starting at $300.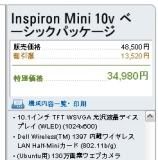 The quality and resolution of a netbook display is one of the major considerations when looking to buy a netbook, along with battery and keyboard in our opinion. The most common resolution found in 10-inch netbooks is 1024 x 600, however there are also a few that sport a 1024 x 576 resolution like the Dell Mini 10v.
This slight difference in vertical resolution can make a difference as much as two to three lines of text when browsing. The good news is that the Japanese Mini 10v SKU comes with 600 pixels of vertical resolution, rather than 576 pixels found in the UK, US and rest of Europe. At this point, it's unknown whether other countries will this new display. We'll keep our eyes open and let you know if they do.
Via Portable Monkey.
One of the benefits of owning a Dell Inspiron Mini 10v over its Mini 10 cousin, is that its RAM is not soldered onto the mainboard. This means that you can upgrade your RAM to 2GB if you wish. However, what Dell don't tell you is that to actually upgrade the RAM is a daunting process.
On the bottom of the unit, all you have is an access panel to the Wi-Fi module, which seems a strange decision to me. However, for those that are up to the challenge of literally taking apart your Mini 10v, then a MyDellMini Forum member has come with a three-part video tutorial. This involves removing the keyboard and getting access to the motherboard where you'll find the RAM slot. Check out the detailed videos after the break. Read more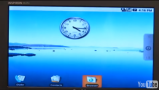 Dell has demonstrated a number of different operating systems that can run on the Dell Inspiron Mini 10v netbook. Three were shown: the first was standard Ubuntu, the second being Ubuntu Netbook Remix and the last (and most interesting) running Android v1.5 (Cupcake).
Doug Anzon, who is one of Dell's software gurus, was quick to point out that there are no current announcement plans for Android. However, the speculation that Dell may be producing an Android netbook will only increase following this demonstration. Especially since his role is to investigate "future technology options" in Dells products. Check out the video after the break. Read more
Dell is looking to add a TV Tuner option to its Dell Inspiron Mini 10 netbook this summer according to Engadget. The tuner will cost roughly $50 and will also include an external antenna. The few channels that they saw using the tuner were of good quality. This TV Tuner is one of the options that we were expecting at some point, judging from a leaked internal Dell roadmap. Other options that we have already seen include a high-res display, 6-cell battery and Linux Ubuntu.
Engadget also managed to get hands-on with Dell's latest Mini 10v netbook. It seems that the lower price means a few compromises from the current Mini 10. Gone is HDMI, which is replaced by a VGA port. Additionally, the Mini 10v does not have a flush display found in the Mini 10. Impressions of the 6-cell battery also weren't favourable, adding considerable bulk to the back of the netbook. For some reason, the TV Tuner option won't be available on the 10v unfortunately. So there you go, the Mini 10v is much cheaper than the current Mini 10, but that is at the expense of quite a few trade-offs.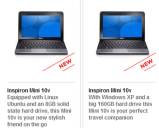 Normally it takes a while for items that appear on the Dell US site to make on appearance here in the UK, for example we are still waiting for the 6-cell battery for the Mini 10. Anyway, Dell hasn't messed around with the Mini 10v, as we have just noticed that it has made an appearance on the UK site.
Two models are available. One that comes with Linux Ubuntu along with an 8GB SSD is priced from £199 whilst the Windows version with a 160GB HDD starts from £279. Given that the US price for this latter package is just $299, UK pricing has not worked out in our favour which is hardly surprising. Taking the current exchange rate and adding in 15 percent VAT should give a price of around £225.
Both models are available to order now, although I couldn't find an estimated shipping date. These models have also hit Europe at a cost of €249 for the Linux version and €379 for the Windows version.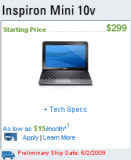 The Dell Mini 10v refresh is now available to order in the US with prices starting at a very reasonable $299. Dell looks likely to set the cat amongst the pigeons with this particular model and that bargain headline price. Obviously as with all Dell products, once you've added the cost of a 6-cell battery, Bluetooth and a new colour the price creeps up. However, these are not necessary extras and there is no doubt that this price point will be welcome by consumers.
The reason for the $100 saving over the current Mini 10 is that the 10v will sport the 1.6GHz N270 Atom CPU as opposed to the power-efficient Z series Atom CPUs found in current Mini 10 netbooks. This should result in similar performance but at a cheaper price. It's also worth noting that the 10v uses the GMA 950 chipset which is less powerful than the GMA 500 chipset found in the current Mini 10, which helps with HD playback.
The Dell Mini 10v options include either a 160GB HDD or 16GB SSD, Draft N Wi-Fi, Bluetooth 2.1 and a 56Whr 6-cell battery. There doesn't seem to be an option right now for the HD (1366 x 768) display. The preliminary ship date is 6th June.
Via Engadget.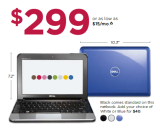 A number of upgrades to Dells Mini 10 netbook have been on the agenda since an internal roadmap was leaked last month. We have already seen Dell add options for a higher resolution display and 6-cell battery and it now looks like it will be releasing a refresh, dubbed the Mini 10v.
The Dell Mini 10v will sport the 1.6GHz N270 Atom CPU as opposed to the power-efficient Z series Atom CPUs found in current Mini 10 netbooks. This should result in similar performance but at a cheaper price. In fact it looks like Dell will be marketing the Mini 10v at $299, which is $100 cheaper than the current base configuration. Dell anticipates this model will start shipping in mid-May in the US.
Engadget is also reporting that Dell has added SSD options for the Mini 10. It seems that this option is only appearing for the new Dell Mini 10 Linux version, which now comes with Ubuntu 8.0.4, and not the Windows version for now. The 32GB SSD upgrade will set you back $75 whilst a 64GB SSD will cost $125. The Ubuntu version will start shipping from 28 May with the base package costing $369. The screen grabs are attached after the break. Read more