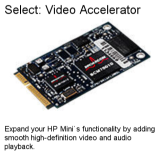 The HP Mini 110 netbook was promised a number of optional upgrades this month and right on cue, these options are now available. First off, you can now opt for a high resolution 10.1-inch screen for an additional $30. This will bump up the resolution from 1024 x 576 pixels to 1366 x 768 pixels.
You may want to pair this with the Broadcom Crystal HD Enhanced Video accelerator, which will cost an extra $30. This card should allow smooth playback of HD video content. However, you will have to use this with the bundled ArcSoft TotalMedia Theatre software to take advantage of the video acceleration. TotalMedia Theatre will give you access to MKV, MOV, MP4, AVI, WMV and TS/M2TS files. Read more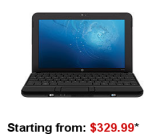 The HP Mini 110 XP and 110 Mi (Mobile Internet) 10-inch netbooks are now available directly from HP in the US. The 110 XP will set you back $329.99 for the base configuration, whilst the Linux-based 110Mi will cost you $279.99. The older Mini 1000 netbooks appear to have been phased out in preparation for the new 110 series. However, the funky Vivienne Tam HP Mini 1000 is still being sold for a while anyway.
The Mini 110 series comes with a 10.1-inch (1024 x 576) matte display. It is powered either by a 1.6GHz N270 or 1.66GHz N280 Atom (+$25) CPU. Other features include a 92 percent keyboard, webcam, microphone, VGA port and 5-in-1 card reader. The series will weigh around 1.1kg (2.33lbs) and measure just over 1-inch in thickness.
You will also be able to buy an optional 6-cell battery that will set you back $40. An optional 1366 x 768 HD display will be available in July for around $30. The Mini 110 XP will have an optional Broadcom Crystal HD Enhanced Video Accelerator to allow for 1080p high-definition content. This option is also expected to cost $30 when it is released next month. According to HP's site, the Mini 110 will begin arriving at customers on or around June 24th.
Via Portable Monkey.
Following on from this morning's HP announcement of new HP Mini netbooks for the US market, we now have details of the UK SKU. The HP Compaq Mini 110c (effectively the same as the US Mini 110) will launch in the UK in August with a suggested retail price starting at £279.
The features are very similar to the HP Mini 110 and, importantly, the 110c will also come with the optional video accelerator found in the Mini 110. The swirl-lid design that adorns the US Mini 110 and 1101 is not present here. Instead it has a high-gloss 'infinity' imprint finish. Read more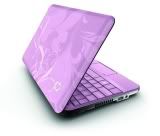 HP has today announced a few new members to its HP Mini netbook family. The three different models are the Mini 110 XP, Mini 110 Mobile Internet (Mi) and business oriented Mini 1101. The series will come with a 10.1-inch (1024 x 576) matte display. An optional 1366 x 768 HD display will be available in July for around $30.
It will come in a number of configurations, powered either by a 1.6GHz N270 or 1.66GHz N280 Atom CPU. Other features include a 92 percent keyboard, webcam, microphone, VGA port and 5-in-1 card reader. The series will weigh around 1.1kg (2.33lbs) and measure just over 1-inch in thickness. Read more