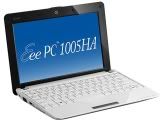 Whilst official launch details or pricing has yet to be revealed, the Eee PC 1005HA Seashell has now been spotted for pre-order. BeachCamera.com has the unit up for pre-order with prices starting at a very reasonable $350. The 1005HA Seashell has a removable battery and is slightly thicker than the 1008HA Seashell.
Whilst there is no mention of the 1005HA-H and 1005HA-M SKUs, there will be two different models offered by the retailer. The configuration, which includes a 1.6GHz N270 Atom CPU, will cost $350 and is available in black or white. For a slightly faster CPU, 1.66GHz N280 processor, this will set you back $389 and will come in black or blue. There's no signs of the Eee PC 1005HA's pre-order availability in the UK right now.
Via Portable Monkey.
Asus is planning on releasing a 3G enabled version of the Eee PC 1005HA, under the model name of 1005HGO. This follows the naming convention used with other 3G enabled Eee PC's including the 1003HGO and recently announced 1101HGO.
The specifications of the 10.1-inch 1005HGO relates to the higher-end SKU (1005HA-H) which comes with a 1.66GHz N280 Atom CPU, Bluetooth and a longer battery life over the 1005HA-M SKU. It will come with the HUAWEI EM770 3G modem. Pricing and availability is unknown right now.
Via Eee-PC.de.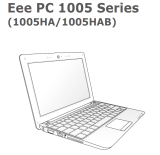 News on Asus' next netbook in its Seashell line, the Eee PC 1005HA, is coming through thick and fast. Only yesterday, we had the full official product page up and now the manual is available for public consumption. You can have a look at the schematics along with exactly what ports you'll find on the netbook.
The manual is headlined Eee PC 1005HA / 1005HAB. We first heard of the 1005HAB when rumours of this device first circulated. However, up until now we don't have any confirmation as to how the 1005HAB will differ from the 1005HA. We already know of the 1005HA-H and 1005HA-M models that were detailed by Asus France last week. Read more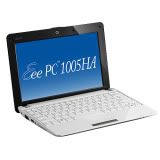 The Asus Eee PC 1005HA Seashell netbook was officially announced last week by Acer France. The netbook now has its official product page listed on the Asus Global site including full technical specifications and official press shots.
Whilst the product page doesn't explicitly mention two different 1005HA SKUs, as mentioned by last week's announcement (1005HA-H and 1005HA-M), the specs do suggest that this will be the case. There is an option for N270/N280 Atom CPUs, a 1.3MP or 0.3MP webcam and two different 6-cell battery options. Read more
We have often lamented the sheer number of different Eee PC netbooks that Asus offers, complete with confusing naming structure. It becomes difficult from a marketing point of view given the confusion it causes to the public and it can even end up diluting the brand. It seems that Asus UK agrees, it will be offering just three Eee PC netbooks to the general public come July according to Reg Hardware.
Asus' John Swatton told them that only the 1008HA Seashell, the 1005HA (which was only announced today) and an as yet unnamed model will complete the UK line up. It does beg the question, what happens to the Eee PC T91 net tablet? According to Swatton, the 7-inch and 9-inch models will be reserved for sales to schools and other large organisations. Somehow, I find that hard to believe, especially given the amount of interest surrounding this particular 9-inch convertible tablet. Will Asus really restrict the sale of the T91 to the public? It seems a very odd move if true. Read more
A few days back we came across evidence from the Asus support pages that the company was planning to launch a little brother to its 1008HA Seashell netbook. Well this has now been officially confirmed by Asus France who has presented some official specifications, press photos, pricing and launch details for two new Seashell models, the Eee PC 1005HA-M and Eee PC 1005HA-H. Read more