It's becoming trickier keeping up to date with all the tablet news given how everyone seems to be launching one these days. Today's roundup brings news of three new tablets. Samsung is rumoured to be launching the S-Pad tablet that sports a 7-inch Super AMOLED display and the Android OS. It will include access to Samsung's own app store and come with a USB dock. There are no pricing details although it's expected to launch on contract from SK Telecom with a subsidised contract.
Aigo is planning a similarly sized 7-inch tablet that will also run Android 2.1, but will be powered by the Nvidia Tegra 2 chipset. It comes with a 1GHz ARM Cortex-A9 processor, 512MB RAM, and 4-32GB of internal storage. It also features an HDMI port, an accelerometer, ambient light sensor, 3120mAh battery and card reader. Read more
April 30, 2010 at 2:32 pm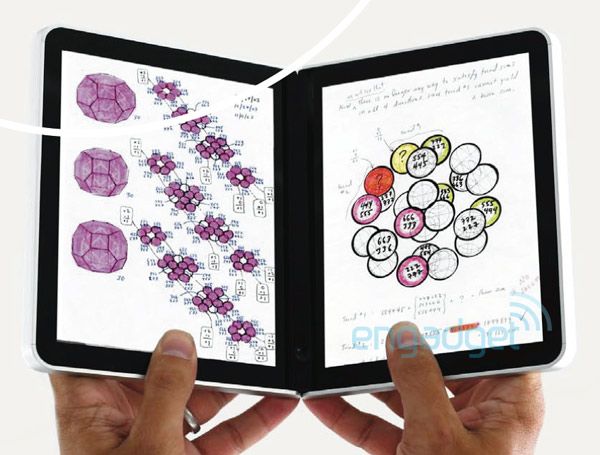 Two of the most talked-about portable gadgets of recent months have been shelved according to sources. Microsoft's rumoured dual-screen Courier project will not see the light of day according to Frank Shaw, Microsoft's VP of corporate communications.
"The "Courier" project is an example of this type of effort and its technologies will be evaluated for use in future Microsoft offerings, but we have no plans to build such a device at this time," said Shaw. Read more
April 29, 2010 at 4:14 pm
MSI is set to announce new Android and Windows 7 tablets at June's Computex show in Taiwan. These tablets are expected to come in 8.9-inch and 10-inch varieties and will ship during the third quarter. Pricing is expected to be "extremely aggressive" according to Engadget.
The dual-screen tablet, first seen at CES, has been delayed though due to issues with battery life. "The two screens are a major drain on the battery, and even with a higher density battery and the Menlow CPU we are only getting three hours," said MSI's Andy Tung. This device is now expected to land in the fourth quarter.
April 29, 2010 at 10:28 am
In an unexpected move, HP acquired Palm for $1.2 billion yesterday. One of the side affects of this acquisition could be HP using Palm's WebOS operating system for use in a number of devices, besides smartphones, including tablets and netbooks.
On the conference call yesterday, HP's Todd Bradley said "between smartphones, slates, and potentially netbooks, there are a lot of opportunities here." HP is obviously testing a number of different form-factors and OSes at the moment including the Compaq AirLife that sports Android and the HP Slate. Whilst there's nothing definitive right now, we look forward to see exactly what could come of this deal.
Via Engadget.
April 28, 2010 at 8:55 am
Are there any Europeans out there who have been itching to get hands-on with the JooJoo? Well you're in luck, the company is now shipping the JooJoo to France, Germany and the UK for €359/£319 plus shipping. The JooJoo sports a 12.1-inch (1366 x 768) display, 1.6GHz N270 Atom, ION graphics and a custom Linux UI.
Via Blogeee.
April 22, 2010 at 10:22 am
Following a whole raft of Dell smartphone leaks, it looks like the company is also planning a 7-inch tablet sporting the Nvidia Tehra 2 chipset and Android 2.1.
Dell is calling the tablet 'Looking Glass' and looks like it's the bigger brother of the 5-inch Streak tablet. It comes with a 800 x 480 resolution touchscreen 4GB of RAM and ROM, SDHC card slot (32GB compatible), 1.3MP camera, Wi-Fi (b/g/n), Bluetooth 3.0 and an optional ATSC/DVB-T TV tuner. It is expected to land in November 2010. Click through for the specs. Read more
April 17, 2010 at 4:59 pm

Last year everyone was jumping on the netbook bandwagon, this year it's all about tablets. The latest behemoth believed to be prepping their own competitor to the Apple iPad is Dell.
Engadget received word along with some images of some unannounced 7-inch and 10-inch Streak tablets. The smaller version is expected to arrive later this year and the latter will launch in 2011. That's all the detail we have for now, no word on specs or pricing.
April 15, 2010 at 3:09 pm
We already heard that Toshiba were preparing to launch its own tablets by Q1 2011 and now we have a bit more detail on the slates themselves. According to a Reuters report, Toshiba will launch at least one 10-inch tablet on the Android platform and another "dual-screen model running Windows."
These tablets are expected to be media consumption devices, much like the Apple iPad. The company also doesn't expect tablets to cannibalise other devices. "We definitely see a place for the slate, we see there's a market there" says Jeff Barney, general manager of digital products for Toshiba America. "It'll be expansive like netbooks, it won't be cannibalistic … Media consumption on these slates will be the main user activity." Read more
April 12, 2010 at 5:34 pm
Neofonie and 4titoo has officially announced the WePad tablet this afternoon. The WePad is an 11.6-inch tablet sporting a high-resolution (1366 x 768) display, 1.66GHz N450 Atom processor, the Android operating system, HDMI out and is set to hit the streets in Germany in July.
The WePad will be available in two configurations. The first will come with 16GB flash storage for €449, whilst a more expensive (€569) version will come with 3G and 32GB of storage. Read more
April 12, 2010 at 12:16 pm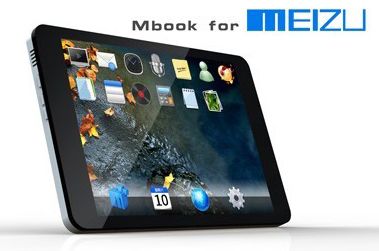 Meizu has announced the first details of its Apple iPad clone called the Mbook. The 8.4-inch capacitive slate has a 1024 x 768 resolution display and is armed with a 1.5GHz processor. It is capable of 1080p video output and fittingly comes with a HDMI port.
The Mbook is thought to use Android as the OS and will have a battery runtime of 12 hours. Other features include Wi-Fi, 3G and GPS. Pricing remains a mystery for now, although we are not expecting to see the device hit shelves until 2011.
Via Electronista.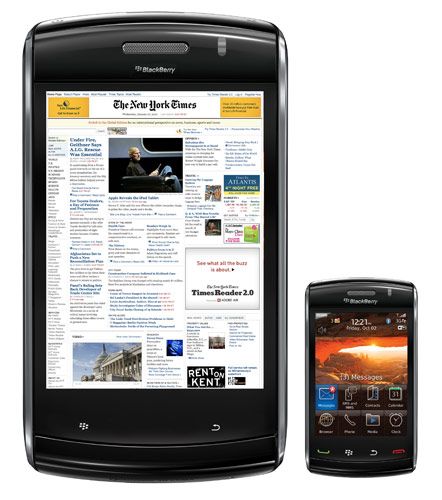 Everyone else is jumping on the tablet bandwagon, why not RIM? That is what an industry research firm is claiming after sources in the component supply chain have said that Research in Motion has placed an order for an 8.9-inch tablet from Hon Hai Precision (Foxconn) that will ship in late Q3 2010 or early Q4 2010.
The report doesn't reveal anything else, but I'd be a bit surprised if it were true. RIM aren't known for jumping into any old device category unless they felt it would enhance their portfolio. Also, RIM Co-CEO Mike Lazaridis recently told Walt Mossberg that, "I don't see the benefits of a tablet over a notebook… A lot of technology falls in the middle." Read more
April 7, 2010 at 12:12 pm
Netbooks and tablet devices will see the fastest growth in the total portable PC market according to DisplaySearch. The total portable PC market will grow by 26 percent to 215 million units ($117 billion in revenue). They expect over 5m tablets will be sold by the end of the year, driven by sales of the Apple iPad. It also believes tablets will take market share away from netbooks and e–readers.
Revenue growth in the tablet category is expected from higher ASPs (average selling prices). The netbook category has seen ASPs lower from $400 to around $300, however with the Apple iPad expected to be the main player in the tablet segment ASPs are expected to benefit. The price of the iPad starts at $499 to +$800, which should lead to healthier margins to those products that can mimic "Apple's content library, model of content delivery, and their very successful App Store." Click through for unit and revenue tables. Read more
Park this firmly in rumour territory for now, but another major manufacturer is looking to jump onto the tablet bandwagon. TheStreet.com is reporting that Ashok Kumar, analyst at Rodman Renshaw, has sources indicating that Nokia is working suppliers and design manufacturers on a touchscreen tablet.
"Right now the supply chain is being primed up for a fall release. It has to be on the shelf by September-October to meet demand for the holiday window," says Kumar.
The news wouldn't be a surprise given the publicity surrounding tablets at the moment. Unwired View suggests that a MeeGo tablet is unlikely this soon and Windows 7 is more probable if Nokia were to release a tablet this year.
April 6, 2010 at 12:50 pm
ICD has revealed their latest tablet dubbed Gemini that is one of the most fully featured yet seen. It will be armed with the 1GHz Nvidia Tegra 2 chipset, Android OS and comes with an 11.2-inch (1366 x 768) mutlitouch panel (both resistive and capacitive supported).
Two cameras are included in the package (2MP on the front and 5MP autofocus on the back). Additionally, it has a 5-axis accelerometer, GPS, FM radio, 4GB of Flash storage and a 32GB-supporting SD card slot.
Other features include HDMI, micro USB, 3.5mm headphone socket, integrated 3G, Wi-Fi (b/g/n) and Bluetooth 2.1. Pricing and availability remain a mystery for now. Check out some more pictures and a comparison chart after the cut. Read more
April 6, 2010 at 11:32 am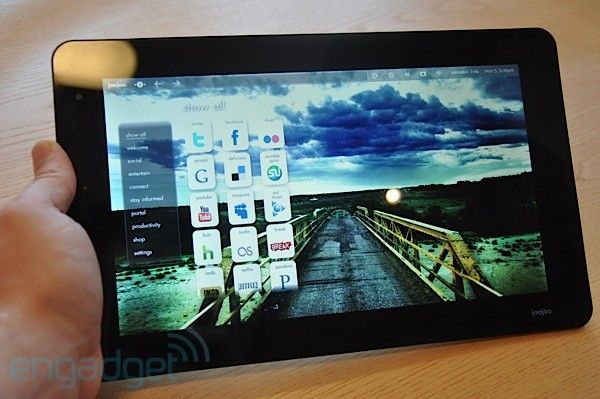 The JooJoo 12-inch capacitive tablet is finally shipping to customers and Engadget has the first review up. Overall they found it difficult to recommend the $499 tablet, especially considering the coinciding launch of the Apple iPad. They felt the JooJoo ships with "half-baked software" that makes it unintuitive to use.
On the positive side, they did like the hardware design, but says the JooJoo has a worse screen than the iPad and is also less portable. They suggest the price-point needs to be re-evaluated as well it needing software updates aplenty. On this front, Fusion Garage is apparently promising a "near-weekly update schedule" that will hopefully bring with it hardware-accelerated Flash support. You can read the full review here.