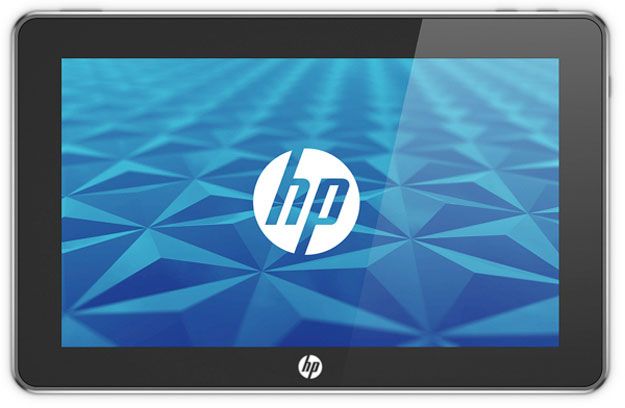 Following on from yesterday's teaser video, Engadget managed to get hold of an internal HP presentation slide that apparently reveals the specifications of its Slate tablet device and compares it to the Apple iPad. According to the leak, the HP Slate will be powered by a 1.6GHz Atom Z530 processor and use a media accelerator for 1080p video playback (Broadcom Crystal HD?)
The base configuration will start from $549 and include an 8.9-inch (1024 x 600) capacitive display. It will come with 1GB RAM (max), 32GB of flash storage and a 5-hour battery. Other features include two cameras, SDHC slot, HDMI, SIM card slot and a USB port. An extra $50 will buy you 64GB of storage. Question marks remain over software, although Windows 7 is expected to be used. Read more
Not to be overshadowed by the glut of Apple iPad news over the last few days, HP is trying to remind the world that there are other tablets that are due to hit the market. It has released a very short video of the HP Slate that shows off the tablet's user interface, webcam and (ironically) the ability to play iTunes.
The UI looks broadly similar to HP's TouchSmart software and does a good job of skinning Windows 7. The Slate is shown running iTunes along with a USB cable that looks like it's from Apple, perhaps highlighting iPhone/iPod sync functionality. There are still no details on pricing or availability right now, but check out the teaser video for the latest on the Slate. Read more
April 2, 2010 at 10:21 am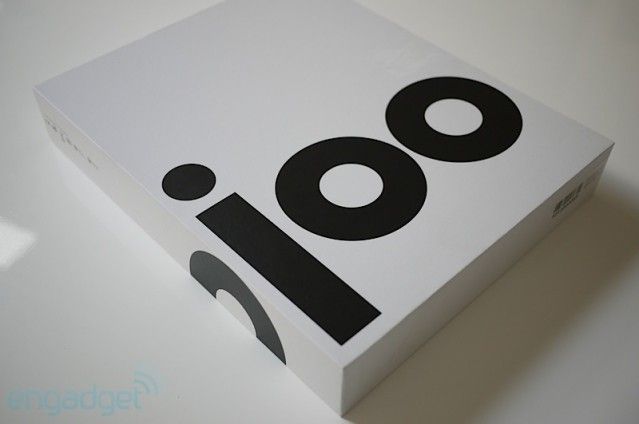 It looks like the 12.1-inch capacitive JooJoo tablet is a reality after all. The first units are shipping to customers and Engadget managed to get hold of a retail model to unbox.
You can check out some of the unboxing pictures after the break, but they also have a video that walks through the UI. Engadget is promising a review next week, but until then you can check out the video below. Read more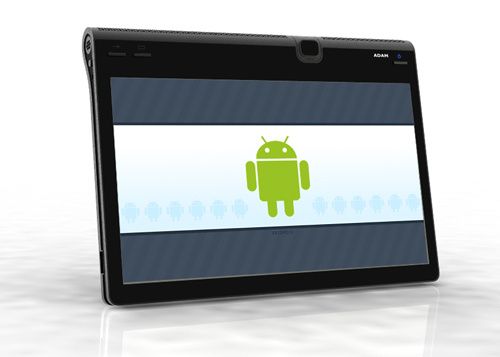 The Nvidia Tegra 2 chipset that was heavily shown off at the Consumer Electronics Show in January, mostly in numerous tablet devices, is suffering "some serious issues" relating to stability according to Slashgear. This is causing a delay in the production pipeline for many companies looking to incorporate the chip into their products.
Devices that were expected to hit the market in June 2010 have now been delayed to August at the earliest. This includes projects such as the much anticipated Notion Ink (delayed to Q4 2010) and Compal (delayed to mid-September) tablets. This can only be good news for the Apple iPad that will have the market to itself for even longer.
March 31, 2010 at 1:42 pm
The Apple iPad is set to launch officially later this week, perhaps changing the perception of tablet devices forever more. It's no surprise that a number of manufacturers will jump onto the tablet bandwagon later this year. One of them is Asus that is set to launch "at least two" tablet devices in the coming months, most likely at Computex in Japan.
"Netbooks are the best combination of personal computing and cloud computing," said Jonney Shih, chairman of Asus. "But between netbooks and smartphones and e-readers, we think there will be a space for something like a tablet or slate PC." Read more
March 25, 2010 at 5:40 pm
After a short delay, the JooJoo tablet with 12-inch capacitive display has finally started to ship. The people that have been pre-ordering the device since last December will get their shipments first with deliveries expected by March 29. I imagine that new orders will ship soon thereafter.
This is a day that I'm sure many didn't expect to see, especially with all the legal wranglings with former partner TechCrunch. It's good to see them getting out of the gate before the iPad behemoth devours all. Read more
March 20, 2010 at 9:15 am
More information on the HP Slate is beginning to leak out. We are now hearing that the HP Slate will be priced at €400 ($540, £360) according to Spanish publication Clipset. The device is expected to be formally announced in June and will hit retail "before Septemer", at least in Europe.
Specifications will include an Atom processor, Windows 7, Adobe Flash support, card reader, webcam along with USB connectivity. Looks like the Apple iPad will have some competition on its hands.
Via Engadget.
March 16, 2010 at 10:24 am
Samsung is planning to launch its own slate tablet device in the second half of 2010 according Philip Newton, director of Samsung Australia's IT division. In a dig towards the Apple iPad, Newton says that this tablet will have enough processing power to be a "primary device" for most people along with desktop docking.
"The problems I see with the iPad are its processing power and (lack of) connectivity to a certain extent" said Newton. "I do feel that that slate-type platform has legs but I think the legs need to be far more powerful, for example an Atom-based product which has far greater flexibility, not to mention inputs and outputs. This has more potential than an iPad." Read more
March 15, 2010 at 9:08 am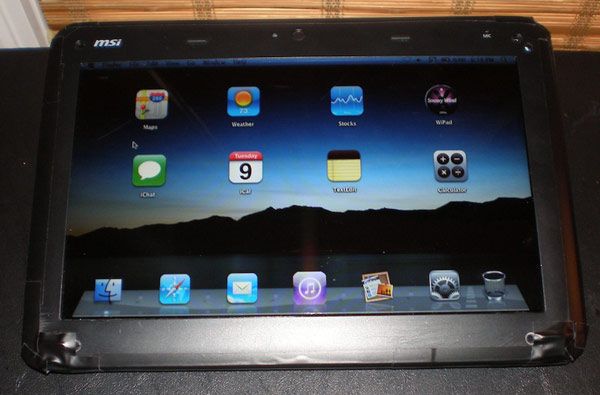 An intrepid modder has come up with an innovative mod that turns the MSI Wind U100 netbook into a tablet device complete with hackintosh OS X operating system and customised UI. The mod involves removing the keyboard and then mounting the LCD where the keyboard once was.
As the modder alexbates says, this mod enables you to "build an iPad with 10 times the storage, twice the speed, external video (VGA), webcam, USB ports, and built-in multi card reader, all for $350." Hopefully a video should be available in due course, in the meantime you can find all the details on this mod here.
Via Engadget.
March 14, 2010 at 12:20 pm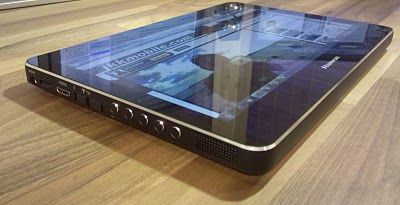 The Hanvon TouchPad BC10C tablet is one of the most desirable that we've come across. The 10-inch tablet has a flush glossy display and comes with a 1024 x 600 resolution capacitive screen, HDMI, two USB ports and a SD card slot. It is powered by a 1.3GHz ULV 743 processor, 2GB RAM and storage starting at 250GB HDD.
JKKMobile has put one the test in a video review that you can find after the jump. It will be available from March 24 with prices starting at $877 in China. European and US pricing has still to be set. Check out the video after the break. Read more
March 11, 2010 at 8:34 pm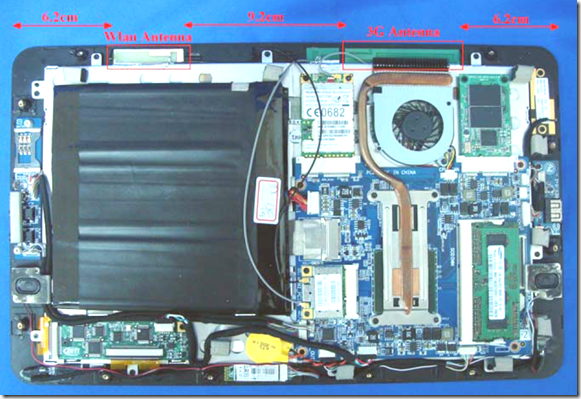 Specs for the JooJoo 12.1-inch tablet have been under tight wraps, until now that is. The JooJoo has passed through the FCC where it has been revealed that the tablet will be powered by a 1.6GHz N270 Atom processor and Nvidia ION chipset. It's no wonder that those that have tested the video capabilities have talked of flawless playback.
Another interesting thing spotted is a SIM card slot that likely means 3G will be an option at some point down the road. The JooJoo will ship with a Linux user interface, however other pictures from the FCC show it running with Windows 7 that could point to future OS choice. The non-removable battery should last for 5 hours. The JooJoo is due to launch on 25 March. Check out some more pictures below. Read more
March 11, 2010 at 2:13 pm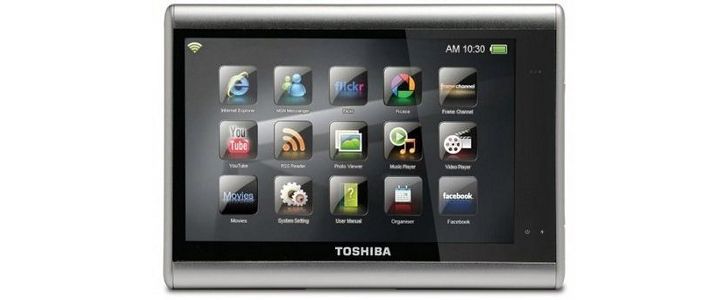 The craze for tablet devices is expected to explode when the Apple iPad hits the market next month. Many companies appear to be sitting on the sidelines and waiting for the consumer reaction to the iPad before launching their own slate devices.
Toshiba is one of them and plans to introduce a family of tablet devices by early 2011 at the latest. "It has proved to be a mistake to underestimate these new categories. And besides, we need new category creation to grow our industry," says Jeff Barney, head of Toshiba's U.S. notebook business. Now we just need to see whether there is an appetite for these upcoming slates.
Via Akihabara News.
March 11, 2010 at 11:43 am
We recently heard that the 12.1-inch capacitive JooJoo tablet had been delayed to the end of this month and it seems that Fusion Garage has been putting this time to good use. A number of improvements to the device have been made including a new user interface, improved text entry, fully working Flash video and even a change of colour casing from black to champagne.
The homescreen now has an icon grid that sits over customisable wallpaper. A vertical swipe reveals a status bar housing the home button, status indicators, navigation controls, and search. Two scroll gestures have also now been implemented. This includes a two-finger scroll (much like a scroll wheel) and a single finger "pan" that functions much like a mouse arrow. Read more
March 10, 2010 at 6:17 pm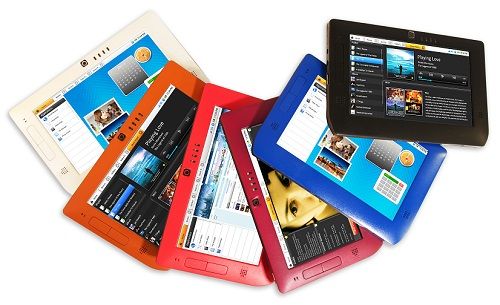 The impending release of the Apple iPad tablet will cause a rush to market of similar devices says ARM. The company expects that it will see ARM-powered 50 tablet devices launching globally this year. Not surprising, considering that this years CES and CeBIT were swamped with tablet devices of one form or another.
This is set to continue at the Computex show in Taipei in June, with ARM renting more space than last year to show off various mobile devices including tablets, smartbooks and e-readers. "The first tablet devices will launch in the second quarter by [mobile network] carriers," said Roy Chen, ARM's worldwide mobile computing ODM manager. "You'll see a lot more in the third quarter." Read more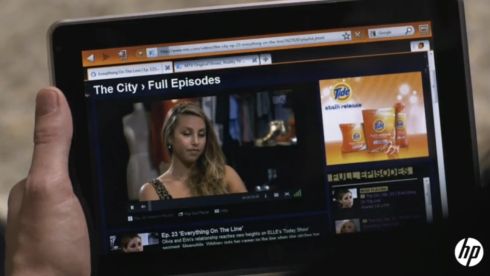 The HP Slate tablet is an enigma in many ways. Ever since Steve Ballmer showed it off at CES earlier this year, it's only appeared in a few videos with most of the hard information still under wraps. Anyway, whilst we wait, a couple of new videos give us more insight into its functionality.
The first, from Adobe, shows off the HP Slate's Flash and Air capabilities in Windows 7. Engadget highlights that the Slate is hardware accelerated, which could mean it comes with a Broadcom Crystal HD card or going further, it might even have an ION chip inside. HP has also posted another marketing video. You can check out both after the jump. Read more