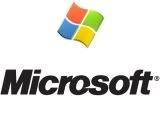 Microsoft is looking to redefine the 'netbook' term, currently associated with mini-notebooks that typically have screen sizes of less than 10-inches. Microsoft's choice of name is 'low cost small notebook PC' according to Steven Guggenheimer, Vice President of Microsoft's OEM division.
The name is not exactly catchy, but MS isn't looking to change it for the sake of it. According to analysts, it wants to split the current netbook category between those devices that are only good enough for the web and those that have more notebook-like characteristics i.e. more powerful.
The idea behind such a move would be to reduce the number of discounted Windows licences it would offer and, essentially means more money in the back pocket for MS. This would mean that higher-end 'netbooks' would have to adopt more premium SKUs of Windows 7 says Digitimes. More details on the strategy are expected this week at Computex, but we've not heard anything concrete so far.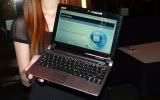 Acer has already confirmed that we will be seeing the Android operating system appear on an Aspire One netbook next quarter. To show how serious it is, the company showed off an Aspire One D250 netbook running Google Android at Computex.
The version of Android shown off appears to be the Cupcake version (v1.5), with no modifications for the 10-inch screen. Interestingly, a full version of Firefox running on Android was also shown. It is unlikely that previous versions of the Aspire One netbook will get Android OS options, I imagine that we'll see a completely new model sporting Android.
The two videos below demonstrate that the start-up and boot down times are very quick. Overall it takes just eighteen seconds to start up and just one second to boot down. Read more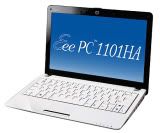 Asus has officially announced the latest member to its Seashell line of netbooks, the 11.6-inch Eee PC 1101HA. The netbook was spotted in the wild earlier this week at Computex, along with near enough full specifications.
The press release is pretty sparse on detail, only confirming it will have a HD (1366 x 768) resolution LED backlit display and battery life of 11 hours. It also confirms a 160GB HDD, wireless draft-N, Bluetooth, a 1.3MP webcam, digital array microphone and multi-touch touchpad. Hopefully some more detailed specifications, along with pricing and availability, will be announced shortly. Read more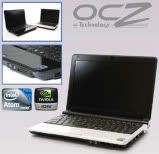 OCZ launched the 10-inch DIY Neutrino netbook to much acclaim. OCZ allows you to source your own RAM, hard-disk drive and operating system from wherever you can find the best deal and 'build-it-yourself". It seems that OCZ is now looking to jump on the Nvidia ION bandwagon, as it has decided to upgrade the netbook with the ION platform.
However, the Neutrino ION system won't be pairing the N270 CPU (as found in the original system) with Nvidia 9400M graphics. Instead, it will be using a 1.6GHz Atom 230 single-core processor. Other specs remain the same and include 1GB RAM and a 160GB HDD. It also comes with a 4-cell 2200mAh battery, 1.3MP webcam and WiFi (b/g only). You'll find the usual array of ports that include two USB ports, Ethernet and VGA. No release date or pricing has been confirmed thus far.
Via PC Perspective.
Asus has officially launched the Eee PC T91 convertible netbook at Computex this week. This is the first netbook from the company that comes with a swivelable touchscreen, but with Windows 7 on the horizon you wouldn't bet it being the last. The Eee PC T91 comes with an 8.9-inch touchscreen that can be folded back to be used as a tablet or in a traditional netbook form factor. The product page is also now live too, giving us confirmation of the T91's finalised specifications.
The Eee PC T91 has an extremely slim-line design, weighing just 960g and measuring 28.4mm at its thickest point. The 8.9-inch resistive touchscreen is powered by the Z520 Atom CPU and 1GB RAM. The listing for the storage is a tad confusing and reads "16GB Solid State Drive + 16GB SD Card + 30GB Portable Hard Disk Drive + 20GB Eee Storage". Whilst the first and last points are self-explanatory, I do wonder whether Asus will be including a 16GB SD card and 30GB portable HDD in the package too. Read more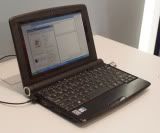 Mio has announced a new 8.9-inch netbook dubbed the Litepad N890 which will come with built-in 3.5G, GPS, an accelerometer along with a MagSafe-style breakaway power connector. If that wasn't enough, all of this comes in a package measuring less than one inch thick and weighing 880g (1.9lbs). The Mio N890 netbook has a 1024 x 600 display powered by a 1.6GHz N270 Atom CPU and 945GSE chipset. It has an 89 percent sized keyboard and uses a SSD for storage.
Given the inclusion of a 3.5G module, this is likely to be marketed by wireless carriers when it hits the market in Q3 in Europe. No price has been mentioned so far but will be priced competitively according to the company. JKK went hands-on with the device and we've attached the video after the break. Read more
BenQ has officially launched its latest netbook, the uniquely named, Joybook Lite U121 Eco. This 11.6-inch netbook certainly seems quite intriguing, it has a quick charge facility that allows you to charge 80 percent of the 6-cell battery in just 1 hour. On a fully charged basis, the battery will be good for 8 hours.
The Lite U121 also offers optional hybrid storage (32GB SSD & 500GB HDD). The netbook boasts a high-resolution (1366 x 768) LED backlit display and is powered by a Z520 or Z530 Intel Atom CPU. Other features include Wireless draft-N support, optional Bluetooth 2.1 & 3G, a 1.3MP webcam, TruSurround speaker technology, a full-sized keyboard and a HDMI port. All of this in a package that weighs just 1.3kg and a low operating noise of just 26db.
The BenQ Joybook Lite' also has an ecological label. Aside from being energy efficient, the BenQ Joybook Lite also features recyclable materials – 75 percent of its mechanical elements, and 70 percent of its packaging. BenQ is emphasising the eco points of the netbook in terms of its colours too. This includes an ocean blue colour option and arctic white option. The Joybook Lite U121 Eco will be available in June, 2009 in China, Malaysia, and Taiwan. No details on an European or US release so far.
Via Engadget.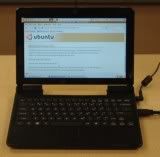 Computex has been a revelation for the new type of smartbook devices that have emerged. Whilst some may view these devices as underpowered, they will only get stronger as time goes on in our view. Freescale showcased some smartbooks of its own, including the 10-inch Wistron N900z.
The N900z uses an 800MHz Freescale ARM-based CPU, runs Ubuntu and has a 4GB flash drive. Battery life is very good at around 10 hours of life. Laptop Mag went hands-on with the bland-looking device. They liked the rubberised keys on the keyboard but found the touchpad to be unusable. Performance wasn't that great though, with some hiccups when trying to play a video whilst having two applications open. With the applications closed, the video played fine.
There is no timeline as to when this device might launch, but Freescale expects it to cost around the $200 mark when it does. NetbookNews also went hands-on with the device and we've attached a video of it after the break. Read more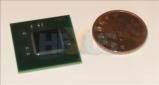 Intel's Sean Maloney, Executive Vice President, kicked off the company's keynote to talk about a number of developments as well as giving the first public demo of Pineview, Intel's next-generation Atom processor for netbooks.
Pine Trail is a two-chip platform. The Pineview processor features a CPU, GPU and memory controller on a single die. Combining this with Intel's Tiger Pint I/O is what makes up the Pine Trail platform. Read more
Qualcomm already has a 1GHz Snapdragon processor that is found in the Toshiba TG01 smartphone along with the recently spotted Asus Eee PC prototype smartbook. Qualcomm has now announced a new 1.3GHz QSD8650A chipset that will use 30 percent less power than its 1GHz equivalent, whilst running 30 percent faster.
The low power draw is down to the 45nm manufacturing process, with the chip drawing just 10 milliwatts in standby. This chip will include integrated 3G connectivity, GPS, 3D graphics and HD video playback. Other features will include support for 1280 x 800 resolution displays, Bluetooth 2.1 and Wi-Fi.
This new chipset will sit between the 1GHz (QSD8×50 ) CPU and its 1.5GHz dual core offering (QSD8672). Read more
Gigabyte initially announced three 10-inch netbooks a few months back. We've already heard quite a bit about the TouchNote T1028 and the Booktop M1022, but there has been little news surrounding the skinny ThinNote S1024 ('S' standing for slim).
It seems that Gigabyte has now rebranded the ThinNote S1024 and is now known as Myou. The specifications appear to be exactly the same, the Myou is just 2cm thick and weighs only 890g.
The Myou has a 10.2-inch (1024 x 576) LED backlit display and is powered by a 1.6GHz N270 Atom CPU and 945 GSE chipset. Other features include 1GB RAM, 60GB/80GB PATA HDD (4200RPM), Wi-Fi (b/g), Bluetooth 2.1 and optional 3G. It also comes with a 6-cell Li-Ion battery rated at 3600mAh. Check out a hands-on video of the Myou (courtesy of Engadget) after the break. Read more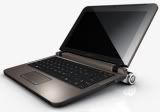 Mobinnova has unveiled the élan smartbook (or netbook if you prefer) which is an 8.9-inch device that is powered by Nvidia's Tegra platform. As mentioned in the previous Tegra post, there are numerous benefits to the platform including an 'always connected' environment, HD video, flash player support and superb battery life.
The Mobinnova élan doesn't disappoint here, offering 5-10 hours of continuous 720p HD video playback in an ultramobile package that weighs just 836g (1.84lbs) and is just 0.8-inches thick [Dimensions: 9.1 inches (232mm) x 7.3 inches (186 mm) x .8 inches (20.5 mm)]. Read more
We knew that ECS was planning to launch three netbooks during Computex, however one that we didn't hear about is the T800. The ECS T800 bears more than a resemblance to the Vaio P in design terms, although the similarities stop there. The T800 has an 8.1-inch screen and comes with a 800MHz OMAP3 3440 or 1GHz OMAP3 3450 processor. It also runs on Google Android.
Sascha from NetbookNews managed to go hands-on with a (non-functioning) prototype and it certainly looks the business. It's very slim-line, measuring just 20mm in thickness (dimensions: 246 x 121 x 20-mm) and weighing just 800g (1.76lbs). In terms of specifications, it comes with 512MB of RAM, 2.5-inch storage (HDD/SSD), a pair of internal Mini-PCIe slots for WWAN cards, two USB ports, card reader and audio jacks.
The ECS will be released in the fourth quarter of this year and priced under $500. I imagine if some wireless carriers get in on the act, then there'll be a significant discount albeit with a tied contract. Check out the hands-on video after the break. Read more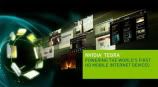 Nvidia is out in full force at the Computex show in Taiwan. We have already seen it outing 21 devices based on the ION-platform. However, it has also revealed 12 new devices (mostly Mobile Internet Devices) based on the Tegra platform. The Tegra platform is different to ION in that it pairs an ARM-based processor with an Nvidia GeForce GPU (ION pairs an Intel Atom CPU with the Nvidia 9400M graphics).
Nvidia claims that the Tegra processor is the "world's smallest and lowest power computer-on-a-chip". The chip will be able to handle 1080p video and will come with a massive battery life. Nvidia claim that it can handle 10 hours of 1080p video playback on a single charge – that is a frankly astonishing claim!
It will also come with Flash GPU-acceleration, which means that the likes of YouTube and Hulu will be no problem. The chip will include 3G and Wi-Fi support and will effectively be 'always-on' to the internet. These chips will be found in both tablet and netbook type devices and are expected to launch by the end of 2009 with prices around the $200 mark with carrier subsidies. The full press release is attached after the break. Read more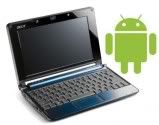 It was not too long ago that Acer CEO Gianfranco Lanci was talking about it being "too early to say if we're going to see Android on a netbook in the near future." However, Acer has now confirmed that we will see an Acer netbook running on the Android operating system by the third quarter this year.
"Today's netbooks are not close to perfection at all. In two years, it will all be very different," said Jim Wong, Acer's global president for IT products, at a Computex news conference. "If we do not continue to change our mobile Internet devices, consumers may not choose then any more." Read more