October 14, 2009 at 7:57 pm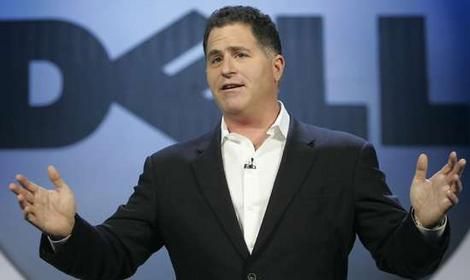 Michael Dell, founder & CEO of Dell Computers, has been damning in his opinion of the netbook experience. Talking in San Francisco at Churchill Club, he was trying to convince his audience that consumers prefer high-end PC devices rather than low-cost netbooks.
"If you take a user who's used to a 14- or 15-inch notebook and you say 'Here's a 10-inch netbook,' they're gonna say 'Hey, this is so fantastic. It's so cute. It's so light. I love it," Dell said. "But about 36-hours later, they're saying 'The screen's gonna have to go. Give me my 15-inch screen back.'" Read more
October 12, 2009 at 8:23 pm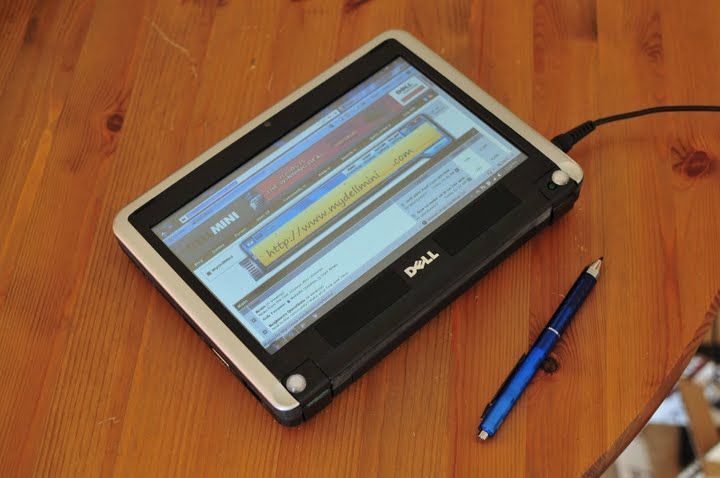 Windows 7 is expected to herald a new dawn for touchscreen PC devices, mainly due to its in-built touch functionality (as long as you're running Home Premium or higher). MyDellMini member Rob928 wanted to join in on the action and decided to mod his Dell Inspiron Mini 9 netbook to convert it into a touchscreen slate tablet.
This certainly looks like a complex mod involving removing the lid and trimming the hinges. A solder-less touchscreen kit was used for the finished result. Whilst the modder got the tablet to work with Windows 7, it is subject to heat build-up (40-50 degrees) as much of the heat is normally vented through the keyboard. Some pictures of his work in progress can be found here.
Via GadgetMix.
September 27, 2009 at 10:48 am
Dell's CULV-based 11.6-inch ultra-thin has finally made an appearance on the UK Dell site. It is available in a number of price-points. The base configuration at £349 includes a single-core 1.3GHZ Celeron ULV 743 processor, 2GB RAM, a 160GB HDD and Vista Home Basic.
For £50 more at £399 you get a dual-core 1.3GHz ULV SU4100 processor, larger HDD (250GB) and Vista Home Premium. For a further £100 at £499, you get 4GB RAM and a 320GB HDD. All of these configurations include the standard 3-cell 28 WHr Lithium Ion battery, a 6-cell battery will cost £45 extra.
September 24, 2009 at 3:51 pm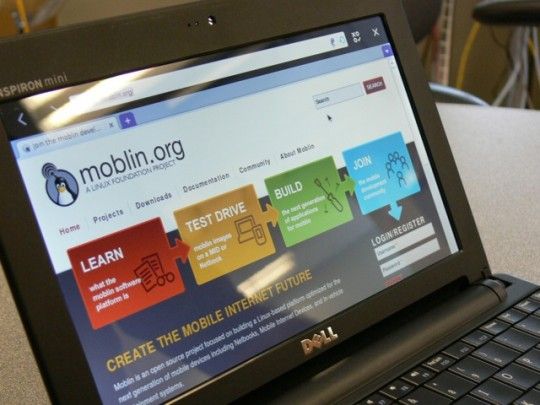 Dell is now shipping its Mini 10v netbook with the Ubuntu Moblin Remix Linux distribution. This particular version combines the interface & applications of Moblin 2.0 with the internals of Ubuntu 9.04. It is priced at $299 and comes with the typical Mini 10v's specifications (Atom N270 processor, 1GB of RAM, 160GB hard-drive).
This version has been labelled as the "Developer Edition" as it is still a work in progress. Despite this, Dell is shipping the Inspiron Mini 10v with it factory installed. If you already have the Mini 10v and just want to download the image click here. Check out a video demo after the break. Read more
September 1, 2009 at 10:57 pm
Dell's 11.6-inch netbook, the Inspiron 11z, has been reviewed by the guys over at Notebook Review. They were fond of the form-factor and build quality and feel that the screen size and resolution (1366 x 768) is a great combination for a netbook. They also found the keyboard to be quite comfortable.
However, this was let down by a very poor touchpad, in fact it was one of the worse they've used. They also found that the Celeron processor's performance was below expectations and slower than Intel's Atom CPU. However, this was made up the much better integrated performance of the X4500 GPU and GS45 chipset. A small standard battery rounded off a device that they could just not recommend.
August 30, 2009 at 7:00 pm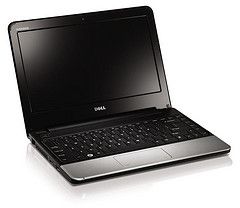 Dell launched its Inspiron 11z mini-notebook for $399 just last week. However, it appears that Dell has already put up the price by $50 to $449. There seems to be some confusion regarding the price hike, but according to a Dell representative, there is a slight hardware difference between the two models.
The original $399 version is already sold out and the new newer $449 model is said to have better display. It is believed that the newer model comes with a WLED backlit display that the original model didn't have. It is unknown whether the price will drop down to $399 again, but when Dell offers more configuration options, then the WLED display may become optional with a lower base price.
Via Laptop Mag.
August 18, 2009 at 1:55 pm
Dell has officially announced the CULV-based Inspiron 11z 'netbook'. The device is the company's first entry into the "thin and light with great battery life" segment. The 11z is only an inch thin and weighs around 1.4kg (3lbs). The new Intel ULV processor should enable "smooth HD video playback" according to Dell. The 11z's 28WHr battery is only expected to last for around three hours.
It is currently only being sold as a pre-configured system, although more configuration options will be available at a later date. The device is actually available to buy now in the US from the Dell site for a very reasonable $399. A European release will be following suit on August 25th, where it will be available in Carphone Warehouse in the U.K. and the Phone House in France. Read more
August 16, 2009 at 2:33 pm
One of the most sought after upgrade options for the Dell Mini 10 is now live in the US. The netbook's RAM now can be upgraded to 2GB as part of a promotional offer that includes Vista Home Basic SP1. This particular package doesn't allow you to use it in conjunction with the GPS and TV tuner.
The reason why this uses Vista, rather than XP, is down to the restrictions that Microsoft places on cheap XP licences i.e. no more than 1GB RAM. As this RAM is soldered on, if you do want 2GB this will be the only method, unless you fancy the challenge with the soldering iron! Dell is so far not offering the 2GB option with Linux. The 2GB RAM option is likely to turn up in other regions soon and we'll let you know when it comes through.
Via Direct2Dell.
August 12, 2009 at 11:25 pm
We speculated recently that the departure of Dell's Inspiron 12 netbook was likely to mean the imminent arrival of a rumoured 11.6-inch CULV-based ultra-thin model to replace it. Right on cue, Gizmodo has some images of the Inspiron 11z. There's little detail on specifications, it seems that Gizmodo can't divulge that detail right now.
What we can tell from the design is it will sport a thin chassis and come with a wide touchpad. The mouse buttons appear to be incorporated in the touchpad. The keyboard stretches to the edge of the chassis and they've even managed to fit in separate Home, End, PgUp and PgDn keys to the very right of the keyboard in a vertical strip. Hopefully, an official announcement will be coming very shortly. Check out some pictures of the 11z after the break. Read more
August 12, 2009 at 10:39 am
It looks like Disney isn't the only company to release a netbook targeted to kids. Dell has introduced a new Inspiron Mini Nickelodeon Edition netbook. It is based on the Mini 10v netbook but is aimed at kids, coming in three different designs. One is for fans of Spongebob Squarepants, another is for iCarly fans whilst the last one is a Nickelodeon slime version that features a green splash on the lid and key rest.
Apart from the design, the netbook will have a tailored UI developed by Stardock Systems that's branded with Nickelodeon wallpaper and icons and offers quick access to Nick's Web portals. Educational software from Whyville.net and LoJack's anti-theft software will also be included. A 15-month trial of McAffee Family Security to monitor their kids' usage should give parents peace of mind.
Dell hasn't said whether any of the internal hardware will change from the existing 10v, which normally has a 1.6GHz Atom chip, 1GB of RAM, a 120GB hard drive and a 10-inch, 1024×600 display. The Nickelodeon edition netbook will be available in Walmart and at Dell.com starting at $300.
August 8, 2009 at 10:00 am
The Dell Mini 12 had already been quietly discontinued from a number of countries (including the UK). It's taken a couple of months, but it seems that Dell US has also pulled the plug on its 12.1-inch 'netbook'.
The Dell Mini 12 has been widely expected to be replaced by an 11.6-inch CULV-based ultra-thin, although there's been no new information on this forthcoming. The rumoured model, codenamed 'Argos', will use Intel's Celeron ULV platform, have 2GB RAM and hard drive storage between 160GB and 250GB. It will come with a 1366 x 768 resolution display and will be priced from $499 according to a leak.
The exit of the Mini 12 from the US may mean this new model is just around the corner. We'll keep you updated.
Via Engadget.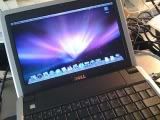 Dell officially retired their popular Hackintosh Mini 9 netbook at the beginning of June. However, they must have some extra stock, as its back on offer on a limited four-day deal (US-only I'm afraid).
Dell is selling the Mini 9 with Ubuntu 8.04.1 from just $199. It's also available with Windows XP from $269. The specs of the base version includes a 1.6GHz N270 Atom CPU, 1GB RAM, 4GB SSD, 4-cell battery and Wi-Fi (b/g). If you want to run OS X, this is probably the most compatible netbook out there right now.
Via Gizmodo.
July 16, 2009 at 10:47 pm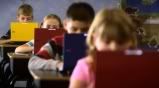 The Dell Latitude 2100 netbook is targeted to the education market. The 10-inch netbook has special kid-proof features like a network activity light on the lid, rubberised case, a fanless bottom to avoid spills as well as some optional extras such as an anti-microbial keyboard, carrying handle and shoulder strap.
While we've already seen the Latitude 2100 unboxed, we haven't seen how the Mobile Cart works. This can be thought of a Mobile Computing Station that allows you to manage and network up to 24 netbooks with just one Ethernet and power cord. It doesn't come cheap though at $3,900. The promotional video below does a good job of showing this mobile station in action. It does look impressive and could be a sign of things to come in the future. Check out the video after the jump. Read more
Dell is one of the few manufacturers that has embraced Linux on its 'Mini' range of netbooks. Its Mini 9 and Mini 10 devices had options with Ubuntu as well as Windows. The good news is that Dell looks like it is considering other Linux options for future netbooks too. Dell's Doug Anson has said that the company is "very interested" in Moblin and is currently evaluating Chrome OS.
He sees all of these different Linux-based operating systems leading to a "renaissance within the PC and small device industry". Anson went on to say, "these alternative operating environments are truly "different" from the traditional Windows platform – they don't attempt to simply "mimic" Windows".
Dell is working closely with key partners (Canonical and Intel) in developing potential offerings for Moblin, which it sees as "the next evolutionary step of the traditional Linux environment". Whilst anything tangible may be some time away, it is encouraging that Dell is encouraging the use of these alternative operating systems. Hopefully, Jolicloud will also be on that list soon too.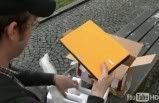 The Dell Latitude 2100 netbook is the company's first 10-inch device targeted to the education segment. To keep it as kid-proof as possible, the Latitude 2100 has a network activity light on the lid, rubberised case, a fanless bottom to avoid spills as well as some optional extras such as an anti-microbial keyboard, carrying handle and shoulder strap.
Sascha from NetbookNews has unboxed the Latitude 2100 and given his initial impressions. The netbook is available in 6 colours and the one they handled was 'School Bus Gold'. When you first lay eyes on the Latitude 2100 it does look quite chunky compared to current netbooks. However, Sascha says that this is incredibly well built that you could even probably drop without causing too much damage.
The netbook shipped with both Windows XP and Vista discs, giving you an option to choose which OS you want to install. It comes with a 3-cell battery that should be good for three hours of battery life. There are no access panels, not a surprise considering that it is "spill resistant". The display was very interesting, looking like a cross between a glossy and matte display. Check out what we mean by watching the video after the jump. Read more