August 6, 2009 at 12:43 pm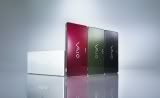 A new version of Sony's Vaio P ultraportable has passed through the US Federal Communications Commission (FCC). Details are scant on the new model, although what we do know is that it will go by the model number 'PCG-1R2L'. We also know that it will have Wi-Fi (Draft-N) and Bluetooth.
The confidentiality agreement expires in October, highlighting a possible release in the fourth quarter. We recently heard of a 'Mark II' release that is on the horizon, it's unknown whether this is one and the same device. If there's been no news up until that point, all the detailed specifications should be out of the bag by then. Check out a screengrab of the evidence after the break.

Via Sony Insider [via Engadget].